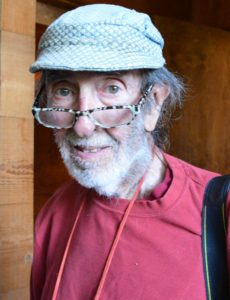 Bio:
Arn Henderson was a student of Bruce Goff's at OU and later became a professor of architecture there.  In addition, Arn was an architectural historian and photographer and put both of those talents to work by writing several books about Oklahoma's architecture and the definitive biography/works list of Bruce Goff.  Some of his works include:
The physical legacy: Buildings of Oklahoma County, 1889 to 1931  with Bob Blackburn
Architecture in Oklahoma: Landmark and Vernacular
Mobile Home Housing: A Case Study of Moore, Oklahoma
Guthrie: A Plan for Historic Preservation
Bruce Goff: Architecture of Discipline in Freedom
Here's Arn's obituary:
November 10, 1934 – June 27, 2019
Arn was Professor Emeritus of the University of Oklahoma Christopher C. Gibbs College of Architecture. A proponent and advocate of historical preservation throughout our country and, in particular, his home state of Oklahoma. Arn was also a poet, author and lifelong student of other cultures. He was an advocate of Bruce Goff's teaching and the American School legacy and helped ensure the impact of the Bruce Goff Chair of Creative Architecture in its early years.
Arn designed and built of his home of 42 years, which was recognized by the Oklahoma Chapter of the American Institute of Architecture (AIA) for its unique design in 1976. In 1996, he was elevated to the AIA College of Fellows, the AIA's highest membership honor, for his exceptional work and contribution to the industry and his community. Less than 5% of AIA members hold this distinction.
Arn is remembered and celebrated by the Gibbs College of Architecture for his nearly 70-year commitment to the program. He was a friend, a mentor and advocate for all whom he taught.
Son of Henry and Pearlalee, brother to Lyndal, father of two children, and grandfather of two, Arn was preceded in death by his parents, sister, wife, and a son. He is survived by a son and two grandsons.
Projects:
Mod Blog Features:
On the Market: Three Marvelous Mods
Adieu, Arn Henderson