On the Market: Three Marvelous Metro Mods
by Lynne Rostochil.  Photos by Lynne Rostochil and Isaac Harper (Finney House).
In the last couple of weeks, three truly amazing examples of modern residential architecture have come on the market in the metro area so if you're looking to buy your dream house, maybe one of these lovelies will make the cut.  First up is the Henderson House in Norman.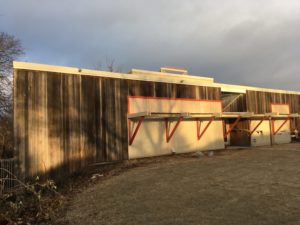 If any of you made it to Arn Henderson's estate sale a couple of weeks ago, you know just how special this place is.  Arn was a student of Bruce Goff's at OU and taught at the university for decades, ultimately becoming a professor emeritus.  He constructed this home in 1975, and his innovative design received an Excellence Award from the AIA the following year.  Because he devoted his career to teaching, Arn doesn't have much built work, making this home's pedigree even more special.
Even though the house was packed with people at the estate sale, I was able to snap a few shots of this split-level wonder complete with cut outs and windows tucked just about everywhere.
Here's the dining area anchored by floor-to-ceiling bookcases on the back wall and overlooking the wooded backyard.  See that table in the forefront?  It was designed by Arn's students back in the 1960s or 1970s.  Koby at Space: 20th Century Modern has it now, so if you must have this functional and stunning piece of OU architecture history, you know where to go.
Here's the view from the upstairs bedroom down to the living room:
There are three bedrooms and two baths in the home, which is absolutely brimming with character, as you can see with the charming detail of these sweet windows:
The back of the house overlooks a woody yard bordered by a creek, and how great is this view of the back of the 2,674 sf home?  The stilted portion is a huge triangular room that was Arn's impressive studio.
If you're interested in touring this lovely, one-of-a-kind abode, call realtor Chris Buckelew at 708-7010.
Here are a few photos from the listing:
Front:
Entry:
Living/dining rooms:
Kitchen:
Studio:
Master bedroom with overlook:
Back:
The next house caused quite a stir when it was posted for sale on Facebook.  It seems that this creekside delight in Belle Isle on Riviera is one of everyone's favorite mods in OKC and with good reason.
The home was designed by another Goff student, Robert F. Reed and was constructed in 1962.  It was Reed's first design after becoming an architect, and what a magnificent way to begin a career.  I live in a house that Reed designed two years after this one, and all I can say is that if you live in one of his incredible spaces, you will never want to leave.  That's probably why the current owner has called this bit of paradise home for nearly 40 years.
This home is so thoughtfully designed that it's honestly pretty near perfect.  The U-shaped abode surrounds a central courtyard, which as you will soon see, allows for tremendous amounts of natural light to enter the nearly 2,200 sf, three bedroom home from all directions:
Here's the main entrance off the courtyard: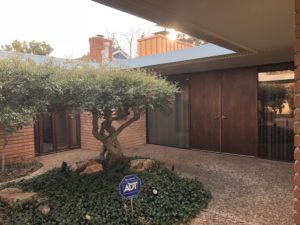 Once inside, a giant but very comfortable living room greets you:
The room is anchored by this perforated divider to the dining room on one side and an enormous brick fireplace on the other:
How gorgeous is that?  A wall of doors centered by shelving is on the outside wall of the room:
Personally, I'd remove those dark shutters and let all of that lovely natural light in, but I do kind of like the coziness they bring, too.  Oh well, that's a conundrum the new owner will have to solve, I suppose.  The front entry hall leads to the bedroom wing on one side and the dining room and kitchen on the other:
Here's the dining room:
The kitchen is on the other side of the brick wall.
It's not a huge space, but it's well laid out and easy to move around in.  The sleek push-to-open cabinets are all original and really gorgeous.  Love the pull outs, too: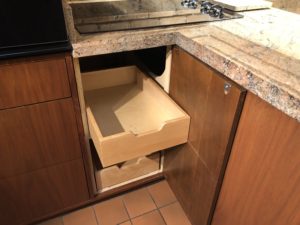 The utility room is off of the kitchen and so is a very sweet sunroom:
Can't you imagine the joy of sipping on a steaming cup of coffee and reading a good book in this treasure of a space?
Back through the dining room and down a couple of stairs and you're back in the killer living room.
Can we sneak a peek at that glorious fireplace one more time?  Yes, let's:
I just can't get enough of this space.  So, to the right in the above photo is an entrance to the master bedroom, and this beautiful fireplace wraps around to warm that room, too:
Windows and two doors lead from the master suite to a rocked back patio:
While we're here, why don't we check out the backyard.  It's not huge, but it's a lovely space:
Back inside is the master bathroom with some crazy '90s floral wallpaper:
As you'll notice on the tour, nearly every room of the home has an exit to an outdoor space and the bathroom is no exception:
Love it!
The master bathroom also exits to the bedroom wing hallway, which boasts windows looking out onto the central courtyard offset by banks of cabinets that provide ample storage:
Yes, as I told you earlier, there is lots of light coming from every direction in this home.  Wow!  The hallway leads to a middle bedroom with yet another exit to the outdoors and access to a Jack-and-Jill bathoom:
One thing that this home shares with mine is the use of space-saving folding doors.  I really love mine, but the ones in this house are particularly interesting because they have inlaid leather strips running down the center of them — what a great detail!
These beauties are throughout the house, including the truly spectacular front bedroom featuring windows galore and yet another door leading outside:
Here's the opposite end of the room overlooking the central courtyard:
And here's a dramatic corner window set up — LOVE!
Here's the view of the courtyard from this bedroom:
How amazing would it be to wake up to this every day?
Oh, one final bit of charm is the beautiful carport that is, of course, perfectly embedded in Reed's overall design:
One last photo just because I love this place so much:
If you're interested in touring this spectacular abode, contact realtor Heather Davis at 751-4848.
Although it's new construction, the next house for sale compares very favorably with the previous two older homes.  It is located in the heart of the Plaza District and, like the Riviera house, is U-shaped with a central space in the middle.  As you're about to see in photographer Isaac Harper's incredible photos, the Finney House is something spectacular, indeed:
Yeah, you know this house.  How can you miss it — it's the gem of the area!  It was also featured on the Oklahoma Modernism Weekend inaugural Mod Home Tour two years ago.  So, if you've already been inside, you know what a treasure this abode is.
Although the home is only a couple of years old, its heart is firmly planted in the 1950s and 1960s.  I mean, how else can you explain this to-die-for conversation pit:
I want!!!
Can't you imagine spending hours in this cozy space sipping a drink or two and enjoying that remarkable view of the pool area?  You really want to see the pool area, don't you?  Well, I don't blame you.  The pool is really the heart of the house and every room looks out onto its shimmery waters.
Yeah, that's what I'm talkin' about!  Woo hoo, this view makes me so happy!!  Here's another one just to add to the joy:
And let's get a little Julius Shulman with it and check it out in black and white just for fun:
Yes, this piece of gorgeousness is here in OKC!!  Aren't we so lucky?
Back inside, the conversation pit is open to the dining room and kitchen, creating one huge space for living and entertaining:
While you're picking up your jaw from the floor, I'll fill you in on the particulars.  The home features three bedrooms and two and a half baths in nearly 2,900 sf of space, and it's listed for $725,000, which I think is a pretty good deal when you consider that homes in nearby SOSA are much more expensive and are mostly multi level.  Other things to love in this home include the office (or third bedroom) overlooking the pool area (how anyone gets any work done here with that view is beyond me)…
… a nice-sized second bedroom room…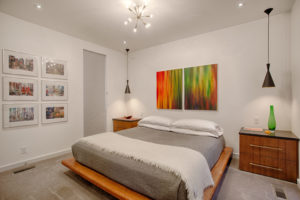 … and a comfortable den with the biggest sectional sofa I've ever seen that stretches along two walls:
Yeah, I could watch movies in here all day long!
The master suite isn't too shabby, either:
You never need to go on vacation when you're living in this house — it's paradise all day long!
If you're interested in making this modern version of the mid-century dream your home, contact realtor Brian Newell at 205-4233.
So, that's it for the tour.  I hope Squadders grab all three homes and enjoy them for years to come.