Adieu, Arn Henderson
by Lynne Rostochil.
Last week, we learned that beloved OU architecture professor and Bruce Goff scholar, Arn Henderson died after being ill for about a year.
Here's his obituary:
Arnold "Arn" Glenn Henderson, FAIA, passed away on June 27, 2019.
Arn was Professor Emeritus of the University of Oklahoma Christopher C. Gibbs College of Architecture. A proponent and advocate of historical preservation throughout our country and, in particular, his home state of Oklahoma. Arn was also a poet, author and lifelong student of other cultures. He was an advocate of Bruce Goff's teaching and the American School legacy and helped ensure the impact of the Bruce Goff Chair of Creative Architecture in its early years.
Arn designed and built of his home of 42 years, which was recognized by the Oklahoma Chapter of the American Institute of Architecture (AIA) for its unique design in 1976.  In 1996, he was elevated to the AIA College of Fellows, the AIA's highest membership honor, for his exceptional work and contribution to the industry and his community. Less than 5% of AIA members hold this distinction.
Arn is remembered and celebrated by the Gibbs College of Architecture for his nearly 70-year commitment to the program. He was a friend, a mentor and advocate for all whom he taught.
Son of Henry and Pearlalee, brother to Lyndal, father of two children, and grandfather of two, Arn was preceded in death by his parents, sister, wife, and a son. He is survived by a son and two grandsons.
Last spring, Arn moved into an assisted living center and there was a giant estate sale at his incredible home.  I found a lot of treasures, including some of Arn's preservation studies of Guthrie.  I also found a small book of his poetry, The Surgeon General's Collection, that was published in 1976:
I thought this would be the perfect time to share some of his creative musings with you.  The last poem in the book is called Dust Bowl Cantata and I've copied it for you to enjoy:
Also, I found several of Arn's architectural photos at the estate sale.  First up is the Ponca City Savings & Loan building in Tulsa, which was designed by Robert Buchner and completed in 1956.  This mid-century modern delight sat vacant for quite awhile but is now home to the Tulsa Foundation for Architecture.
Another building Arn photographed is St. Patrick's Catholic Church, where we held this year's Oklahoma Modernism Weekend:
Arn photographed this gorgeous creation by Herb Greene, who was his professor at OU: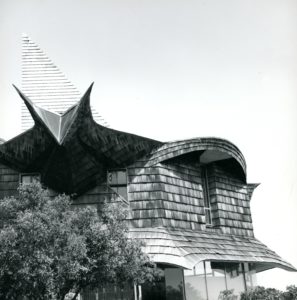 We wrote a Mod Blog about the Joyce House in Snyder that you'll definitely want to check out.  It's an incredible home.
One last photo I found at the estate sale was this one of the Dermatology Center designed by George Seminoff and built in 1969:
In addition to all kinds of great art and books, Arn saved every last one of his student drawings and I picked up two of them at the sale.  The first is a drawing of what may be an airport terminal or a long office building, I'm not sure which, but I do know that it's a true piece of art:
That little man kills me, he's so cute.
Another drawing from 1960 is a plan for an executive office at a testing laboratory:
Here are details of each of the four sections: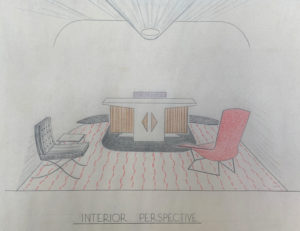 One of you handy people should build this desk!
Over the years, Arn emerged as a premier Goff scholar, and he often spoke at conferences about the master's life and work.  In the years before his death, Arn put his vast knowledge down on paper to create the definitive biography and work of Goff, which was published in 2017.  If you don't have a copy, you must add this tome to your collection — it's essential for any architecture lover: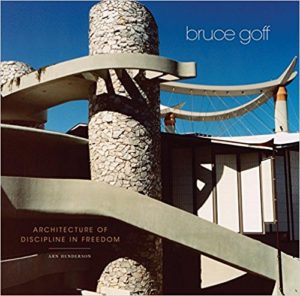 Another Henderson book I highly recommend for all architecture lovers is Architecture in Oklahoma: Landmark & Vernacular, which was published in 1978.
The book provides an outstanding collection of the Sooner State's architecture, from early huts to Victorian architecture to several examples of mid-century modern buildings.  It's an excellent resource.
So, as you can see, Arn was a true Renaissance Man with a variety of interests and although he devoted his career to teaching instead of design, it's too bad because perhaps his most creative and greatest accomplishment was the home he made for himself, where he lived until 2018: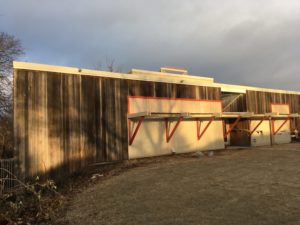 I wish he would have designed and built more….
You can see interior photos of Arn's masterpiece on the Mod Blog.
The last time I visited with Arn was on the 2017 Mod Home Tour.  Mod Squadder Bren squired him around the tour like the royalty he was, and he had a great time checking out all of the homes.  Returning to the Cunningham House, which was designed by his mentor, Herb Greene, was especially meaningful to him and he beamed with delight the entire time he was there: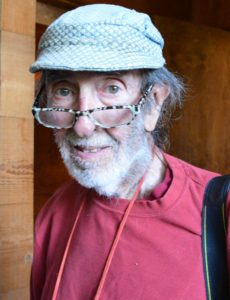 Soon afterward, his illness got the best of him and he moved to the assisted living center.
Goodbye and thank you, Arn Henderson!