Remembering the Southwest Sweepstakes Race of 1915, part 1
by Lynne Rostochil.
Okay, I'm going to start off with a caveat — there's isn't one thing mid-century modern about this Mod Blog series.  Try as I might, I just couldn't make any connection to anything mod, but this is such a fascinating and little-known piece of Oklahoma City history that I think you'll understand why I wanted to share this extraordinary tale with you.
Earl Swan
It all began for me when I found three vintage photo albums at a local antique store several years ago.  I'm a sucker for any kind of photography and picked them up for a few dollars without really even taking a peek to see what was inside, so imagine my surprise when I got home, started looking through them, and found photo after photo of a lanky and well tanned young man and his race car.  Oh yeah, this was cool … way cool.
Based on a few clues from the albums, I began obsessively researching their former owner.  His name was Earl Swan:
Earl was born in Kansas in 1890 and moved with his family to Oklahoma City when he was still a kid.  When this photo was taken in the spring of 1915, the handsome young bachelor was 24 years old and working as a "gasoline supply man" for a local company.  He lived with his parents, Herbert and Bella, and two siblings on NW 17th, and with no major financial responsibilities to claim his paychecks, Earl was able to indulge in his love of cars and racing them.
Beginnings
Earl was an early member of American Automobile Association (AAA), which was formed in 1902 to demand more and better roads across the country for the fledgling automobile to travel on.  During the early part of the 20th century, AAA also sanctioned races, including the Indy 500.
Earl wasn't the only metro resident who caught the racing bug.  With a name like Carhart, it's no big surprise that local merchant, Dick Carhart was enamored with the sport, too.  And, as a member of the Automobile Dealers' Association and owner of Overland and Oldsmobile dealerships…
… Carhart was in an excellent position to promote racing by sponsoring a series of half-mile track events at the original Fairgrounds in 1913 and 1914:
The races were so well attended that Carhart approached AAA about sanctioning a true Grand Prix event in Oklahoma City.  Dubbed the Southwest Sweepstakes, the event would take place April 20th and 22nd, 1915, to coincide with the 26th anniversary of the Land Run.  AAA readily agreed to sanction the race, partially because the Southwest Sweepstakes dates would fill in a gap in the racing schedule — it would be just after the Pacific Coast races and right before the Indy 500, which even in 1915 was the biggest race of the year.
Sweepstakes organizers planned a 99-mile Oklahoma race for amateurs and a 200-mile Grand Prix event for the pros.  The cash prizes weren't too shabby, either, with the event offering a whopping $5,000 in prize money (that's over $127,000 today) divided this way: the winner would earn $2,500, 2nd place would receive $1,250, $750 would go to the third place finisher, and fourth place would earn $500.  The winner of the Oklahoma race would get a $1,000 payday.
The Course
With the race set, city leaders and Sweepstakes planners set out to map the course.  Originally, they agreed that the course would run near the Fairgrounds, which was then located at NE 10th and Eastern, along Grand Boulevard to Winnipeg and Gulf Rd., and back to the Fairgrounds track, but they soon abandoned this idea in favor of moving the race way out into the country.
And when I say country, I mean the Linwood neighborhood.
Linwood was platted just a few years before in 1909 as a "restricted" neighborhood of "country estates" for the wealthy. By 1914 when race planning began in earnest, a few large homes stood along NW 19th and the Linwood School had been built in 1911, but the neighborhood remained largely vacant.  Here's the Linwood school soon after construction:
Planners were further swayed to the Linwood area when they found out a new trolley stop had just been completed for the neighborhood.  That meant that race goers from around the metro would have an easy time getting to the race if it took place in Linwood.
Another big selling feature for this course was that the then-named Linwood Drive (now Drexel), which was a wide boulevard, as was NW 12th and Youngs.  With three wide streets already paved and in place, it would be much easier and more affordable to create the race track, which would run west on NW 16th to Drexel, south to NW 12th, east to Youngs, and then north back to NW 16th.  The course as it appeared in the Oklahoman in 1915:
And the same course today with the neighborhood filled in:
At 50′ wide, the track was quite a bit wider than a lot of other tracks of the day and considered extremely safe for drivers.  It was roughly the shape and length of the Indianapolis Motor Speedway.  While the straightaways were paved and a mile long, the curves were filled in with dirt and banked at a 10% grade.  The two turns that were considered the most treacherous were the Willard Hook and Rainbow Curve.  Of the two, the terrifying Willard Hook, located at NW 16th and Drexel, would be the one to take the greatest toll on drivers.
After the race was announced, one group of speed lovers came forward and suggested they be allowed to participate in the race, too.
Motorcycle Racing
The Oklahoma City Motorcycle Club (pictured above in a 1912 photo found in the Century Chest) were used to racing their rides 20 mph faster than cars could go at the time, so when this this rowdy, daredevil bunch requested a Sweepstakes event for them, they quickly got their wish and a 150-mile motorcycle event was added to the agenda.
With the course and all of the races set, the promotion began in earnest and drivers began lining up to join in the fun.  Let's meet some of the men who participated in the Southwest Sweepstakes.  We'll begin my chatting about the professional racers who planned to participate in the 200 mile Grand Prix.
Barney Oldfield
Perhaps the most famous driver in the race … and a name many continue to recognize today … was Barney Oldfield.  He started out as a bicycle racer but moved to auto racing in 1902 to satisfy his giant need for speed … and larger purses.  The ebullient, cigar-chomping Oldfield was such a popular racer that Hollywood even beckoned, asking him to play, duh, a racer in several flickers, including the 1913 Mabel Normand comedy, Race for Life:
At the time of the Southwest Sweepstakes, Oldfield was getting up there in age at 37 and was certainly one of the elder statesmen of the drivers, but his age didn't deter him a bit.  When he learned that a local businessman was offering $1,000 to any racer who would break a record on the Linwood course, ole Barney was the first to step up, no doubt still chomping on his signature cigar, and pledge to obliterate the existing 87.86 mph speed record.
Another event Oldfield planned to join in on was a race against a plane piloted by his good friend, DeLloyd Thompson:
Here's a photo of Oldfield and Thompson racing in 1911: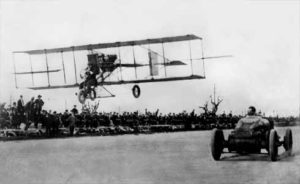 This event was really more of a show than a race and would take place at the old Fairgrounds between races on the Linwood track.  Not only did Oldfield and Thompson plan a race on the 1.5-mile Fairgrounds track, but Thompson also planned to perform various rolls and stunts, and most excitedly, recreate a "realistic war sensation" of blowing up a makeshift fort where "real bombs rain down from above" while he dodged the enemy fire and explosions.
With war raging in Europe for nearly a year now and the fear that the U.S. might be getting involved soon, I'm sure this event was especially enticing to gung ho teenaged boys who couldn't wait to strap on their fighting boots, load up their bayonets, and join in the glory of war.  Sadly, so many of those boys would soon shed their romantic notions of war on the battlefront, which poet Wilfred Owen described in horrific detail in his poem, Dulce et Decorum Est:
Bent double, like old beggars under sacks,
Knock-kneed, coughing like hags, we cursed through sludge,
Till on the haunting flares we turned our backs,
And towards our distant rest began to trudge.
Men marched asleep. Many had lost their boots,
But limped on, blood-shod. All went lame; all blind;
Drunk with fatigue; deaf even to the hoots
Of gas-shells dropping softly behind.
Gas! GAS! Quick, boys!—An ecstasy of fumbling
Fitting the clumsy helmets just in time,
But someone still was yelling out and stumbling
And flound'ring like a man in fire or lime.—
Dim through the misty panes and thick green light,
As under a green sea, I saw him drowning.
In all my dreams before my helpless sight,
He plunges at me, guttering, choking, drowning.
If in some smothering dreams, you too could pace
Behind the wagon that we flung him in,
And watch the white eyes writhing in his face,
His hanging face, like a devil's sick of sin;
If you could hear, at every jolt, the blood
Come gargling from the froth-corrupted lungs,
Obscene as cancer, bitter as the cud
Of vile, incurable sores on innocent tongues,—
My friend, you would not tell with such high zest
To children ardent for some desperate glory,
The old Lie: Dulce et decorum est

Pro patria mori.
(Translation of the Latin phrase: It is good and fitting to die for one's country.)
Eddie Rickenbacker 
Another person who signed up early and might be familiar to people today is the dashing Eddie Rickenbacker, who was a big name in racing before the war but who really became famous as an ace fighter during the conflict.  During his pre-war racing years, Rickenbacker raced in all five of the Indy 500s that had taken place so far, although he never won, along with 40 other races at tracks across the country.
Rickenbacker had been driving a Peugeot for awhile and planned to race it in OKC, but he had so many problems with it that he sold it to "Wild Bob" Burman in late 1914 and bought himself another car.  Unfortunately, he continued to have car problems and was forced to back out of the Southwest Sweepstakes at the last minute.
"Wild Bob" Burman
Tall and lanky with an easy smile and laughing eyes, "Wild Bob" was a true charmer who was also a formidable opponent and the man to beat at the Southwest Sweepstakes.  After he purchased Rickenbacker's troubled Peugeot, Burman and his mechanic, Harry Miller, completely redesigned the car's engine, giving it more power than any other car racing at the time.  The engine design was so well regarded that it ultimately became the standard racing model for the next 40 years.  With his souped up Peugeot now tearing up tracks all over the country, Burman became the man to beat on the circuit and Rickenbacker lamented years later that selling his friend the car "was the worst mistake of my racing life."
Spectators couldn't wait to see the match up between Burman and Oldfield, who had long been hot-headed rivals.  The rivalry began in 1911 when Oldfield was suspended by AAA for "outlaw" conduct on the track. His teammate, Burman took over his car and set a new world's record by going 141.73 in one mile.  Oldfield thought the record should be his because the car was his, but officials and Burman disagreed.  In their match up previous to the Southwest Sweepstakes, Oldfield came in first and Burman second, so people were expecting a good show … and maybe hoping for a punch or two … at the racers' meet up in Oklahoma City.
Andy F. Scott
Two Oklahomans participated in the Grand Prix.  Andy F. Scott was from Commerce and drove, appropriately, a Tulsa automobile in the race.  He was in several races in 1915 but didn't participate in AAA-sanctioned events after that.  Maybe he quenched his need for speed after dealing with the Willard Hook a few too many times on the Linwood track.
George Clark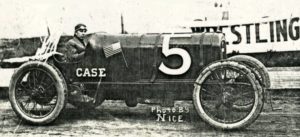 The other Oklahoma racer in the Grand Prix was Tulsa native, George Clark. He raced his Mercedes in the 1913 Indy 500 and planned to drive the same car in the Southwest Sweepstakes.
Eddie Hearn
One of the most interesting characters on the circuit was certainly Eddie Hearn. The Chicago native became an overnight millionaire when an uncle he had never met left him a fortune. What did he do with his newfound wealth?  Bought a car and became a racer, of course!  During his storied career, Hearn had 106 AAA championship starts, raced in nine Indy 500s, and would go on to win the 1923 National Championship before retiring in 1927.  He drove a Case car for the Southwest Sweepstakes.
Billy Carlson
Gregarious Billy Carlson was a member of the Maxwell team in 1914 and 1915 and had just attained the world endurance record in January of 1915 by driving 305 miles non-stop in San Diego. He was a man on the rise and had finished second at Venice behind Oldfield just a month before the Southwest Sweepstakes.
Carlson will forever hold one unbreakable record at Indianapolis. In 1914, he ran the entire 500-mile race on only 30 gallons of kerosene fuel.  His total fuel cost of $1.80 for the entire race and remains the cheapest in Indy 500 history.
Earl Cooper
Earl Cooper started racing in 1904 and won seven of the eight major races of the day but never won at Indianapolis.  However, he was National Champion in 1913, 1915, and 1917.  After he retired in 1927, he and his mechanic, Reeves Dalton, began building front-drive Cooper race cars, one of which raced at Indy in the 1940s.
Howard "Howdy" Wilcox
You've got to love a guy with the nickname Howdy … you just do.  And his Stutz, seen here in a race in San Francisco a few weeks before the Southwest Sweepstakes, isn't too shabby, either.  Even with that sweet and funny nickname, Howdy was a formidable racer, with 11 starts at Indy and a win there in 1919.
Louis Disbrow
Another character on the circuit with many an interesting story to tell was Louis Disbrow.  The dashing, mustachioed Disbrow was a racer, an aviator, and possibly even a murderer.
Disbrow was from a wealthy Long Island family and spent much of his youth playing the typical spoiled wild playboy. In the summer of 1902, the recently divorced Disbrow was 26 and smitten with a young ingenue named Sarah "Dimples" Lawrence … there's another great nickname for you.  Unfortunately for him, Louis's pal and fellow bad boy, Clarence Foster (who happened to be married but didn't seem to let that stand in his way) was also pursuing young Dimples and having better luck than Louis.  One hot, still evening, the three friends went out for a night on the town but none of them returned home that night … or the next night … or even the night after that.
The trio's families were in a panic trying to find the friends when Clarence and Dimple's bodies washed ashore in a cove near Louis's sprawling family compound two days after their disappearance.  Clarence had a small abrasion over his eye but, otherwise, neither he nor Dimples' bodies gave away information about the way the two died.  After the bodies were discovered, Louis came out of hiding and turned himself into police.
During the subsequent trial, the prosecution asserted that Louis killed Clarence because Dimples had chosen the married man over him, so Louis beat his rival with an oar and then killed Dimples to eliminate her as a witnesses.  Despite all of the evidence against Louis, he was (and would remain) a very lucky man and was acquitted and set free.
After his acquittal, Louis shed his playboy ways and went to work as a chauffeur and mechanic for his Long Island neighbor and the U.S.'s first female racer, Joan Cuneo:
Joan gave Louis his first opportunity to drive and he never looked back.  Louis started four times at Indy from 1911-1914 and became known as "King of the Dirt Tracks" because he raced … and won … on so many of them.  He also wrecked on several of them, but Louis's streak of good luck always held for him.
Following an accident at a racetrack in Albany, Georgia, Louis was declared dead by doctors, covered with a sheet, and carted off to the morgue, where he lay on a chilly gurney waiting to be hauled home.  There are conflicting accounts as to what happened next.  In the first, Louis awoke bright eyed, sat up, and demanded a cigarette from the shocked morgue attendant.  In the second, Louis arose from the gurney with the sheet still over his head, sending the terrified attendant running wildly from this creepy apparition and out into the busy street, which surely seemed safer than the haunted morgue.  The following day, the local paper declared "Corpse Awakes in Morgue" and everyone had a good laugh.
Dave Lewis
Dave Lewis was a fairly new driver on the circuit in 1915, but he would go on to start in four Indy 500 races, placing second in 1925.  He was driving a Stutz in the Southwest Sweepstakes.
Albert Striegel
The Southwest Sweepstakes was the one and only time Kansas City native Albert Striegel participated in a AAA-sanctioned event.  Maybe the Willard Hook proved to be too much for him, too, and he looked for other, less dangerous hobbies afterward.
John Raimey
John Raimey was from Chicago and started racing professionally in 1911.  He participated in just five AAA-sanctioned races, with Oklahoma City being his last.  He drove a Case in this contest and, as with Striegel, maybe he thought better of racing after dealing with the dreaded Willard Hook.
The Amateur Racers
In the 99-mile amateur Oklahoma race, local farmboys, wealthy businessmen, and local entrepreneurs from across the state signed up to show off their souped-up rides.  These racers were:
Claude Foster of Tuttle racing in an Overland
Jake Strickler from Enid in a Buick
Carnegie's G.E. Chandler, also in a Buick
Charles Shaffstall from Coffeyville in a Studebaker
C.E. McLester of Oklahoma City in a Franklin
M.J. Main, Jr., of Bartlesville in a Mercer
Paige Motor Company signed up but didn't name a driver.  The dealership was in OKC and planned to race a Paige-Detroit.
Enid's Roy G. Thomas in a Hupmobile
Morrell Munn from OKC in a Stutz
R.G. Wallace of OKC in a Wallace Special
… and our pal, Earl Swan in his Knox:
Practice Day
By April 17, 1915, the stands were set up and awaiting spectators, the track was clean and ready to go, and all of the drivers were in town and excited to get going and try out the track.  They got their chance on practice day.  Here are a couple of photos from Earl's album showing some of the practice runs:
The main bleachers were located on the south side of the course at what is now NW 12th near Miller.  They were directly across from the pit area, had a capacity for 16,000 people, and offered a long, straightaway view that you can see in the second photo above.  Along the right of way, 50 large flat-bed rail cars, each holding five spectator boxes that could accommodate 10 people, were set up for reserved seating.
On practice day, "Wild Bob" Burnam and his famous Peugeot surprised no one by claiming the fastest average speed … 74 mph.  One driver revved his tin can of a race car to 120 mph, the top speed of the day.  The #6 car that Earl appears to be driving above and below is Burnam's Peugeot, I believe, even though the Mercer crew is standing next to it.
Earl looks quite dapper and even natural behind the wheel of the Peugeot, doesn't he?  As for his own car, Earl chose #13 as the race number for his souped up Knox.
With the race just a few days away, all of the hotels in town were booked and the Oklahoman encouraged people with spare rooms to rent them out to visitors … and spend the money to advertise them in the paper, of course.  The Lee-Huckins Hotel was set up as race headquarters and visitors' center for all of the tourists flocking from all parts of the country for the race.
At dusk on practice day, the drivers shook off the dust and grime from the track, worked with their mechanics to do last-minute engine tweaking, and took their prized racers to various local garages to be stored until the big day.  The first race, featuring motorcycles, would begin in 55 short hours, so there was nothing for them to do now but be uncharacteristically patient and wait.
Next week on the Mod Blog, the race begins — go here to check it out.