1950s Fashion from the Oklahoman Archives
by Lynne Rostochil.
I'm so excited for the Flashback Fashion Show during the Oklahoma Modernism Weekend, which begins this Friday!  To celebrate, I thought I'd cull through some of the vintage fashion photos I've accumulated from the Oklahoman archives.  On this Mod Blog, we're going to focus on 1950s fashions — let's get started!
1950:
Sometimes I really long for the days before flip flops and loungewear were considered fashionable.  I mean, how hard is it to put on a real pair of pants that aren't work-out related — or, God forbid, a skirt — for a day out on the town?  I know, I sound like a real fuddy duddy but then I look at these lovely ladies and how impeccably dressed they are for a similar afternoon out and about in OKC and my head hurts.   While I love to play dress up with vintage dainty handbags, hats, pearls, and gloves, I can't imagine donning this de rigueur '50s fashion on a daily basis.  These women are gorgeous in their beautiful attire, but I'll sure bet their feet hurt — and pained feet is a bad, bad thing.  So maybe flip flops are sounding pretty good after all.
1951:
I love the his/hers fashion in this shot of actor and Oklahoma native, Dale Robertson, and his beautiful bride, Jacqueline Wilson.  They were married after a whirlwind romance and while they look very happy in their wedded bliss in this shot taken shortly after their nuptials, the marriage lasted just five years.
1952:
The men are getting into the act with these killer shirts!  Where can I find one for my husband?
1953:
You've got to love a Peter Pan collar, I mean really love!  These high school girls are quite chic in their sweater/skirt sets, don't you think?
1954:
She looks more like she's pitching a softball than bowling but, oh well, she looks fantastic nonetheless.
Oh … my … gosh!!  This is such an incredible photo, isn't it?  This is what all the show girls were wearing at the 1954 Fair Follies.
Here's another photo that kills me!  These guys are stylin'!
1955:
I have no words to describe how much I love this little bit of leopard cheesecake!
Here, a lovely lady models the latest in home furnishings at the Oklahoma State Fair.  I think I'd take her fun dress over that giant hutch.
These ladies are part of the American Business Woman's fashion show, ready to show off what the most stylish professional women were wearing in 1955.  Love!
1956:
Here, the ladies auxiliary of the Oklahoma County Medical Association enjoy gathering and discussing the latest fashions over tea…
… and tea is probably all this lovely lady was able to enjoy if she wanted to fit into this fabulous taffeta cocktail dress.
I love it how every activity required its own distinct fashion, such as this matching short set for a day on the golf course.
Uh yeah, this is PERFECTION!  This Miss Oklahoma contestant entered the 1956 pageant as Miss Rattlesnake and in that bathing suit, I'm sure she rattled many a smitten admirer.
Me?  I'm more smitten with this cabana set and am thinking my husband would look very cute, indeed, in a similar outfit.
1957:
Here's a little Arrows to Atoms cheesecake from the Semi-Centennial celebration — where can I get one of those fantastic trophies?
Cowgirl cheesecake from the same celebration.
There's no cheesecake here, but this lovely OU student made the newspaper for designing her own clothing, including this fun suit.
The model in the middle was Faith Eads, an OCU graduate who was a major up-and-comer in the modeling world in the 1950s.  Here, she models a dress that looks very much to me like the Parisian potato sacks Lucy and Ethel wore that were supposed to be funny but that I always coveted:
Very nice but I just don't know if I ever could have pulled off those short shorts, even when I was young.
This is what all of the fashionable female gardeners were wearing — seems kind of hot in the formidable Oklahoma summer heat.
High school fashion at its finest.  You've got to love a good letter jacket.
In 1957, this Christian Dior dress made a stop in OKC — without the designer, I guess — and was insured for a whopping $100,000.
Oh, the eye candy of this shot!  Here, a bevy of beauty contestants gathers around singer Johnnie Ray during the Semi-Centennial Exposition.
1958:
Now this is what I call casual wear!  Here's local model Faith Eads again and, my, she looks swell.
I don't think you'd even get tea if you wanted to fit into this clinging evening gown.
Maybe I'd play golf if I could wear this sweet capri set, though.
Woo hoo!!  Another great find in the Oklahoman archives is this group of curvaceous performers showing off their expert hula hooping skills.  This shot was taken at the height of the hula hoop craze that year, when 25 million of the toys were sold in just four months.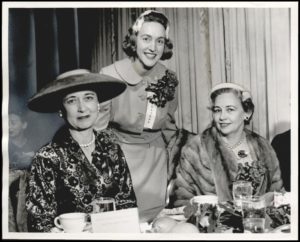 A little more conservatively dressed, these be-hatted ladies were members of the Cow Belles, the ladies auxiliary of the American National Cattlemen's Association.
And here are the ladies of the Kiwanis.
1959:
Here, we see the lovely Faith Eads again, this time attired in a truly magnificent evening dress.  The 22 year old was the assistant director and modeling instructor for the Ben Shaw Modeling Studios and often travelled around the country to model in various shows and for all kinds of national publications.  She was returning to Oklahoma City after a modeling assignment in Houston and boarded Braniff flight 542 for the first leg to Dallas.   As the plane neared Dallas, it disintegrated in mid air over Waco, killing all aboard.
Initially, no one could explain why the 11-day-old Electra fell out of the sky when the left wing ripped away from the fuselage, but after a similar crash of an Electra over Indiana just a few months later, FAA investigators determined that there were major flaws in the wing design, making them too stiff to handle in-flight vibrations.
What a tragic ending for the glamorous Faith….
Well, I don't like to end things on a sad note, so here are a few more fashion photos from the Oklahoman archives to cheer you up:
This is what the studious young student in 1959 would be wearing to study — short set and ballet slippers.  Nice but I think I like the Herman Miller bucket chair better.
Let's end the Mod Blog and the 1950s with a photo of the always stylish Fay Taylor: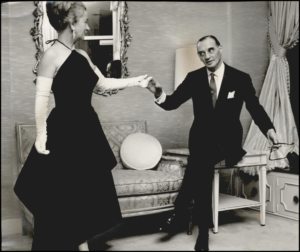 If you don't remember Fay, she was an OKC fashion icon and long-time illustrator for Ruth Meyers.  You can read all about Fay on the Mod Blog.
And that's it for our look at 1950s fashion courtesy of the Oklahoman archives.  Stay tuned for more fashion finds in the archives from other decades in the near future.