Fay Taylor, Fashion Illustrator Extraordinaire
text and fashion photos by Lynne Rostochil, vintage images from the OPUBCO collection at the History Center
When the iconic Ruth Meyers boutique in Nichols Hills Plaza closed recently, owner Cindi Shelby conducted one last sale for the ages, and generations of loyal customers arrived to pay their last respects and share decades of happy memories with each other.   I overheard the always lovely Cindi and her numerous friends/customers laughing over wedding dress fittings and finding "the perfect one," of designer suits purchased decades ago that remain trendy today (thank you, Calvin Klein), and of giant-sized '80s jackets that could swallow a person whole, which made all of us giggle and wonder what on earth we were thinking:
Let's hope that particular fashion trend NEVER returns.
Anyway, all of the reminiscing was only part of the fun.  Among the mannequins, fixtures, and display pieces for sale was a huge collection of fashion illustrations by the amazing Fay Taylor:
Hundreds of pieces were piled high on every available surface in the back of the store.  Here's a small sampling of the delicious eye candy that greeted loyal patrons hungry to take a memento from their favorite shop home:
Over a three-day period, I spent hours carefully looking at each incredible piece of artwork, trying to convince my budget that I needed to rescue every single one.  Sadly, the budget said no to that idea, but I did pick up a few treasures, including this fun beauty:
Most of the artwork was from the 1980s, but Fay actually began her collaboration with Ruth Meyers soon after the shop opened in 1975.
I love these illustrations so much because Fay's woman is confident, happy, on the go, and so incredibly stylish — much like the dazzling Fay, Ruth, and Cindi themselves:
Fay's two big loves — fashion and drawing — meshed early on.  According to a 1994 Oklahoman article with Fay, "her first memory of wanting to draw is when she was 8 years old and her teacher called her to the blackboard. While she was waiting for the teacher's instructions, she picked up a piece of blue chalk and started to sketch.  'I was so attracted to that blue chalk,' Taylor recalled during an interview in her home studio in Oklahoma City. 'I started to draw a high-heel shoe. I always loved shoes. '"
Once she began drawing, Fay found her passion in life and and was off and running.  However, at the time, no school offered fashion illustration classes so she had to learn everything on her own.  In the Oklahoman article, she recalled one experience with a boss during her early years as a fashion illustrator: "(he) remarked that the hands Taylor had drawn on a figure looked like 'dead fish.' She has since mastered the art of drawing hands. Taylor laughs about that critique now, but she said it was devastating to hear at the time."
I think she definitely got the hands thing down, don't you?
Fay's career kicked off when she was hired as an artist for a retailer in Kansas City.  In Oklahoma City, she worked as the head artist for Kerr's and later for John A. Brown's, while also writing and illustrating a weekly column in the Sunday Oklahoman.  Here's one of her first columns and sketches for the newspaper from 1941:
I love this column from 1964:
Unencumbered with a husband or kids, Fay enjoyed a life of fashion, glamour, and travel.
For a few years, she lived in Dallas and freelanced for Sanger Brothers and the Dallas Times Herald.  She also spent time in California as an illustrator for I. Magnin, but Fay loved life in Oklahoma City and returned home to be near friends and family.
After her return, Fay opened Fay Taylor Books & Gallery in the shiny new Shepherd Mall in 1964.  Two of her nephews ran the shop, which often featured her watercolors and work by artists from all over the state.  She also carried a wide selection of art books and beautifully curated gift items.  The store was around for awhile, but I found no mention of it in the Oklahoman after 1967, so I assume that it closed that year.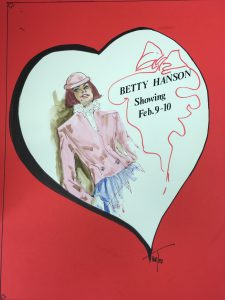 How lovely are these brides?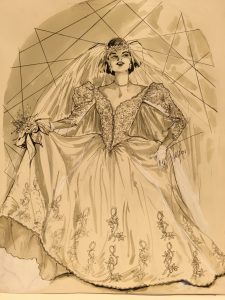 Fay used a combination of pen and ink, watercolors, and pastels for her distinctive illustrations:
This one just screams '80s with that funky 'do and those green tights!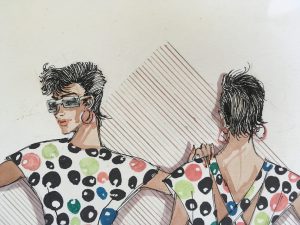 According to the Oklahoman profile on Fay, "When Taylor draws, she listens to classical music – 'Especially if the drawing is not going right. I'll get up and put on Chopin or something soothing. Then I just come back and start drawing again.  I can't worry about, will this sell? Will they like it? I forget about all that and just draw and look out the window now and then and watch the squirrels run around. '"
She even replicated fashion accessories in beautiful detail:
Perhaps Fay's biggest talent was for capturing the true likeness of fur.  In each of her illustrations of a fur cap or coat, the garment looks so textured and real that you have to refrain from petting it.  Amazing!
Is your head about to explode yet?
Fay's women are confident, carefree, and in a constant state of motion with their beautifully coiffed hair blowing oh-so-perfectly in the presumed Oklahoma wind.
I can just say that my hair has NEVER looked that lovely blowing in the wind; instead, it slaps me in the face, gets caught in my eyelashes, and looks like a discombobulated mess.  Obviously and much to my regret, I'm not a Fay kind of girl — darn it!
Her ladies look perfect in loungy clothing:
… or all dressed up with somewhere to go:
After the equally stylish Ruth Meyers opened her boutique in the tony Nichols Hills Plaza, she hired Fay to illustrate the store's designer fashions in 1976.  It was a symbiotic partnership that would last the rest of Fay's career.  OKC's fashion trifecta of Ruth, Cindi, and Fay is on full display at an '80s event:
And here's Ruth hard at work in her shop:
Cindi recalls one work trip to New York City with her two fashion powerhouse friends.  The trio had just arrived in town and their car pulled up to drop them off somewhere.  When Ruth and Fay got out of the car, every head turned in their direction to check out the two elegant fashionistas, assuming that they surely must be famous.  They were so stylish and such a strong presence that the two ladies from Oklahoma made everyone else on the busy Big Apple street look dull in comparison.
Fay loved hats!  "I don't feel totally dressed unless I have a hat on," she said during her 1994 interview with the Oklahoman.  That love is in evidence in many of her drawings of behatted lovelies:
Fay retired for a short time in the mid-'90s but couldn't stand being idle and soon went back to work with Ruth.  Here she is at work in her beautiful home overlooking the Quail Creek golf course:
I think that every one of her creations is really Fay herself, don't you?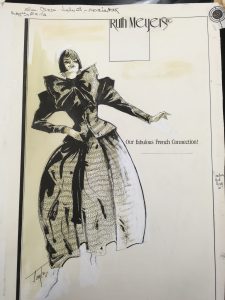 Over the years, the prolific Fay saw her illustrations in appear in such revered fashion and style publications as Vogue, Town and Country, and Harper's Bazaar.
In addition to all of her other work, Fay was a founding member and the regional president of Fashion Group International, an organization for women in the fashion industry.
In 1991, Fay was honored with the Byliner Award by the OKC chapter of Women in Communications.
Here's one of those giant '80s jackets I mentioned at the beginning of the article.  Somehow, it doesn't look so exaggerated and impossible through Fay's eyes, does it?
This one was my very favorite of all of Fay's art at the sale:
And how cute are these holiday illustrations?
One of the giant scrapbooks at the sale that was packed full of Fay's work that appeared in the Oklahoman:
Fay Taylor died in 2000 at the age of 89.  I find it remarkable that, when most women of her generation were supposed to be contented with domestic life, Fay vehemently rejected that limited notion of women's capabilities and blazed a path of her own in a male-dominated workplace … and she did it so successfully and with a great deal of class, too.  She was certainly a pioneer and a woman to admire.
Thanks to Holly and McKenzie Carlin for allowing me to photograph their Fay illustrations.  Also, a special thanks goes to Cindi Shelby for sharing her sweet memories of Ruth and Fay and for being such an icon herself.  You will be seeing her soon in a new space, so stay tuned!