On the Market: A To-Die-For Mid-Mod in Midwest City
text and photos by Lynne Rostochil
For those of you who are looking for a beautiful mod house that's in need of a little love, this beauty in the Meadowood addition in Midwest City may be just what you're looking for.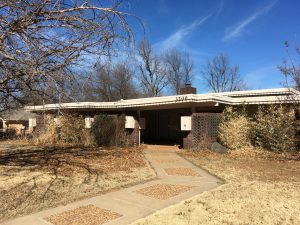 Yes, this one is low and sleek and oh so sexy with jaw dropping details that are everywhere inside and out.
When I say details, I mean things such as this beautifully crafted front door that offers titillating hints of the stunning surprises inside: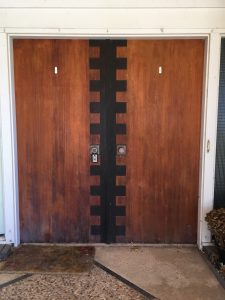 Check out this stunning main living room with gorgeous wood panelling, a dramatic fireplace, and clerestory windows:
That's the dining room on the other side of the incredible, one-of-a-kind screen:
Here's a detail shot of the wood, tile, and light in this beautiful space:
It's surprising to me that this home, which was built in 1961 and is nearly 3,000 sf, has the open flow that today's home buyer is looking for.  On the other side of the fireplace is a breakfast room/den overlooking the huge back patio on one side and the kitchen on the other: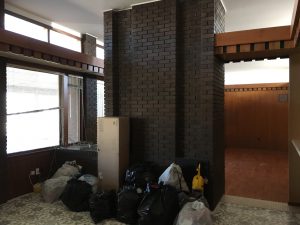 One of the most spectacular parts of the home is the all-original and well-appointed kitchen:
There is SO much cabinet space and storage in this L-shaped space that includes a little desk, two large pantry spaces, and cabinets that carry the same spine-like pattern:
And those pulls!
Even sexier than those are the original Chambers stove and double ovens:
You can't kill a Chambers, so I'm sure that these appliances work as well now as they did when they were freshly installed.  Oh how I love them … almost as much as I love all of the counter space in this beautifully planned kitchen:
If you aren't already drooling uncontrollably, this kitchen also contains the much-coveted built-in Nu-Tone appliance center — be still my heart!
I've always wanted one of those babies.  Off the kitchen is the garage, in which the architect thoughtfully added a skylight to brighten up the space — I like:
This house boasts a true mother-in-law plan with a large bedroom/den on the kitchen side of the house:
When I tell you there is a lot of storage in this house, I mean it.  There are cabinets, drawers, and built-ins tucked away everywhere, including the closets:
The bathroom on the MIL side is small but so spunky with pink fixtures and a dark tile that crawls up the walls from the floor:
How great is that?
On the other side of the living room, the bedroom wing contains two large kids' bedrooms…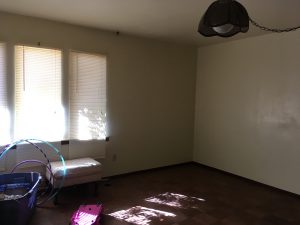 … and one of the coolest bathroom set-ups I've ever seen.  Off of the hall is a pretty fantastic bathroom with a skylight hovering over an amazing shower/tub combo:
The tile is SO fantastic — my photos really don't do it justice at all.  And, the best part is that it's in great condition!  The vanity area in the bathroom is very spacious, too, with the cabinet pattern from the kitchen repeating itself here:
A door from this bathroom leads to another vanity area in the master bedroom:
Yes, those are lights built into the mirror like a backstage dressing room — how great are they?
Here's where the cool really comes in.  There's a separate vanity area, toilet, and shower just for the master bedroom right next to this one (to the left in the photo):
So, even though it's a compact master bath setup, the two separate vanity areas make it seem much larger.  As for the master bedroom, it's a giant space anchored by a pretty outstanding fireplace:
So dreamy, isn't it?
Okay, if you haven't totally fallen in love with this house yet, I think the back patio and yard just might send you over the edge.  Part of the patio is covered, which I would take down and open up to create one great big outdoor space:
Even with the enclosure, the outdoor patio is gigantic and runs the length of the house: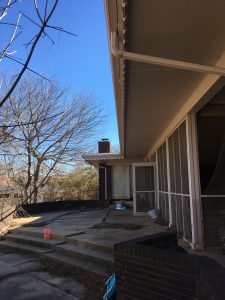 As beautiful as this patio is, it's really not the best part of the backyard.  A rounded staircase leads to an equally huge yard that backs up to a creek, so there is plenty of privacy and space for tots to play, for dogs to run, or even for putting in a pool, which is exactly what I'd do.
Yes, this is a house that was definitely built for entertaining in a big way!  I believe the original owner was Kenneth H. Flannery, Jr., who was a local builder and one-time president of the OKC Home Builders Association.  He got into some legal trouble with gambling in the mid-'60s and may have left the state — I find no mention of him in the Oklahoman after 1967.  Anyway, he built a beautiful home for himself and his family, and I really hope that a Squadder comes along and saves it from short-sighted flippers.  Priced at a mere $135,000, there is plenty of room in almost any budget to invest money to fix up this mid-century modern palace and make it shine again.  Go here to see the Zillow listing and schedule a tour of this truly unique abode that is begging for someone to rescue it.
If you're wondering about this Midwest City neighborhood, here's a little information about it.  Meadowood was developed by Glenn Breeding and Midwest City founder, W.P. Bill Atkinson.
The neighborhood was professionally planned to be a self-contained community of 1,000 homes on tree-lined, winding streets surrounding an elementary school and near shopping and the local YMCA.
The developers began selling lots in 1960, and the more modest homes in the neighborhood started in the $13,500 range, which is about $111,000 today.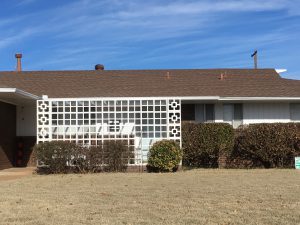 Meadowood also contains several streets of grander custom-built homes on much larger lots — this week's featured house is one of them and is on the prettiest street in the neighborhood, I think.  Here are a few of the homes on Glenoaks:
Not too shabby, aye?  I drove all around Meadowood, and the homes are all very well maintained — there are some pretty outstanding examples of mid-century modern architecture, too, especially this gem around the corner:
The sun was in the wrong spot for me to capture this home in all of its glory — here's a better shot from the tax assessor site:
Pretty fantastic, aye?  Also, there's another Vollendorf house in the neighborhood:
It's not easy to capture the true coolness of this house — here's another tax assessor shot that shows the home in better detail:
Here are a few more Meadowood treasures:
Located just minutes from the hubbub of downtown, Bricktown, and Midtown, Meadowood is a great alternative to pricier parts of town.  Check it out!