Edgar Tafur and the Art of Mercy
by Lynne Rostochil, vintage photos from the OPUBCO collection at the History Center, catalog and current-day photos from the author
Some of my favorite childhood memories include spending part of my summers every year hanging out with my grandmother and volunteering with her on Tuesdays at the newly built Mercy Hospital in the gift shop.  It was always so much fun checking out all of the latest and usually very kitchy items for sale, talking with customers, and feeling very grown up eating and gossiping with my grandma and her pals in the lunchroom during our breaks.  While I loved every aspect of these Tuesdays with Grandma, I think my favorite part always included sneaking off and riding the elevator to each and every floor so I could gawk at the art.  Yes, you don't often think of a hospital as a place to view great art, but our very own Mercy Hospital is home to a collection of ceramic murals that are really something special.
The murals were created by multidisciplinary artist, Edgar Tafur, who grew up in Columbia and studied architecture at the University of the Andes in Bogata before deciding to focus on sculpture when he was a student at the University of Florida.  In fact, from what I can tell, it was his sculptures that first brought Tafur to Oklahoma City when the Oklahoma Art Center hosted an exhibition of his work in February 1969.  I found a catalog from that long ago show:
"Each of his works is an understatement of the principles of architecture, which is itself sculptural.  Tafur's sensitivity towards the play of light and shadow on the surfaces, his relationship of positive and negative spaces, and his fluid play of rhythms all lend themselves dramatically to an exciting visual statement.  His simplicity evokes the opinion of the renowned architect, Mies Van der Rohe: 'less is more.'" Patric Shannon, Director, Oklahoma Art Center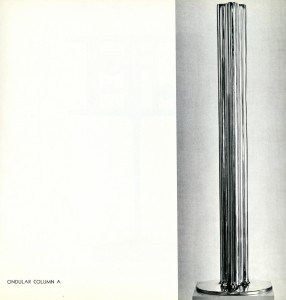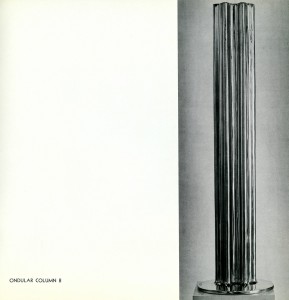 "The word for Tafur is gaiety.  Humor, wit, lyricism and information are combined with an essential tact and modesty and carried out with a technical skill." Robert Ayre
"His work is well adapted for integration with buildings." Rober Ayre
Obviously, the movers and shakers at Mercy Hospital agreed with Mr. Ayre.  When they decided to abandon their hodge podge of aging white buildings on NW 12th for a new, much more modern hospital in far NW Oklahoma City, the board thought that a departure from the typical antiseptic hospital environment was in order.  Here's what the original complex looked like:
And a rendering of the new 400-bed, $25.5 million health center to be located at Meridian and Memorial — designed by Hudgins, Thompson & Ball:
The new Mercy would be an inviting, art-filled space to both welcome patients and their loved ones and to create a therapeutic environment conducive to healing.  Enter Mr. Tafur, who was teaching at the University of Cincinnati in Ohio and also worked as an artist for Associated Design, Planning and Art, Inc., in nearby Hamilton.  In addition to his work as a sculptor, Tafur had also begun working on large "concept designs" that "included sculptures, murals and fountains commissioned bv architects, landscape architects and interior designers and have been placed in institutional, commercial and liturgical projects," according to an article about his work in the Hamilton, Ohio Journal-News.  Prior to his exhibition in OKC, Tafur had completed a lobby mural for the Columbus Hospital in Chicago, so it seemed a natural fit when he was commissioned to design similar works of art — but on a much grander scale — at Mercy.  (Columbus Hospital closed in 2001 and was later demolished, so I'm assuming that Tafur's mural was lost, too.)
Construction began on the Brutalist-styled hospital complex in 1972:
Here it is today:
As the building was nearing completion in 1974, Tafur returned to OKC and worked a whole lot of magic at Mercy, including creating this fantastic pre-cast concrete lobby mural that was featured in The Oklahoman soon after the hospital opened:
Today, the visitors' desk sits in front of this elaborate work of art, but you can still get up close and personal to see all of the incredible details of this piece:
As impressive as the lobby is, the art gets better — and decidedly religious — after you get on the elevator.  Pick a floor, any floor, and you'll step off to find something truly incredible … and I'm not exaggerating, either.  Let's begin with the Nativity mural:
I think my favorite part of this one is the three wise men — love all of the stripes and circles and variations of brown and orange:
I also love the mural entitled "Christ and the Fishermen":
This one is called "The Healing of the Sick" — an image quite appropriate for a hospital, don't you think?
I love the details on this one, too:
The following two are my favorites, I think — The Last Supper:
How great are these details?
Finally, and perhaps most dramatically, here's Tafur's version of The Resurrection:
Wow, wow, and wow!!
This one always takes my breath away and it's the one I've always remembered most from my childhood days.  So, if you're ever at Mercy Hospital with a few moments to spare, hop to every floor on the elevator and check out these striking and oh-so-colorful murals.  And don't forget to stop in the chapel to see more of Tafur's remarkable work:
As for Edgar Tafur, from what I can tell, he spent the rest of his life in Ohio working and teaching.  He died in 2007, and there are several of his public sculptures in Hamilton, including the Space Tower, which was originally created for the Cincinnati Playhouse in the Park but was moved to Hamilton in 1980 (see photos here), and the modern topper on the Symmes Memorial, also in Hamilton:
According to several sources, there may be another piece of Tafur's work in Oklahoma City.  In 1976, he installed a sculpture entitled "Ondulation Column" at the Oklahoma Art Center (now OKCMOA), so it still may be in the museum's collection.  Onetime Art Center director (from 1965-1972), Patric Shannon also owned a Tafur sculpture, but it was auctioned off in 2008 after Shannon's death.
Finally, if you ever have surgery at Mercy, you'll encounter a modern crucifix in your pre-op room.  I'm not sure if these are Tafur designs, but they sure look like they could be: