First Christian Church: It Takes Courage
by Lynne Rostochil.
In previous Mod Blogs, you've seen a drawing for the second design for the First Christian Church, which was comprised of a crystal-shaped sanctuary:
This unusual design was completed in 1953 or so and was quickly approved by the pastor, Bill Alexander, and the membership.  They immediately set out to raise the necessary funds to get this mod marvel constructed and sent out a packet about the new church to potential big money donors to encourage them to generously give to the building fund.  It all begins with this letter:
The packet also contained drawings of the proposed sanctuary to entice people to give, give, give: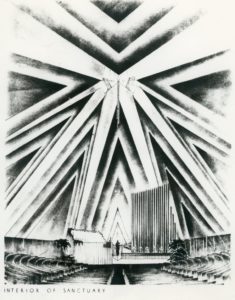 Also in the packet were drawings of the lobby area, dining room, and music theater (what came to be known as the Jewel Box):
Here are drawings of the topography and campus:
As one extra little enticement to encourage large donations, the packet contained a drawing and layout of the youth center they hoped to complete after the church was built:
Unfortunately, this crazy design was ultimately shelved when construction bids came back much higher than anyone anticipated.  Duane Conner of Conner & Pojezny returned to the drawing board and came up with the domed design that we all know and love:
And now, after we were all so hopeful, we learned that Crossings will not be purchasing the First Christian Church after all because they say it will cost $20 million to get it in good shape.  So now this architectural marvel and local treasure is endangered once again and we await its faith with fingers crossed and breath held.