On the Market: A Gentle House to Solace the Soul
text and photos by Lynne Rostochil
If you are like me and love to drive around neighborhoods looking for mid-century modern homes just for the fun of it, then you definitely know this beauty in one of the loveliest neighborhoods in the city, Forest Park.  This home, located at 3500 E. Maxwell, has been the topic of many a mod conversation in Mod Squad circles for at least a decade, with many admirers wondering what the fates held for this low-lying and increasingly forlorn looking rancher at the corner of E. Maxwell and N. Cardinal.  Well, I'm happy to say that this beautiful mid mod in need of a little love is now on the market … but, before we get to that, let me tell you a bit about the home's fascinating history and the family who has lived here for over 60 years.
The home's first and only owners were C.C. "Bill" Cody, his wife, Marian, and their two kids, Carol and Mike.  I've heard a lot of stories about Bill and Marian and have come to consider them two of the most interesting people who ever lived in Oklahoma City, and I'm truly sorry that I never met them.  Bill and Marian met as geology students at OU and theirs was a beautiful, five-decade-long love story.  Here's the tale of their meeting and subsequent few years from Marian's obituary:
Marian began college at Oklahoma City University as an accomplished ballet dancer and an avid student of the arts, until one day a Geology professor began her class with the poem "Each in His Own Tongue" by William Herbert Carruth, which instantly inspired her to change her focus and devote her studies to Geology at the University of Oklahoma.  It was this change in course that led her to the love of her life, Bill Cody.  She met Bill at OU.  They were both enrolled in the Geology department.  Often admiring each other's work and success in class, Marian became curious about the man who always made a perfect grade, and Bill wanted to meet the woman whose work was truly impeccable.  Bill introduced himself to Marian and asked her to join him for a cup of coffee at the Town Tavern on Campus Corner.  She agreed, and before they had finished their cup of coffee Bill asked her to marry him and move to South America with him.  Her response, "Well, sure!"  They finished their coffee and walked next door to the local jewelry store, and picked out a ring.  Thus began their instant and timeless love story.
Marian graduated from the University of Oklahoma with a Bachelor of Science in Geology in the summer of 1940.  Upon graduation, Marian moved to Tulsa where she worked as a geologist for an oil company.  It was during this time in Tulsa that she discovered her passion for flying.  She earned her pilot's license in 1941, and joined the Tulsa Civil Air Patrol.  Her heart soared when she flew and every time she recalled her flights above the clouds. 
On November 5, 1942, Marian and Bill were married at St. Paul's Cathedral in Oklahoma City.  Almost immediately after they were wed, they began their adventure together and moved to South America where she worked for Tropical Oil running her own paleontological lab and where Bill was the Party Chief for Seismograph Service Corporation in charge of all Columbian operations.  They made their new home in Columbia, a place that captured their hearts.
It was there that she and Bill bought their "Espiritu" – a lovely little sea plane.  Bill got his pilot's license as well and they flew over land and sea taking turns at the controls.  She once wrote about their time flying their "Espiritu" and stated that when she and Bill were flying together, they were "no longer earth-bound; free of all responsibility except to each other . . . .   It was a point of time of pure abandon and delight that could never be equaled in just the same way again."
In 1944, they moved to Caracus, Venezuela, and on December 24th of that same year, their daughter, Carole Anne, was born.  Marian began working as the Venezuelan correspondent for the Oil and Gas Journal, a job that allowed her to devote herself to being a mother.  On October 7, 1947, their son, Michael Frederic, was born.  By 1948, she and Bill decided to move back to Oklahoma City so that their children would not be denied the American heritage and opportunities. It was there that they built their dream home.  Together, they had lovingly imagined every detail of the design so that it would perfectly suit their family of four and provide them with a place of joy and comfort for all the years to come.
Marian did all of these things in a day when, if a woman wanted to be a professional, her options were limited to teaching and nursing.  To say that she was special is a vast understatement, indeed.
As for their home in Oklahoma City, the Cody family purchased a four-acre plot of land, complete with private pond, in gentried Forest Park and selected Raymond Carter to design it.  The Codys wanted a modest abode that took full advantage of their acreage in the heart of the city, and the designer returned with plans for a distinctive ranch house that comfortably fit their needs.  The home was constructed but it burned to the ground within a year, so Bill, Marian, and Raymond went back to the drawing board and came up with a second design that was very similar to the first but larger at 2,257 square feet.  The three bedroom, two bath home was completed in 1956 and the family once again settled in, this time for good.
With its long and low lines, abundant use of rock, and signature lattice work, the Cody House is a quintessential Carter design.
Yes, the home is in need of some love, but it doesn't take much imagination to envision what the place looked like in its prime.  If you're just not seeing it, let me help you out by showing you a few exterior shots of the place from about 20 years ago:
It was gorgeous then and is gorgeous now, even in its present unkempt condition:
Before we go inside, let's meander down to the pond, where generations of kids have enjoyed hot summer days playing and swimming to beat the heat.  Here are a couple of vintage shots of the pond as fall leaves were changing color:
Simply magnificent.  Here's a photo I took of the pond toward the end of summer a few years ago:
It's difficult to imagine with this view that we are just a few short miles from all of the action of the city, isn't it?  It is pure natural bliss, and I now understand why the Codys moved here in 1956 and never left.
Now that you've seen the outside, let's get to the best part … the interior of the Cody abode!  A covered corridor leads to the one-of-a-kind front door:
Inside, a latticed entry acts as a buffer between the outdoors and the living room and teases you with all of the beauty beyond: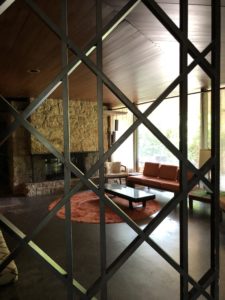 And, ta-da, move around the lattice and you are greeted by this jaw dropping view of the open concept living/office/dining area with a wall of windows looking out to the backyard:
To the left is a cantilevered, built-in sofa:
And behind the sofa is an office with the coolest built-in desk EVER:
This baby is much larger than the photo indicates and cantilevers just like the sofa on the other side.  Another great thing about the office and many other areas of the home is the storage.  Many of the panelled walls of the home hide closets — in this case, just pop open a hidden door and voila, a closet with all kinds of storage for plans, correspondence, and files:
Another nice feature of the office is a built-in bench that appears to run seamlessly from inside to the outdoors:
Such beautiful attention to detail!  Another great detail is the hanging lighting fixture over the desk:
I've seen these exact lights in a couple of mid-1950s homes designed by Carter.  Love the perforations, especially when the light is on:
I don't know what it is about perforated lights that is so thrilling to me, but I wish I could buy this house just for this fantastic feature alone.  And, luckily, there's another set of these lights next to the two-sided rock fireplace that divides the living room and more informal den — you can see them on the right in this photo I took of the home in 2014:
Yeah, I know, you're eyeing all of the great furniture, aren't you?  Well, to answer your unspoken questions, 1. yes, it is all original from the time the home was built, and 2. some of it may be available for purchase, too.  Obviously, all of the built-in furniture comes with the house, and the owner may have the option of buying some of the sofas.
Okay, you can stop jumping up and down like a giddy two year old now … we don't want any heart attacks while reading the Mod Blog so just re-laaax and bring that heart rate down.  It's going to be a challenge as we go on with the tour, I promise, but I know you can do it.  If you're calm now, we can move on….
Looking to the right from the above view is the friendly dining room:
Marian loved the bamboo that waved in the lattice-trimmed, floor-to-ceiling dining room window, and I do, too:
It lets in a perfect amount of dancing daytime light and makes you feel like you're inside and outside at the same time.  To the right of the dining room is the all-original kitchen.  And, when I say all-original, I mean matching top-of-the-line 1956 appliances and everything:
I can honestly say that I've never, ever seen a vintage Revco Bilt-In refrigerator in the wild until now.  Wowza!  According to Pam at Retro Renovation, "vintage Revco Bilt-In refrigerators and freezers are the 'holy grail' of refrigerators from the 1950s and 1960s, more even than the vintage GEs constructed like wall cabinets and even more than the Kelvinator Foodarama."  (Read more of the Revco article here.)
For comparison, here's the GE cabinet fridge, a brand that I know a few of you Squadders own:
And here's the Kelvinator Foodarama:
The first prize for the best brand name obviously goes to the oh-so-fun and very '50s Foodarama.  (I think just about everything back then had an "orama" attached at the end.  Here's more information about the origins of this oft used mid century suffix.)
As for these particular appliances, I have to say that, even though the Foodarama wins in the Best Name category, I like the sleek styling of the GE and Revco fridges quite a bit better, with the Revco beating out its GE rival because the flexible built-ins could be configured either horizontally like the GE fridge …
… or vertically as a standard refrigerator:
In the Cody House, the refrigerator is stacked vertically and angles toward another set of very rare appliances, the glorious and very rare in-the-wild GE Wonder Kitchen.
The GE Wonder Kitchen was introduced just in time for the construction of this home in 1956 and was the very latest in design with an all-in-one unit containing an electric range/stove, dishwasher, and combo washer/dryer all united by a long stainless counter and sink.  These marvelous Wonder Kitchens came in such enticing colors as Canary Yellow, Turquoise Green, Petal Pink, Cadet Blue, and, in the Cody home, Woodtone Brown.  The Cody House kitchen also features a custom-made vent hood:
Another feature of the Wonder Kitchen is built-in storage running along the top of the stainless counter:
I didn't get a great shot of the GE Wonder Kitchen in the Cody House, so here's a better photo of a pink one from Retro Renovation:
You can read some history about the GE Wonder Kitchen here.  At some point, the Codys replaced the Wonder Kitchen dishwasher, but I've done a little research and because these "kitchen centers" were internally plumbed and wired, the appliances in the Cody house could be refurbished and restored.  There's no doubt that, if I were the lucky buyer of this home, I would be doing that exact thing.  Same for the very rare Revco fridge, too.  Nope, no doubt about it at all.
Moving on with the tour, to the right of the Revco is an angled bar and another set of wall panelling that pops open to reveal a very generous pantry:
I know I'm repeating myself here, but this all-original kitchen is so rare and beautiful and I really hope that the new homeowner strives to restore it rather than knock it out and "modernize" it.  If it has survived practically untouched for 60 years, it deserves to stay, if at all possible.
Okay, with that preservation emphasis made, on the way out of the kitchen is another panelled wall that opens to reveal a second pantry: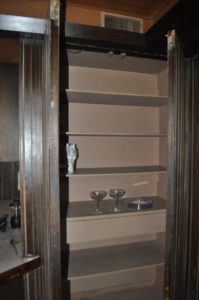 Let's take a look at the view from the kitchen into the living room:
I mean, honestly, does it get any better than this?  And, yes, that is beautiful and much-coveted terrazzo flooring that runs throughout the common spaces of the home:
On the other side of the fireplace is the aforementioned den:
Oh, did I happen to mention that the new owner may have the chance to buy some of the sofas in the house?!  Well, this beauty is one of them!  Sit … back … down … and try very hard to avoid the temptation to start jumping up and down again.  If you're calm now, we can continue….
Atop a round table in the corner sits a half-finished and very detailed homemade model of the Cody House that Bill worked on during his final years:
Maybe the new owner will be as meticulous as he was and decide to finish it someday.
On the far wall of the den, once again hidden by the panelling, is another treasure … a built-in bar with an original tiled countertop:
Off of the den, you'll find two bedrooms separated by a Jack and Jill bathroom.  Each bedroom is identical in size and features built-in twin beds and desks:
Each bedroom also boasts a unique sliding shoji screen style door:
The huge master suite is at the end of a small hall off of the den:
A panelled wall on the other side of the room includes a built-in bench and a pop-open door for a TV:
Another wall of panelling hides two closets just before you get to the master bathroom:
So, that's it for the house itself.  Yes, it needs love but it has SO much potential, don't you think?
Here's a bonus.  When Bill and Marian moved back to Oklahoma City, he started his own company and as it grew, he decided that he needed much more room than the home office could provide, so he designed and built a much larger office and storage space in a separate building next to the house that nicely compliments the home's unique design.  The two-room office definitely needs a lot of love but could be fully functional again with a little elbow grease:
I know, I know, it looks scary but there's a lot to love about this space, especially the very cool table on the right.  There's a protective glass top covering it, and I think the table could be completely restored:
And now you've seen the Cody House inside and out.  Bill and Marian lived in this beautiful home very happily together for over 40 years until Bill died at the age of 84 in 1999.  In typical independent style, Marian stayed on here by herself until her death in 2014 at 96.  Their children and grandchildren enjoyed so many years of great times in the home that Carol and Mike haven't had the heart to sell the place until now.  However, I'm sure they will be very relieved if the second owner of this unique property full of history and love will restore this unique abode to its original glory — I hope that happens, too.
Finally, in her waning years, Marian composed a lovely piece of prose about the home and land she and her family loved and enjoyed so much for over six decades.  Enjoy!
A Place That We Love
A beautiful house of glass and wood,
Held up and about by rock;
Moored to the ground on staunchions of steel,
With wood roofs free to fly.
A nurturing house set into the land,
Seeming to grow one with it.
The feeling of space, the wild wide open space
Of being untethered and free.
A gentle house to solace the soul,
Of colors to us that bring joy;
Of sun and shadow, to excite and calm down
A place to delight the eye.
Almost fifty years new, we've lived with its spell,
And watched as the cloud pictures changed.
The violent storms, the zig-zag sky streaks
That thundered to earth with a crash.
Snowflakes in winter, red-gold leaves in the fall,
Summer's clear-blue azure sky;
White scuttling clouds playing touch-tag with each other
The tall towering nimbus as well.
A liveable house
To meet changing needs,
As our lives changed each decade of years.
And each decade of needs
Was beautifully matched,
Our beloved house supplied all of these.
The old oaks that surround it
The old willow that fell
To the pond one long-ago day;
The cottonwoods rustling and singing their song,
The bamboo of delicate grace.
A charming house, a solace, a joy.
A place we love to come home to.
A shelter, a center, a haven, a base.
The calm in the eye of the storm.
The spirit, the joy, the elan of this place,
Has been ours to have had, to have held.
The spirit, the joy, the elan of this place.
Has been ours to have had for awhile.
                                                                               MCC
The Cody House is on the market for $205,000, and you can call Susan Granger at Metro First Realty to schedule a showing — 684-1338.  No need to be calm and collected now.  Jump up and down, get giddy, give Susan a call, and be the lucky person who gets to call this solace in the woods home.