Recapping the 2018 Oklahoma Modernism Weekend
text and photo by Lynne Rostochil unless otherwise stated.
This year, we felt so lucky to be able to host the third annual Oklahoma Modernism Weekend (OMW) at the iconic Gold Dome in Oklahoma City.  The building didn't have air conditioning, water, or facilities, but no one seemed to mind a bit because, duh, it was in the GOLD DOME, for goodness sake!  I honestly can't imagine a more beautiful backdrop for all of the fun events of the weekend….  Let's take a look back, shall we?
Mod Swap vendors began arriving Friday afternoon to set up their unique wares for the Mod Swap on Saturday.  The place filled up quickly:
Terri took these shots of booths all set up and ready to go.  Here's the scene at Funky Shway's booth:
And the goodies for sale by Retrospectiv:
Love the nice set up by remodernOK:
After set up was complete, the actual Weekend kicked off Friday evening with a happy hour hosted by our Mod Squad friend, Koby Click, at his new shop Space3012.  If you haven't been by his new space, you will love it!  He's now located at 3012 N. Penn:
Afterward, a group moved on to the Pump for an evening of fun and games:
The next morning, organizers enjoyed a few moments of quiet before the Mod Swap and Wheel-o-Rama opened at 8:00 sharp:
Commonplace Books brought along several mod titles for people to lust over:
As soon as we opened the doors, a steady stream of mod lovers filled in to shop, make some good deals, and have fun:
This quirky bar from Retrospectiv was one of my favorites:
And who doesn't love a little cat-eye look brought to you by Renee Curry:
We even had my favorite gallery, [Artspace] @ Untitled, on hand giving printmaking demonstrations to curious customers:
But, I can honestly say that I found a lot of favorites at this year's Mod Swap.  We had a great group of vendors from all over Oklahoma, as well as from Dallas and Amarillo and even Little Rock, and they brought some fantastic treasures that very smart Mod Squadders scooped up quickly:
It was mid-century modern nirvana!
Also, we were so happy that Jennifer and Bren offered to man the concierge desk and merchandise booth.  They were on hand to sell the best OMW t-shirts ever, buttons, and much-needed Okie Mod Squad hand fans:
While there was a frenzy of shopping going on inside, the always-exciting Wheel-o-Rama filled the front parking area with all kinds of classic rides:
How fabulous was this vintage Shasta trailer that was for sale for a very reasonable $4,000:
Terri took this one:
Here are a few more car show photos that Terri took:
And a couple by Tim Anderson of the cute little 1962 Austin wagon that had everyone's tongues wagging:
The event that always thrills me most is the Flashback Fashion Show, and this year was better than ever.  Debbie of the Junk Fairy and her assistant, Tracy of Golly Gee, organized an amazing show, and you can find many of the fashions in the show at their booth spaces at the one and only Bad Granny's Bazaar in the Plaza District.  This year, Debbie chose a different summer theme for each wave of the show — 1960s tropical, brights, and patriotic.  Here are some of the highlights of the tropical theme:
Love this photo by Terri:
… and this one by Bren.  That's my cute son, Will, on the right:
Terri got these images of the second wave, which featured brights:
So many people took great shots of the three waves that I'm going to create a second Mod Blog post with them.  Stay tuned for more great vintage fashion!
In addition to all of these fun events, we hosted several presentations.  The first speaker was Karen Oyerly of the OKC Modern Quilt Guild, who discussed the history of modern quilting and showed off several to-die-for examples of the guild's work.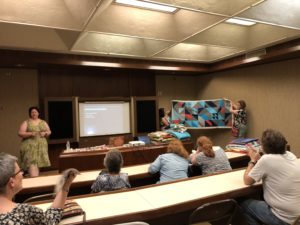 They are so jaw droppingly fabulous, and you can check out even more mod quilts at their currently running exhibition at Artspace @ Untitled.
Our next presentation featured OU professor, Dr. Angela Person, who discussed Bruce Goff and the American School.
Traditionally, architecture schools throughout the U.S. taught students based either on the French Beaux Arts model, which focused on studying classical architecture, or the German Bauhaus model, which melded industry and abstraction in architectural design.  When Bruce Goff became head of the architecture department at the University of Oklahoma in 1947, he and his colleagues created an entirely new form of study that emphasized individual creativity, organic forms, and experimentation.  Now known as the American School, Goff's approach impacted not only his students, but modern architecture throughout the world.  OU will be hosting a huge exhibition about the American School in 2020, and I can't wait!
Finally, I did a presentation of the history of the Gold Dome, which was followed by a tour of the iconic structure itself.  Lots of fun!  The vault was a big favorite:
Unfortunately, we experienced a huge power failure just as the third wave of the Flashback Fashion Show kicked off, and we weren't able to get to our fourth presentation by Tim Anderson and Nick Leonard about Roadside Oklahoma, but we hope they will return next year to entertain us with their fascinating stories.
Stay tuned for more Oklahoma Modernism Weekend fun with additional photos of the fashion show and also ride along with us on the Mod Home Tour.