Classic Car Badges
text and photos by Lynne Rostochil.
I love typography.  Maybe because I love language so much, I also love the way individual letters and numbers look in all kinds of different styles.  Sleek, sharp, exaggerated, or simple, typography alone communicates so much about its subject and you don't find that anywhere as obvious as in classic car badges:
That flowy, neat and tidy Country Squire badge tells me that this car is stylish but practical, leisurely but purposeful.  On the other hand, the capped blocked letters on the Shelby badge are all about power and strength … and, of course, the slithering cobra helps with that impression, too.
Over the years, I've taken hundreds of photos of the little chrome monikers attached to classic Dodges, Fords, Cadillacs, and the rest.  It always intrigues me to think that designers put so much time and effort in creating the perfect little symbol and type for their latest models to perfectly encapsulate the car's function and attract its perfect audience.  They are so interesting and fun compared to the bland and boring substitutes we get now: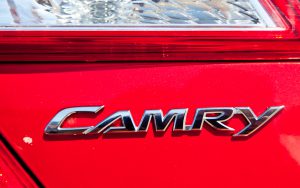 Yuck … let's get back to the fun stuff.  This one has to be one of the very best badges EVER:
Everything about the butt of this lovely Chrysler makes my heart sing, and the badge is tops!  Here's another favorite:
… and a few more:
And I love this trio from the Corvair family:
And I always love anything rusty and crusty:
These are pretty amazing, too: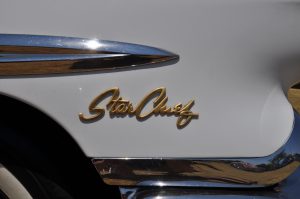 And how cool is it when the symbol is incorporated into the badge like this:
The typography on these is so fun: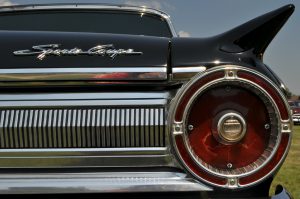 Finally, let's wrap it up with one of my very favorites — a truly scary Dodge:
I have tons of these badges in my collection and will be sharing more with you soon.