Spring Festival of Homes Brochure, 1961 — Part 2
by Lynne Rostochil.  Brochure from her collection, "now" photos from the Oklahoma County Tax Assessor website.
If you enjoyed last week's post featuring then/now views of homes that were on the 1961 Festival of Homes tour, you'll be happy to see even more great homes that were included in the brochure.  Check them out!
Here's the home today:
This is what the home looks like now:
And here's this beauty on NE 67th today:
There are a lot of great houses on Braniff Dr., including this one:
These charmers today:
This one on NE 59th today — also, you can find this design sprinkled throughout the Edgewater neighborhood near Lake Hefner.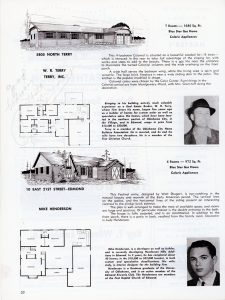 Here's what the Terry house looks like now: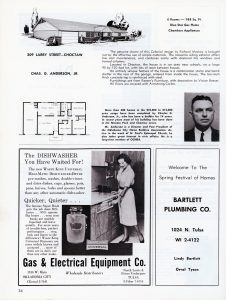 These homes now — it's too bad that the concrete block wall is gone:
Loving the modest mod in the second photo:
These traditional gems today:
The S. Dewey house now:
These homes today:
This one hasn't changed much at all:
Neither has this one:
This one is still looking pretty good — love the garage doors and scroll work, don't you?
The first one is completely unrecognizable, but the second one still retains its original charm:
How naked does this look without its eye catching screen?
These homes today:
The Parkwoods Lane house now:
The Locust Drive house now:
These homes today:
And that's it for the tour!  I have more of these brochures and will be sharing them with you soon.