On the Market: A Hexagonal Haven in Lakepoint
text and photos by Lynne Rostochil
I can almost guarantee that anyone in OKC who loves MCM architecture knows of the funky house with the cool garage doors in the Lakepoint neighborhood off of NW 63rd and Portland:
And, if you're like me, you've wondered what treasures await inside this lone modern gem that sits on a quiet cul-de-sac surrounded by much more staid ranch houses.  Well, thanks to realtor, Kerry Norman, I got to find out when she and I met to tour this one-of-a-kind dwelling, which is selling for $147,000 (for over 1,700 sf of space according to MLS, but really closer to 2,500 with the converted garage — it's a giant den now).
From the moment you pull up until the time you leave, this house impresses:
I mean, look at the mother of pearl detail on the front door handle:
So much thought and care went into the design of this home, and it shows in the abundance of original details at every turn, even down to the original terrazzo tile floors with patterned inserts in the entry:
All of this thoughtful design came from Gus Dannhauser, a local builder who also dabbled in single- and multi-family residential design in the '60s (sadly, he died in 1969 before most of his designs could be built).  I don't know if he originally built this house for himself or on spec, but the Duncan family bought it soon after it was completed in 1965.  In an Oklahoman article the following year, Mrs. Duncan, an artist, waxed enthusiastic over the geometric wonder that she and her family called home, even calling it the most convenient place in which she and her family had ever lived.  She's also the one who designed the crazy garage doors when the family converted the garage into a den soon after they bought the house.
The Duncans must truly have loved their funky house because they stayed for 25 years!  Here's a very fuzzy Oklahoman photo of Mrs. Duncan in the hexagonal room that is in the center of the house:
This is the true heart of the home, with every wing of the house branching from it, as you can see from this floorplan:
The Duncans used this as their dining room and it looks like the current owners have it as a formal dining space, as well.  The room can be closed off by wooden accordion doors leading to the kitchen area, living room, and two of the bedrooms:
There's also a set of very dramatic doors leading from the entry to this room:
Clerestory windows allow plenty of natural light into the room:
You can get to almost any room in the house in just a few steps from this grand space.  Let's start with the open living/dining space toward the back of the house.  Go through an accordion door to the panelled living room, which carries on the hexagonal design in the shared space with the kitchen:
A quick turn around from this view and look what glorious surprise awaits!
Oh how I adore conversation pits, so much so that I'm showing this one again!  Love, love, love!  Check out the rounded brick wall, too — such a great detail:
Across from the glorious sofa is a built-in cabinet where you can store your hi-fi and LP collection:
Put on a little Astrud Gilberto, light a fire, poor a glass of soothing wine, find someone to snuggle with, and all is right with the world!  And if you want to sneak a bite or two in mid-snuggle, the kitchen is just a few feet away:
I've always loved a kitchen with a bar — my grandma had one and that's where our whole family hung out every time we got together at her house, which was a lot.  Yes, kitchen bars are a very good thing:
The laundry room and converted garage are off the kitchen.  Although it's an ample space, I wasn't totally in love with the garage area/now den, but I'm sure that someone could do some fun things with it.  I did like this pull-down light, which is just like the one my aforementioned grandma had over her much-loved kitchen bar:
Okay, no more grandma references, I promise — I just love that bar, really love it!  The master bedroom/bathroom is on the kitchen side of the house.  Look at the cute, cute tile in both the master and kids' showers: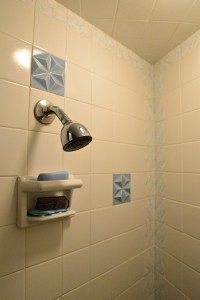 How great is that?!  Two nice-sized, trapezodal-shaped bedrooms are on the other side of the house — here's one:
A Jack and Jill bathroom with a separate vanity area separates the two bedrooms.  Check out that pink marble counter top — all of the bathrooms have these elegant tops:
That's about it for the interior spaces, and I'll bet you think you've seen the best part of this house but you'd be wrong.  Go outside and up a few steps to the rooftop terrace … yes, the rooftop terrace!
That wood definitely needs to be replaced, but how many summer evening gatherings can you envision having in this fantastic space?  Me?  A whole lot — get an umbrella and an Igloo full of beer and you'd never have to leave!  Oh, and look at the cool railings leading to the terrace:
Being on a cul-de-sac, the backyard is pretty huge and surrounds the house.  Here's just a small portion of it and a huge patio that's perfect for larger parties:
There are even a couple of built-in planters that compliment the geometry of the house itself:
This is such a fun and completely unique house and needs someone who is just as individual to call it home … and have lots of parties that you can invite me to!  If you are that person, contact Kerry Norman at 848-4940 to arrange a tour.  In the meantime, I'm going to put on "Corcovado" and snuggle with my hubby!