The Architecture of Leslie G. Brauer
by Lynne Rostochil, current-day photos by author, vintage photos from Tim Brauer's collection unless otherwise noted
Awhile back, Robyn and I met up with Tim Brauer to tour Chickasha and see some of the work his dad, Leslie G. Brauer, designed during his 25 career in this small farming community 40 miles west of OKC.  Considering that Chickasha has a population of just over 16,000, I was very pleasantly surprised to find so much mid-century architecture in this small college town, and that's thanks mostly to Brauer.  Here's a little biographical information about Brauer provided by his son, Tim:
"My dad, Leslie G. Brauer, grew up in Lakewood, Ohio. He later attended and was graduated from Castle Heights Military Academy in Lebanon, Tennessee. It was at Castle Heights where he met and became very close friends with Charles Ward."
Charles Ward is a retired Tulsa architect who designed such iconic T-Town buildings as the Tulsa Central Library:
… and the gorgeous home he designed for himself, the Comma House.  Here's a YouTube video of the home when it was for sale last year.  Go to the 1:10 minute mark to see.
According to Tim, his dad "was a cartoonist for the Castle Heights newspaper and Charles was editor." In this undated photo, Brauer is working on a sketch, probably for the paper:
After graduation, both Ward and Brauer decided to head off to the University of Oklahoma to study architecture.  Luckily for them, they arrived around the same time as Bruce Goff and the young students and their peers flourished in the unparalleled creative environment that dominated the Architecture department during those heady days.  Ward and Brauer were also on hand to meet Frank Lloyd Wright during a 1946 campus visit (they are the two students in the middle of the shot):
If you'd like to read the text of this fascinating article, go here.
As Tim recounts, his dad "was awarded two bachelor degrees in Architectural Engineering and one in Architecture. There was a stint in the United States Navy in between the two degrees. One degree was awarded, I believe, in 1945 and the other in 1947."  Brauer also won the AIA book award in 1945 and an OU faculty award upon graduating in 1947.  Now out of college, Ward returned to his hometown of Tulsa to practice and Brauer began working for one of Oklahoma's most innovative architects, Paul Harris, who had offices in Chickasha and Lawton.  Harris designed the National Guard Armory and out buildings in Lawton, which are on the National Register:
When he earned his license in 1954, Brauer decided it was time to head out on his own and opened his practice in Chickasha.  For awhile, he teamed up with Maurice Wood "and then opened a second office in Oklahoma City and formed a partnership with Brauer, Wood & Smiley.  He then left those partnerships and opened a solo practice," according to Tim.  Whether in a partnership or on his own, Brauer designed some pretty impressive modern buildings in his new hometown, including the downtown post office and the library across the street, both of which were built in the mid-'60s:
One way to identify Brauer's work in Chickasha is by the blue panels that you see on both of these buildings.  He loved them!  You can see them in his original '60s design for the Grady Memorial Hospital (which has expanded, resulting in the removal of the blue panels):
Here's an aerial shot of the hospital complex with the Brauer-designed Chickasha Clinic in the background:
Built in 1960, the clinic is a subtle-but-sublime piece of architecture.  Here's a rendering of it:
It's difficult to tell from these terrible shots I took of it, but the building is in very good original condition nowadays, and you can even spot a couple of Brauer's trademark blue panels still in place: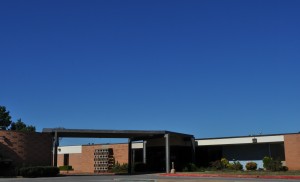 He also designed the little-changed DeHart Air Conditioning at 1201 S. 4th St.  Here's a rendering of the building:
And a Googlemaps image of it today.
According to Tim, his dad served on the "Oklahoma Board of Licensed Architects as secretary/treasurer and then I believe president."  While performing those duties, he also designed the Chickasha High School in the late '60s (which has been heavily altered):
Speaking of schools, Brauer also designed the Myers Fieldhouse on the Chickasha Middle School campus at 10th and Florida.  Here's a rendering of the original design…:
… and the actual building today:
During this time, he also designed clubhouse at the Chickasha Country Club (now the Cottonwood Creek Country Club):
And, later on, the Oklahoma National Bank Drive-Thru at 3rd and Choctaw downtown: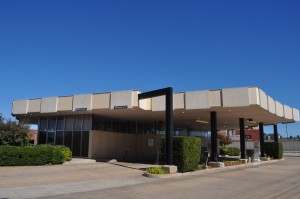 In addition to commercial and municipal buildings, Brauer designed several homes in Chickasha, including this bit of windowed eye candy near the country club at 111 Maple Lane:
According to current owner and Mod Squad member, Demitria McDuff, "The house was built in the early 60's, lived in a few years then unoccupied for decades, including the 80's. We purchased it from the original owners in 2002."
Demitria was very kind to share a few photos of her house — what a paradise!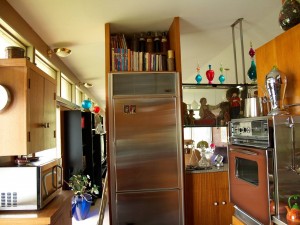 How's that for a huge wow?!
Here's a vintage photo of a similar Brauer design:
This one is a bit of a mystery — there's no location on the photo and Tim isn't sure where it is.  If this home looks familiar to you, please let us know.
Brauer also designed several homes, including his own, that back up to the country club golf course on Carolina Street.  He designed this one for the Levine family…:
… this one next door for the aforementioned DeHart family…:
… and this beauty in 1968 for himself and his family:
The Brauer house has remained in the family its entire life and is for sale for the first time ever right now.  If you're in the market for a mid-century mod in Chickasha, this elegant abode at 1601 W. Carolina Ave., might be for you.
Two of my favorite Brauer designs are churches, the quaint and very inviting First Presbyterian Chapel at 6th and Minnesota…:
… and the building that first introduced me to Leslie G. Brauer's work, OKC's own Hillcrest United Methodist Church at 5801 S. Penn.  I first drove by this jaw dropper several years ago and had to immediately stop, get out of the car, and have a look.  Luckily, there's a plaque on the building noting that Brauer, Wood & Smiley designed it, and that began my admiration for this very talented man.  Even though I've now driven by this church dozens of times, that incredible roof line still gives me goosebumps every time I see it:
As far as I know, this is Brauer's only OKC design, but Tim may be aware of others.  If so, I'll be sure to share them with you.  In the meantime, enjoy these images of Hillcrest's model and the church under construction:
Brauer designed another great church, St. Michael's in Lindsay.  Here's a shot of the church soon after construction:
And here it is today — it looks so boring and bland compared to the vintage photo, doesn't it?
Another out-of-town job was one of Brauer's largest, the Shawnee Medical Center.  Here's a rendering of the building…:
… several construction photos…:
… and the finished product:
I believe that this building is part of the St. Anthony Hospital complex now and has been heavily altered.
Leslie Brauer came up with most of his later designs in this office building he designed for his firm:
Here's the very well cared for building today:
Finally, many of you may have visited the famous Indian City in Anadarko as young kids.  If so, you walked through a Brauer design without ever knowing it.  Sadly, the outdoor museum closed a few years ago, but the building is still there (on E1363 off of Hwy 8 about two miles south of Anadarko).  Here's a 1960s postcard image of this iconic building:
After working on his own for several years, Brauer formed a partnership with Richard Cavin in 1977.  Cavin was a newly licensed architect with Chickasha roots who now runs the Cavin Design Group here in OKC.  Sadly, Brauer died just three years later in September 1980 at the young age of 56.  Luckily for Tim, his family, and all of us, Leslie G. Brauer left a lot of great architecture peppered throughout Oklahoma for us to admire — what I've shown here is just a small body of his work, and I plan to photograph more of his buildings and share them with you in the future.