On the Market: The Wilson House
text and photos by Lynne Rostochil
On my many trips to the Bavinger House when it was still open for tours, I often paused to appreciate the semi-circular, A-frame delight next door:
The home was designed in 1950 by OU architecture professor and Bruce Goff associate, William H. Wilson, as his personal residence, and his family lived here for over 50 years.  Perhaps because this home and the Bavinger House were neighbors and constructed over a several year period at the same time, they share many materials and details, including an innovative lazy Susan dining room table:
… the iconic native rock with aqua glass cullets mixed in to add a little color and drama:
… and built-in planters and cylindrical storage spaces:
Although compact, the Wilson House is organic, modern, and completely liveable all at the same time, with a cozy, light-filled living space (including a couple of Matt Goad's whimsical artworks):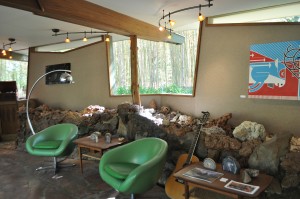 … and bedrooms that overlook the round cement pond (as the Clampetts used to say) in front: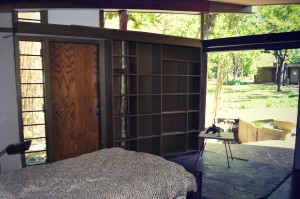 Upstairs is a tranquil meditation space amid the tall, protective trees:
… and a bathroom complete with grotto tub:
Originally, the home had 3 bedrooms but one has been converted into a storage/laundry area.  According to the original owners, "in the middle section, a large cupboard built-in was used to divide the room. Mrs Wilson used one room in later years as a sewing room.  The loft was used to grow orchids. There used to be another glass wall up there that ran across the length of the front."
The current owner bought the home from the Wilson family around 2006 and enclosed the carport in back to add a master suite.  It's in mid construction, but I like how he mimicked the home's dramatic a-frame design in front here in this room, too (although those Home Depot light fixtures HAVE to go):
How about these fantastic front doors that line the front of the home?
And the view from the original master bedroom?
I could wake up to this sight every morning, that's for sure.  So impressive!
The home sits on eight acres and comes complete with a stand-alone garage and apartment that has an interesting history of its own:
According to the original owners, Wilson constructed it as a experiment for one of his classes in the '70s or early '80s.  His study interest was concrete, and he and his students built the bottom section and filled it with water.  The bump out and second story was built later so that students could live there in exchange for help around the grounds.  The walls of this compact abode are 15″ thick, making this at once an attractive and very fashionable storm shelter.
If, like me, you've always been curious to tour the Wilson House, now is your chance.  It's on the market for a surprisingly modest $299,000 and is open this weekend — Saturday and Sunday 2:00 to 5:00.  The address is 710 60th Ave., NE, Norman.
Go by and have a look!  If you can't make it, check out these much nicer photos of the house:
http://tours.tourfactory.com/tours/tour.asp?t=1156118&r=Facebook
A big thanks goes to Gary Caplinger of Verbode for generously inviting the Mod Squad to tour the home.