The Mod Squad Travel Guide: 10 Things to See and Do in Denver
by Terri Sadler and Lynne Rostochil
In separate trips, both Terri and Lynne recently hopped the short, direct flight from OKC to explore some of the sights our bustling neighbor to the northwest, Denver, has to offer.  While Terri's efforts were somewhat thwarted by a giant December snow storm and Lynne tooled around town when it was hotter there than here in Oklahoma City, they both managed to check off many of their to-dos and have 10 suggestions of must-sees for anyone travelling to the Mile High City in the future.
1. Go Hunting for the New World Order
If you love a good conspiracy theory or dig creepy art, you don't even have to leave the Denver International Airport.  Since it opened in 1994, those looking for a good conspiracy have asserted that the airport is a hub for a secret, Masonic-led New World Order, where only a fraction of the earth's population will survive some cataclysmic event, leaving these mysterious Masons to rule the world.  I don't know about that, but there is some pretty odd imagery at the airport, including a sculpture of a gargoyle popping out of a suitcase, a disturbing mural of a gas masked and weapon-toting invader dominating throngs of defenseless and dying people, kids in coffins, and urban ruin.
2.  Check Out Some Great MCM 'Hoods
Denver is home to several mid-century neighborhoods, including the famous and oh-so-lovely Arapahoe Acres, the first such neighborhood to be added to the National Register of Historic Places.   Comprised of 124 homes built between 1949 and 1957 and laid out along three tree-lined, curving blocks in an otherwise staid suburban area, Arapahoe Acres is a definite must-see for any MCM lover.  It is bordered by Downing to the west, Bates to the north, Dartmouth to the south, and Franklin to the east.
Other mid-century neighborhoods to explore while in Denver include Arapahoe Hills in Littleton (northwest of the intersection of Lowell Blvd. and Berry Ave.), and Harvey Park, which boasts several Cliff May pre-fabricated designs (bordered by Jewell Ave. to the north, Sheridan Blvd. to the west, Yale Ave. to the south, and Lowell Blvd to the east).
3.  Go Shopping
If you're looking for mid-century furniture or decorative pieces to buy in Denver, you MUST go to Mod Livin' (5327 E. Colfax), a huge, two-story space filled to the brim with everything from affordable '50s dinette sets to expensive designer pieces.  Go when you have a lot of time on your hands because you'll definitely stay awhile:
If you can't fit that George Nelson lamp in your bag, you might decide that some vintage attire is in order, instead.  In that case, drive over to Broadway, where you'll find a couple of great shops, Boss Vintage (10 S. Broadway) and, quite a bit further down the street, Regal Vintage (1866 S. Broadway).  Both shops offer vintage fare from the '40s – '70s at very reasonable prices: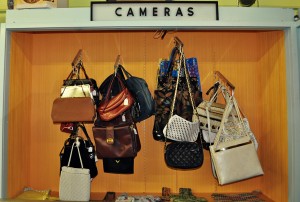 Finally, if you like to look at more traditional antiques, Broadway is lined with little shops ripe for exploring — you could wander along its sidewalks all day long and never run out of little mom and pop shops to explore.
4.  Get Artsy
The Denver Art Museum is known as much for its impressive architecture as for the great works of art the museum contains.  Gio Ponti's only completed U.S. project is the original, 210,000 sf museum, which opened in 1971; the rugged, crazily angled Hamilton building, designed by Daniel Libeskind, opened in 2006.  Both buildings are must-sees for any art or architecture lover, and if you're planning a visit to Denver in the next few months, check out the upcoming exhibit, Modern Masters: 20th Century Icons from the Albright-Knox Art Gallery, which runs from March 2 – June 8.
5. Eat at a Denver Institution
You could eat out every meal for days in Denver and never hit every spot in town that's been around for decades, so longevity was definitely the name of the game when it came to choosing places to eat during Lynne and Terri's separate trips.  Probably the most obvious place to start is Buckhorn Exchange (1000 Osage St.), Denver's oldest eatery, which opened in 1893.  No, it's not mid-century modern, but going there is truly like time travelling back to the Wild West days of outlaws, gunfights, and brothels; in fact, the place is so heavy with history and haunted stories … and dead animal heads … that you won't mind a bit sitting at a non-tulip table to enjoy the tasty fare.
If you visit hoppin' Cherry Creek, which is packed full of trendy shops and department stores, you have to stop for a cold beer, a yummy snack (try the mac and cheese wedges), and sports watching at Duffy's Cherry Cricket (2641 E. 2nd Ave.).  This Denver icon was established in 1945 in the owner's living room but moved into a sparkling, new mid-century building in 1950 where it remains, pretty packed most of the time, to this day.  The food and ultra-cold, locally brewed beer only add to the charm of this burger joint that has been featured on Food Network and in such publications as Smithsonian (as one of the 20 most iconic food destinations in America) and Food & Wine magazines.  If you're hungry, get the Cricket burger with their signature green chili — it's the burger that Food Network's Aaron Sanchez claimed as the best he ever ate.
With its iconic sign of an ecstatic chef flipping pancakes, it's hard to pass by Pete's Kitchen at 1962 E. Colfax and not want to stop in and have a bite — and stop you should.  If you're looking for a greasy spoon kind of breakfast — is there a better kind? — Pete's, which has been in the neighborhood since 1942, is definitely the place to go.
Try the souvlaki and eggs or the breakfast burrito and take a seat near a window to enjoy great people watching while you munch on the tasty fare.  (While not quite old enough to be an institution, another great breakfast spot is Snooze, located at 2262 Larimer St.  The décor is retro fun and cheery, and the food ranks high among the tastiest breakfasts ever — go hungry because the portions are huge.  Sam's No.3 downtown is also a great Googie spot to hang out).
Looking for a good steak?  Then, Bastien's (3503 E. Colfax) is definitely the place to go.  The Bastien family started their famous steakhouse in 1937 in an old restaurant building in the neighborhood, which they replaced with an ultra-mod, zig-zag-roofed beauty in 1958.  When you go inside, it's like stepping into a dimly lit, Rat Pack hangout (with only a few bad '80s remodels), especially if you decide to eat at the semi-circular sunken bar and chat with the bartender whose been there forever and knows all the good stories about the place.  The food is as good as the atmosphere, too — try their signature sugar steak, which sounds kind of odd but tastes great!
 6.  Take a Drive
Once dubbed "the longest, wickedest street in America" by Playboy magazine, the 26 mile stretch of road known as Colfax runs east/west through Denver and several of its nearby 'burbs and is packed full of vintage signs, everything kitchy, and some pretty fab mid-century architecture.  So grab your camera, get in the car, and begin your urban safari at one end and enjoy the many jaw-dropping finds like these along the way:
As mentioned earlier, another roadway that is home to many antique shops, as well as quite a few other MCM goodies is Denver's main north/south thoroughfare, Broadway.  If you take Broadway from the downtown area to Arapahoe Acres, for example, you'll find some of these gems (the great bank building is at Broadway and Hampden):
7. Hunt for Vintage Vinyl and Books
If you love such outdated things as actual books and proper records, you have to add the Tattered Cover bookstore and its next door neighbor, Twist & Shout Indie Record Store to your list of places to visit … and you might want to bring an empty suitcase along with you on the trip so you can fill it up with all of the treasures you find at these great shops.  The bookstore is located in a fabulous converted mid-century community theater, the Bonfils-Lowenstein (pictured here in its heyday as a theater — photo from the Tattered Cover website):
Luckily, when Tattered Cover moved in, the owners left many of the old theater's original elements intact, so not only can you lust over two expansive floors of amazing books, you can also meander around and take in all of the architectural delights of the building itself:
After you've filled half of your suitcase with books, grab a coffee at the bookstore coffee shop and walk next door to Twist & Shout.  There, you will find everything from jazz to punk and blues to pop all neatly arranged and mercilessly tempting you to empty your wallet in a hasty shopping frenzy.
Yes, in addition to the thousands of records and CDs, all of the ephemera and knick knacks, including this cute Jello Biafra bobblehead, are for sale (I think that's the first time anyone has ever used "cute" and "Jello Biafra" in the same sentence).
8.  Hit the Dive Bars/Live Music Clubs
There are SOOOO many good, divey joints in Denver that it would be a full time job for a year trying to visit them all, but a good place to start is on E. Colfax, where you'll find such fun live music venues as the Bluebird and Lion's Lair (where Lynne and her husband accidentally found themselves in Phillip Phillips' "Home" video):
From the Lion's Lair, walk over to the Satire Lounge, which boasts the very best sign in Denver, hands down (shown earlier in this post).  Unfortunately, the inside has been remodeled to make the place look more upscale, but the beer is cold and cheap, so it's still worth a visit.  Down the street a bit and directly across from Bastien's and the Bluebird is the P.S. Lounge, which was recently named Denver's dive bar of the year, a title that was well earned.
If you want real divey instead of kind of trendy divey, the Squire Lounge has everything you're looking for.  Yeah, it's good and divey, but not in a you're-going-to-get-killed-if-you-walk-in-the-door kind of way — more like the this-guy's-been-sitting-here-drinking-for-12-hours-straight-because-he-has-nowhere-else-to-go kind of way:
9.  Take a Walk with a Few Poets
Capitol Hill near downtown is home to block after block of beautifully crafted and very distinctive Deco-era and mid-century apartment buildings, many with such fashionable names as deVille and Esplanade: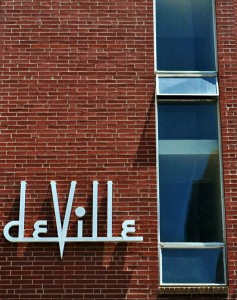 But perhaps the most famous and truly inspired group of apartment buildings in this area is located on Sherman St. between E. 10th and 11th.  Designed and named by local architect, Charles Strong, the appropriately called Poets' Row contains several Streamline apartment houses, each named for a different classic writer or poet.  Here are a few of the treasures, all of which are on the National Register, that you'll spot while strolling along Sherman: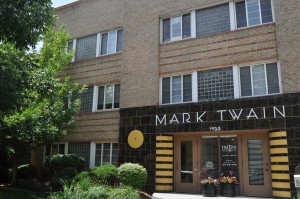 10. Relive Your Childhood
You cannot, cannot, CANNOT leave the Mile High City without taking time out to visit Denver's most fantastic and thoroughly original piece of Streamline and mid-century greatness: Lakeside Amusement Park.  Located at 4601 Sheridan Blvd., Lakeside has entertained generations of locals since it opened in 1908, and with free parking and a paltry $2.50 admission — yes, I said $2.50 — there is no better deal in town.  When you wander through Lakeside, you can still glimpse remnants of the original, over 100-year-old park in the old ballroom and the 150-foot tall Tower of Jewels (so called because it's covered in over 5,000 lights):
The park was greatly expanded in the '30s and many new attractions and rides were added that are still in use today, including the park's big roller coaster, the nearly 75-year-old Cyclone, which has been named as one of the world's 32 "Classic Coasters":
By the '50s, the park was ready to grow again, and Lakeside's architect, Richard L. Crowther, opted to go deliciously mod with some of the new ride and concession designs:
So, that's it!  We hope you add some of these great Denver places to your itinerary the next time you visit.  And, if you have anything to add to the list, go over to our Facebook page and offer up more tips!
Of course, there are many other things to see and do in Denver that didn't make the list, like the bear.  Terri says, "There is a 40-foot tall blue bear peeking into the convention center in downtown Denver. It's called I See What You Mean by Lawrence Argent. I loved it so much!"
There's also the Sculptured House, made famous in Woody Allen's "Sleeper," in the hills outside of town, Millennium Bridge, and the Denver Modernism Show (which will be August 22-24 this year).
Places to stay:
Downtown: The Curtis Hotel is a mid-century modern beauty located just a few blocks from the University of Colorado and across the street from the Denver Performing Arts complex.
Suburban: Go to vrbo.com and check out a couple of homes in Greenwood Village that you can rent — both are very cool and close to a lot of attractions mentioned above.  Look for VRBO Listing #468778 and #384583.
Near Colfax: Although this rental isn't mid-century modern, it's so centrally located to downtown and within walking distance of many attractions on Colfax that Lynne and her husband opted to go Victorian on their trip.  They stayed at the beautiful Castle Marne B&B just a block off of Colfax in one direction and two blocks from trendy E. 17th Avenue in the other.
Colorado Springs: If you plan to stay out of town a bit in, say, Colorado Springs, check out the fantastically Googie Satellite Hotel.
photo credits: Hipstamatic photos and photo of Denver Art Museum by Terri Sadler.  All other photos, unless otherwise noted, by Lynne Rostochil.