Ray James: A Small-Town Architect Who's Still Looking Ahead
text and photos by Lynne Rostochil
As with most of the small towns in Oklahoma, Ada has an abundance of mid-century architecture, most of which is scattered throughout the downtown area, the more upscale residential neighborhoods, and the East Central University campus.  During a recent stop, I was lucky to get to meet with one of the people responsible for some of the area's best buildings, the very talented and entertaining Ray James.  
Born in Oklahoma City, Ray spent his childhood living all over the state while his father worked on Works Progress Administration (WPA) highway projects, but the family returned to the city when domestic projects were cut at the outbreak of World War II.  He spent the rest of his school years here, graduating from the old Classen High School after the war.  Then, he headed off to Norman to study architecture with Bruce Goff, an experience that Ray still speaks of with a great deal of delight and wonder.  During his time in Norman (which was interrupted for two years when he joined the Air Force), Ray developed lifelong friendships with many of his fellow students and even helped to work on the foundations for the Bavinger House (he returned to school at OU in time to see it completed in 1955).  
Ray recalls Gene Bavinger brewing homemade beer at his house in the woods and being invited several times by him and Nancy to come out and enjoy a frothy lager or two.  It was also at OU that Ray met his wife of 61 years, Marilyn.  A non-artist, he had to take an art class to learn how to render the building designs he had swimming around in his head.  Although he didn't like the class, he did enjoy looking at the beautiful painter across the room, and by the end of the term, Ray and Marilyn were well on their way to spending their lives together.
After graduating, Ray worked in several small towns for different architects: Tom Rogers in Enid, Paul Harris's firm in Lawton after Harris died, and Albert Ross in Ada.  Finally, he started his own firm in Ada (and later bought out Monroe Parker's firm) and began designing some of the area's most impressive buildings.
Ray and I piled into his truck on a gray autumn morning and drove all over town looking at his impressive array of work, including this two-story treehouse he designed for his family that is tucked away in a densely wooded area at the rim of an otherwise bland 60's tract development.  He designed and built the home himself for $12 a square foot back in 1961, and he and Marilyn lived and raised their family here until six years ago when health issues forced them to move into a one-story home.  But Ray and Marilyn still see this lovely creation as their cherished baby, and I can see why:
The new owner was replacing shingles on the roof when we drove by, thus the ladder.  He has also done some unfortunate remodeling inside and out, including painting the house a dark gray when it was originally brown, which gave the home the appearance of being a part of the trees.  The awful white trim with tacky neo-classical touches that you see here was also brown and flat — really, the new owner had to add these crappy, traditional details on a thoroughly modern house (yes, yes I am shaking my head in confused disgust)?!  UG-LY!  Ray and Marilyn aren't crazy about the changes, either, and prefer to think of the house the way they built it so many years ago.
Inside, we found more bad remodels and a lot of clutter but some fantastic bones in the open-floor-plan layout.  Here's the entry that is located in the middle of the square-shaped home.
The spiral staircase leads down to the bedroom level with beautiful views of the creek, while the living areas are upstairs amid the trees:
And I love this office space with the slanted wall of windows overlooking the trees and creek below:
The big wow of the house is the two-tone, jewel-like skylight upstairs that Ray designed and built over 50 years ago and the new owner reports still doesn't leak a bit:
Even with the bad remodels, this is a remarkable house, one that makes you feel like you're in an isolated, tree-covered oasis and not in the middle of an otherwise normal housing addition.  It's a beautiful piece of architecture.
The next stop on our tour was to the swanky neighborhood near the country club, where Ray designed two homes, one on a shady lot overlooking the golf course in a more modern style:
And, per the owner's request, a more traditionally styled ranch where Ray still managed to find ways to incorporate at least some of his modern aesthetic:
On the way to the next stop, Ray and I talked about some of his work that isn't as architecturally significant as what we had seen but is something he's very proud to be associated with: his low-income housing projects.  Throughout the 60's and 70's, Ray designed housing for the elderly and poor in such under-served communities as Rush Springs, Pauls Valley, and Healdton and worked with the Chickasaw Nation to design housing and activity centers in Tishomingo and other rural communities.  He also designed the first high-rise low income housing building in the state in Ardmore and converted two dilapidated hotels into elderly housing, the Aldridge in Ada and the old Cushing Hotel in downtown Cushing.  
Next up was this, Ray's last residential design.  Again, owners have made some changes, including replacing redwood shingles with ugly siding, painting the anodized copper accents, and covering the triangular windows with plantation shutters … ugh!  Really, plantation shutters?  However, the two-level house is still pretty sexy and incorporates one of Ray's favorite techniques of designing a rather understated, even mysterious, front and creating the home's drama by completely opening the back to the outdoors.  Personally, I think those quirky triangular windows with the copper accents are pretty darned dramatic and definitely make you eager to walk through the front door to see what other interesting architectural elements the house contains.  
Ray retired not long after he completed this home, and he's been living a life of leisure ever since.  When I asked him where his archive of work was located, he gave an incredulous little laugh and replied, "I never thought to keep an archive.  When I was finished with a building, that was it.  I was on to the next thing.  I was always looking ahead."  He shook his head and laughed once more as if to say, "Duh, you silly girl, such questions!" and, for a moment, I agreed with him.  It was silly to think so much in the past as I often do, but after a second or two, the amateur historian in me chided my momentary lapse, and I found myself a bit sad that all of that history wasn't readily available.  Bummer.  
With Ray still giggling, I chimed in and laughed, too, as we pulled in the parking lot of this little gem on the outskirts of downtown Ada. Once a flat-roofed gas station, Ray gave it some crazy angles and converted it into a bank.  Those triangular windows were once open and used as the bank's drive-thru:
From there, we went further into the downtown area to Broadway, where we got out of the car and checked out the Mini Mall:
In 1972, Ray had the idea of converting a vacant building into several small, independent spaces where fledgling business owners could get a start without having to pay a lot of rent, with the goal being to eventually gain enough of a following to open in larger spaces downtown.  Each of the spaces had its own distinctive style, and early businesses included dress shops, a book store, and an interior design store.  Today, the mall functions in much the same way and retains most of its original elements:
More of Ray's trademark triangular windows make this storefront my favorite of all:
From downtown, we made our way toward the East Central University campus, where old and new mix together quite harmoniously in a conglomeration of red brick.  As we crested a steep hill on the outskirts of the campus, I let out a big gasp as a monstrous gold dome suddenly dominated the skyline at the bottom of the hill:
Woo hoo!  
There it was, the building I've been wanting to see live and in person for a long time.  I mean, who would ever think that, #1 Oklahoma could claim TWO gold geodesic domes and, #2 that this beauty would be located in small-town Ada of all places?  That's just plain crazy, man!  Yet, here it is, the Kerr Activity Center:
The multi-functional facility is home to the university's basketball team but has hosted a myriad of community and college events since it was built in 1974.  As you can see, there's a lot of room to fulfill all kinds of demands:
Ray chose the geodesic dome design as a money saver, and it has weathered the years very well.  From this show stopper, we went back to Ray's house where he made us and Marilyn chicken salad sandwiches for lunch:
During our meal, Ray told one hilarious story after another, like the one about Gene Bavinger's exploding beer still.  Bavinger called Ray in the middle of the night to come have a beer before the whole thing went up, and he did; they drank a lot of beer that night waiting for the explosion that never happened.  He also told the tale of a young architecture student who lost part of his finger while helping to build the Bavinger house (a poorly placed rock slipped and took off the tip).  The poor guy sure gained a lifelong reminder of the experience!  
Ray's easy going manner, fascinating stories, and infectious laugh made me want to sit at his Saarinen tulip table and eat chicken sandwiches with him all day, but his cluttered office beckoned:
I love the vintage photos of Ray on top of his desk:
Although, as we know, Ray didn't keep much of his work, he did save a few of his student drawings from his OU days: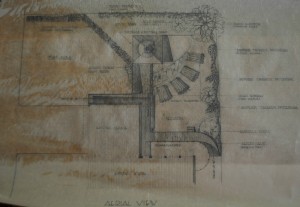 I don't think I could ever be an architect because it would be an absolute impossibility for me to ever write so neatly — my scrawl is much more doctor-like (i.e., completely unreadable), but I sure appreciate the beauty of Ray's design and lettering.
Lining the shelves in his office are some of Marilyn's dramatic, pint-sized Brutalist sculptures … yes, she's a sculptor, too, and a quilter and a painter and a gardener and just about anything else artistic you can think of.  I think I like the abstract one on the right the best — it's SOOOO nice:
Finally, here's a drawing of a neighborhood rec center in a small town somewhere that Ray can't remember.  He designed several such centers in Atoka, Coalgate, and other rural areas throughout the state:
After a morning of touring and exploring his office, it was time to say goodbye to the affable Ray and Marilyn and head off to the next small town in search of more mid-century architecture.   We hugged goodbye, and the 83-year-old retired architect gave one last easy, joy-filled laugh that told me his life has certainly been one well spent.
As I drove off, I thought of another exchange we had earlier in the day.  When I asked him which of his buildings was his favorite, he immediately gave a mischievous smile and said, "The next one."
I hope there are many "next ones" in Ray's future, and I can't wait to meet up with him again and share chicken salad sandwiches and funny stories.
UPDATE:  Our friend, Ray James, died on July 11, 2014.  Here's his obituary:
ADA-
The family will host a celebration of the life of Raymond D James, Jr. 4:00 Saturday, August 23rd, his birthday, at the First Presbyterian Church in Ada, OK.
Mr. James died July 11. He was born August 23, 1930 in Oklahoma City to Raymond Darrel and Ruth Jane High James. He attended public school in Hugo, Antlers, and Oklahoma City; graduating high school from Classen High in 1948. Mr. James studied architecture at the University of Oklahoma with Bruce Goff, graduating with honors in 1957. At OU he was a member of the Air Force ROTC and OU Ruf/Neks. Marilyn Francis Strong and he married on November 8, 1952 in Okemah. Mr. James served as a lieutenant in the Air Photographic and Charting Services at Kelly Air Force Base in San Antonio from 1953 to 1956.
Mr. James and his family moved to Ada in 1959 to work for Albert Ross. He later formed a partnership, Parker James Parker, with Monroe and Robert Parker. Then he established Ray James and Associates from which he retired in 1995. Throughout his career, Mr. James viewed architecture in utopian terms and devoted his skills for social change. Early work focused on a new modern aesthetics and later shifted to affordable housing, educational, and community projects. During this 35 years progression, Mr. James designed the East Central University Kerr Activity Center, the Indian Hills Restaurant, the ECU Linscheid Library, the Pontotoc County Agri-Plex and Convention Center, the Chickasaw Nation Headquarters, and affordable Chickasaw housing. While working as an architect, Gary Cooper, Glenn Childress, Ernie Woodward, Deryl Redden, Rick Shaw, Tom Lamson, Wayne Bean and Eldis Wood apprenticed with Mr. James.
Mr. James brought his love of creativity and a good design challenge into the home where he raised three children, Rahmona, Lynn and Todd, with Marilyn. They loved him for his endless curiosity and for challenging them to think in original ways.
Mr. James is preceded in death by his parents, infant son, Timothy, and sister Betty Dean Knowleton. Survivors include his wife Marilyn; brother Jack James; children Rahmona Thompson and husband Ronald, Lynn James and husband Dave Farmer, Todd James and wife Bethany; his grandchildren Kimberly Garbutt and husband Bart and Alexander James; great-grandchild Reid Garbutt; and numerous nieces, nephews, great nieces and great nephews.
In lieu of flowers, donations in Mr. James name may be made to the charity of well-wishers choice.
Obituaries may be viewed and online condolences sent to criswelfh.com