The Oklahoma Modernism Weekend takes place June 14-16, mostly at St. Patrick's Catholic Church.  We are thrilled to present many of your favorite events from years past and are excited to announce many new presentations and workshops for 2019.
Friday, June 14th — Casa Opal
Opening Night Patio Party and Flashback Fashion Show, 6:00 p.m. – 9:00 p.m.
The Oklahoma Modernism Weekend will kick off with the Opening Night Patio Party at Casa Opal, a stunning Streamline Moderne home in the heart of the city.  There will be delicious food, signature Oklahoma Modernism Weekend drinks, and great music.
In addition, experience mid-20th-century couture at its finest with the fun-filled Flashback Fashion Show.  You will be able to view rare vintage pieces from personal collections as well as beautifully curated items from the Junk Fairy, which is located at everyone's favorite vintage shop, Bad Granny's Bazaar in the Plaza District.
Tickets are $25 each and are limited to 100 people.  The price includes yummy munchies, the Flashback Fashion Show, and the opportunity to win unique prizes.  There will also be a cash bar.
Go here to get tickets.
Saturday, June 15th — St. Patrick's school building
Wheel-o-Rama, 8:00 a.m. – 4:00 p.m.
Who doesn't love a fun vintage car show?   The Wheel-o-Rama will be from 8:00-4:00 in the east parking lot facing Portland.  If you have a classic car, trailer, bike, or whatever on wheels, c'mon by and show it off!
The Wheel-o-Rama is free and open to the public.
Mod Swap, 8:00 a.m. – 4:00 p.m.
Vendors from all over Oklahoma and the surrounding region will be on hand selling fabulous mid-century modern furniture and decor in this fun, mod-only flea market.
The Mod Swap is free and open to the public.
Junction Coffee, 8:00 a.m. – 1:00 p.m.
Junction Coffee will be serving up their delicious coffee and breakfast treats, so grab a cup o' Joe and a snack while taking in all of the fun!

Pin-Up Photography by Liz, 10:00 a.m. – 1:00 p.m. (by appointment only)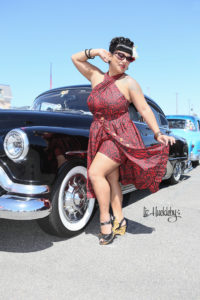 We are thrilled to announce that Tulsa pin-up photographer extraordinaire, Liz Huckleby, is joining us for the first time this year.  She will be on hand both Friday evening and Saturday morning to work her photographic magic.  Please email her to learn more and to make an appointment: liz@photosbyliz.com.
Preserving Oklahoma's Mid-Century Modern Architecture, A Panel Discussion, 9:00 a.m.
Join the movers and shakers in the preservation world as they discuss some of their failures, successes, and strategies in saving our vast array of mid mod buildings.
This panel discussion is free and open to the public.
Mid-Mod Remodeling, A Panel Discussion, 9:30 a.m.
Are you about to embark on a remodel project and have questions about where to begin or what your design options are?  If so, this is the place to be.  We are inviting experts in landscape design, interior design, residential architecture, and general contracting to offer up problems they've encountered over the years and their creative solutions to those issues.  After the presentation, there will be a question/answer session where you can get expert ideas about your own home project.
This panel discussion is free and open to the public.
The University of Oklahoma and the American School, 11:00 a.m.
Traditionally, architecture schools throughout the U.S. taught students based either on the French Beaux Arts model, which focused on studying classical architecture, or the German Bauhaus model, which melded industry and abstraction in architectural design.  When Bruce Goff became head of the architecture department at the University of Oklahoma in 1947, he and his colleagues created an entirely new form of study that emphasized individual creativity, organic forms, and experimentation.  Now known as the American School, Goff's approach impacted not only his students, but modern architecture throughout the world.  OU professor, Dr. Stephanie Pilat, will discuss this enthralling history and will provide information about an upcoming international exhibition OU is hosting about the American School.  You won't want to miss it!
This lecture is free and open to the public.
Trowel Painting Workshop with Hideout Art, 11:00 a.m.
Local artist and Hideout Art owner, Lisa Allen will be on hand to guide you through the steps to painting with trowels.  She will give you ideas and basic instruction and then you'll create your own modern canvas that you can take with you after the workshop.  Space is limited to 10 people; if the first workshop sells out, we will add a second one.
The workshop $40 per person for two hours and all supplies are provided.
Go here for tickets.
Herb Greene's Prairie House: Restoring a Local Landmark, 12:00 p.m.
The beloved and internationally recognized Prairie House is one of Oklahoma's most exceptional examples of organic modern architecture and owner, Austin Hacker will share stories about the house and his ongoing efforts to restore it.
This lecture is free and open to the public.
Presentation and Tour of St. Patrick's Catholic Church, 1:00 p.m.
Okie Mod Squad's Lynne Rostochil will present the fascinating and little-known history of how St. Patrick's was constructed.  After the presentation, she will lead the group on a tour of this magnificent piece of modern architecture.
Go here to get tickets.
Upholstery Demonstration with Brooke Stroud of OKC Vintage Upholstery, 2:00 p.m. – 3:00 p.m.
If you've always wanted to recover those bland dining room chairs with fun vintage fabric, then you'll definitely want to attend Brooke's workshop, where she'll do a brief demonstration and answer all of your upholstery questions.
This demonstration is free and open to the public.
Appraise My Mod, 2:00 p.m. – 3:00 p.m.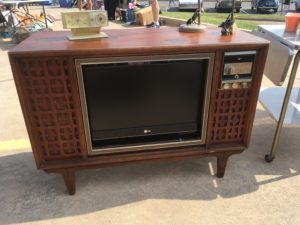 A new addition to the Oklahoma Modernism Weekend is Appraise My Mod, a fun event where people can bring their mid-century modern items to St. Patrick's and have them appraised by one of our professionals.  Deadline for submissions is May 15th.  Go here to learn the rules and complete the application:
This event is free and open to the public.
Saturday evening, June 15th — Prairie House, Norman
Tour of Herb Greene's Prairie House, 6:00 p.m. – 8:00 p.m.
Although not an official Oklahoma Modernism Weekend event, owner Austin Hacker is opening the Prairie House to weekend goers and friends for a rare opportunity to tour this magical piece of mid-century architecture designed by Herb Greene.  You don't want to miss this one, folks!
Tickets are $50 and are limited to 100 people.  The price includes a concert to be announced soon, the ability to roam throughout the house and around the grounds, and yummy munchies.  There will be a cash bar.  Go here to get your tickets — all proceeds benefit the Prairie House restoration project.
Sunday, June 16th — St. Patrick's
Mod Home Tour, 12:00 p.m. – 5:00 p.m.
A luxury chartered bus will take passengers on a guided tour of some of OKC's most impressive modern homes, both old and new. We will wrap up the tour with a stop at one of the metro's premier new modern residences, where tour goers can enjoy snacks and drinks as they take in the splendor of this distinctive home and chat with one of its architects.
Tickets for the Mod Home Tour are $75 each are limited to 55 people.  Go here to get tickets.
If you're interested in more information about the Oklahoma Modernism Weekend, just email us at okiemodsquad@gmail.com.