Not the happiest family ever:
2.  Mother and daughters:
3.  Family of six:
4.  Proud parents with their bundle of joy (see more of the father in the People in Uniform section):
5.  Mother and sons:
6.  The Ruttman family (see more of the Ruttmans in Kids):
7.  Family of seven:
8.  Mother and children (see more of this family in Kids):
9.  Three generations:
10.  Henrietta Holcomb and son, December 1948.  (see more photos of Mrs. Holcomb in the Damsels section).
11.  Lookalikes: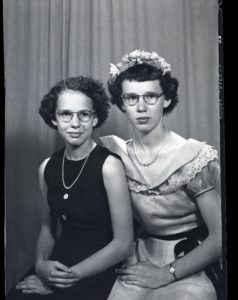 12.  Mom and cowboy son: