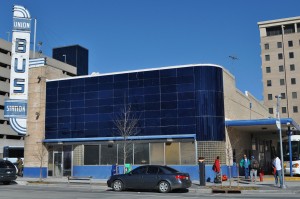 Designed by Noftsger, Lawrence & Associates
1941
Sheridan and Walker, OKC
With its elegant curves and deep blue vitrolite facade, the Union Bus Station was certainly one of the nicest examples of Streamline Moderne architecture in the entire Metro.
The new station opened to great fanfare … and a Hollywood-inspired premiere … on March 22, 1941, with live music and radio broadcasts enticing people to come by and have a look at OKC's newest architectural marvel:
The streamline beauty boasted such amenities as "elaborate lighting, lounging rooms, waiting rooms, baggage rooms, a concession stand, and a coffee shop." (The Oklahoman)  There were also enough bays to serve the nine bus lines that stopped at the station.  Some lines, such as the Oklahoma Transportation Company, offered service within the state and made up four round trips a day to and from such Sooner cities as Enid, Ada, and Tulsa.  Other lines like Greyhound, Santa Fe Trailways, and Southwestern Trailways made stops all over the country.  With all of this coming and going, there's hardly an Oklahoma City resident who doesn't have a story to tell about a happy family reunion or tearful goodbye at the blue station in the heart of downtown.
The Union Bus Station proudly served the community for over 70 years and survived workers' strikes, Urban Renewal, rising crime rates in the area, and finally the resurgence of the downtown core.  Many thought the station was ripe for revamping when a new station was built in 2013.  Several restaurateurs expressed interest in converting the still viable building and into a trendy eatery, but as months then years rolled by with no action, it became apparent that the owners had something else in mind … and that was demolishing the downtown icon.
(photo by Tracy Mabry)
Of course, there was a battle and of course big money won the day, and the Union Bus station and several of its friends along Sheridan and Main Street were levelled to make way for two parking garages.  I guess the only bit of good news is that the Union Bus Station sign and vitrolite were saved and will be incorporated into the design for one of the garages.