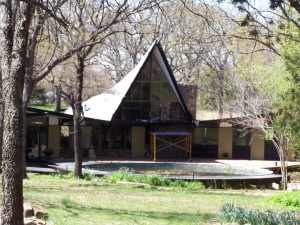 William H. Wilson
1950
NE 60th Ave., Norman
The home was designed in 1950 by OU architecture professor and Bruce Goff associate, William H. Wilson, as his personal residence, and his family lived here for over 50 years.
Located next door to the Bavinger House and constructed over a several year period like its neighbor, the two homes share many features, including natural rock and aqua glass cullets that make up the walls.
For only the second time in its history, the Wilson house came up for sale in 2014 and we were able to tour and photograph the mid-century gem for the Mod Blog.  Go here to see more of this stunning house.