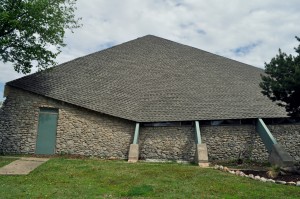 Architect unknown
SW 39th and May, OKC
1960
This SW OKC church doesn't look like much as you're driving down May, but pull onto SW 39th and you'll see why this small but pretty darned amazing building is included on this site.
By the late '50s, the Sherwood Baptist Church was bursting at the seams of their tiny frame sanctuary a couple of blocks away, so they built this great modern structure in 1960. A second building was added next to this one six years later, and the congregation remained at this location until 2011, when it moved to an even larger campus.  This funky building with its indented roofline is now home to the Iglesia Ministerio Pentecostes church.