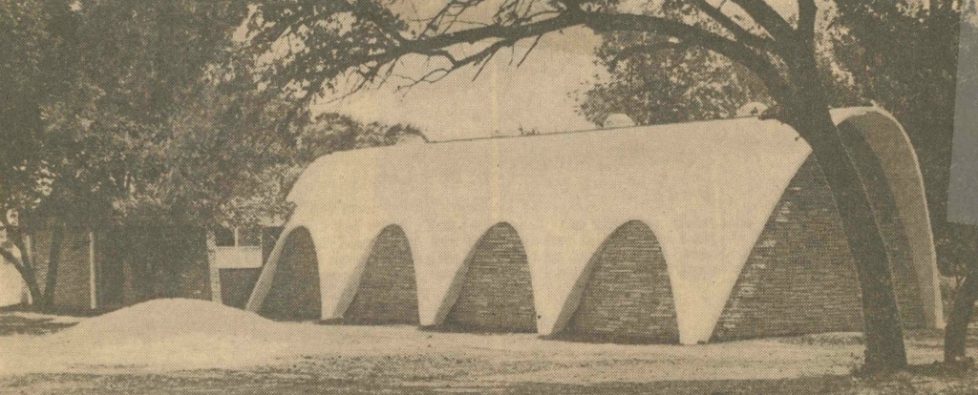 Original building designed by R. Duane Conner; addition designed by Hudgins, Thompson & Ball
Original building, 1956. Addition, 1960's
800 S. Midwest Blvd.,  Midwest City
When Midwest City founder W.P. "Bill" Atkinson donated land for a new Episcopal church in town, architect R. Duane Conner was brought in to design the structure.  Because the congregation was small and on a tight budget, Conner came up with a modest, Quonset hut-style sanctuary that employed the same thin-shell roof construction that he was concurrently using on his domed masterpiece, the First Christian Church, in neighboring Oklahoma City.  He also incorporated flagstone and arches that are reminiscent of their much larger First Christian cousins across town.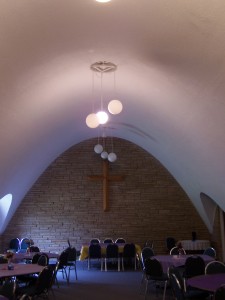 Although small, the $39,000 building was praised as being both cost effective and highly innovative.
As the congregation's membership grew, however, the need to expand became apparent, and the church contracted with Hudgins, Thompson & Ball to design a much larger sanctuary and additional space.  The firm delivered a design that fully complimented the style of the existing church, with the original building being bookended by the new sanctuary on one side and classrooms, a kitchen, and offices on the other.
Today, overgrown bushes obstruct most of the Conner-designed building:
… but the newer sanctuary remains a standout along S. Midwest Boulevard: