Modern Details: Caudill Rowlett Scott and Warr Built Homes
by Lynne Rostochil.  photos courtesy of Googlemaps, Oklahoma History Center, and Lynne Rostochil.
A few days ago, Terri started a great discussion on the Okie Mod Squad Facebook page about several modest mod carported homes located on N. Miller between NW 47th and NW 50th.  Here are a couple of examples:
And a couple with less dramatic carports: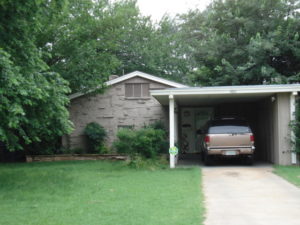 These unique homes were immediately familiar to me because I've seen a cluster of the more dramatic ones in Warr Acres, too.  So, what's the story behind these post-war cuties?  Well, they were designed by Caudill Rowlett & Scott (CRS) and, well, they appear in the June 1948 issue of Architectural Forum, so I'll let the article do the talking:
MODERN DETAILS help a merchant builder sell his $9,500-$11,800 houses ($98,000 – $122,000 in 2018 dollars)
Location: Oklahoma City, Oklahoma
Builder: Warr Built Homes Co.
Architects: Caudill & Rowlett; Gordon McCutchan, Associate
Photographer: Johnny Melton
During the past 25 years, Warr Built Homes Company has built a very considerable part of Oklahoma City — some 4,000 houses of it.  Not until last year, however, did President C.B. Warr and his associate, Clarke X. Pace, decide to offer houses which were more up to date design-wise than the ones they built a quarter of a century ago.  But, they are glad they did — the first new house attracted about 10,000 visitors (some from adjoining states); the first ten built to sample the demand were sold before completion; since then, construction and sales in an 80-unit development, called Warr Acres, have been moving apace.
To design his new houses, Warr called upon Architects William W. Caudill, John M. Rowlett, and associate Gordon McCutchan.  After a thorough study of Warr's building methods, existing equipment, available materials, and on-site labor costs, they came up with a dozen basic floor plans with variations in exterior materials and colors.  While widely different in plan layout, all models display these design details: 1) open floor plans — living and dining areas are usually combined; 2) low-pitched, shed and flat roofs — frequently in combination with one another; 3) minimum fenestration in north and west walls as protection against cold winds and hot sun, respectively; 4) large fixed windows in the other walls protected by 3 to 6 ft. roof overhangs; 5) separate control of light and air: large windows are fixed sheets of plate glass, flanked by screened louvers; 6) nonbearing partitions, permitting a house to be plastered, floored, and trimmed economically before the space is subdivided; 7) shop fabricated closets; 8) carports with storage walls, instead of garages, at a 60 per cent cost saving.
In addition to these modern design features, Warr Acres' new houses boast wall-to-wall carpeting in living and bedrooms, flush doors throughout, a 36 in. attic fan, an automatic clothes washer, and 90 x 200 ft. lots valued at $1,500.  Including these items, sales prices range from $9,500 for two bedrooms to $11,800 for three.  Although the unusual character of Warr's has been viewed without enthusiasm by local FHA offices and mortgage companies, FHA approval and satisfactory financing terms have been obtained.  Thus, the house illustrated (below) was sold for $11,000 with the aid of an $8,000 FHA-insured mortgage held by Metropolitan Life Insurance Co. and a $2,000 loan guaranteed by the Veterans Administration:
Consumer reaction, according to Builder Pace, has been "very good."  Never lukewarm in their comments, prospects are either extremely enthusiastic about the house or definitely dislike them.  The enthusiasts are invariably young people.
While Warr Acres represents a big forward step in the design of merchant builder houses, it is only a step.  The architects agree: "Although we are still very far from an all-successful, livable, and low cost house, the results are gratifying.  We feel that we have made a definite contribution in this area for good builder houses."
Two bedroom house is opened to the east rear yard by large bedroom windows (flanked by ventilating louvers) and entire wall of glass in the living room.  Bedrooms have generous proportions, measure 12 x 12 ft. and 12 x 15 ft.  Cubage: 7,600 sf.  Sales price: $11,000 including lot.
Two bedroom variation (above) is shielded from cold north wind and penetrating west sun by windowless walls.  Small glass block panels in west kitchen wall were considered necessary by builder, not the architects.  As in the other two bedroom house, a coat closet is conspicuously absent.  
Here is the three bedroom plan:
Here are a couple of the Warr Acre homes today:
As with several of the homes on N. Miller, many of the homes — like this one — have been altered:
Also, I found an article in the Chronicles of Oklahoma by Susan Allen Kline and Cynthia Savage that also discusses the Warr Built Homes:
After having built 150 "conventional boxlike two-story houses" in Mayfair Heights, they (Warr Built Homes) called on Caudill and Rowlett to design one-story, brick veneer, modern style houses.  The houses rested on concrete slabs and the interiors had a combination of exposed brick and lath-and-plaster walls.  Often the brick walls were left unpainted, a treatment the firm later used in school designs.  A house at 2700 NW 47th Street was chosen by American Home magazine as the "American Home of the Southwest" and was featured in its issue of August 1948.  Warr Built Homes showcased the house during an open house on April 11, 1948.  In an advertisement in the Daily Oklahoman, it was touted as being sensitive to its environment, taking into consideration lighting, ventilation, and solar issues…. Here they created up-to-date designs that featured open floor plans, low pitched or shed roofs, minimal windows on north and west walls to protect against winter wind and summer sun, and built-in carports instead of garages as a cost saving measure.  Although the local office of the Federal Housing Administration viewed the development's "unusual character … without enthusiasm," the designs found a market, especially among young people.  
So, the "American Home of the Southwest" that Kline and Savage mention and that was advertised in the Oklahoman is right in the heart of Mayfair Heights along the stretch of road on N. Miller that Terri originally mentioned.  Here's the ad:
I'm broken hearted to show you what this once-glorious home looks like now, but here goes:
How on earth could anyone EVER think that this mess could ever be more attractive than the original?
Some of the homes on N. Miller — well, the ones that haven't been altered beyond recognition, anyway — are identical to the designs in Warr Acres, and all of the carported homes — both mod and more traditional — in both neighborhoods were constructed in 1948.
Since Warr was building all over Oklahoma City at the time, it's possible that there are other clusters of CRS-designed homes out there.  I know of one other area of somewhat similar modest mods with carports near downtown Britton that were constructed in 1955.  I don't know if CRS designed them or not, but they were all sold even before they were fully constructed, as this photo from the OPUBCO collection at the History Center shows:
Here's the same block today:
So, if you're out and about and see some cool mid-century mods with carports out in the wild, they may have been designed by CRS, which went on to become an internationally renowned firm just a year after these homes were built when their innovative school designs in Blackwell were widely publicized and praised.  But, that's a story for another time….