Buildings on the Chopping Block for 2016?
text and photos by Lynne Rostochil.  Vintage photo of Herman's from the History Center collection, vintage photo of the Medical Tower by Bob Bowlby.
If you think that 2015 was a bad year our our city's architectural icons, 2016 might be even worse.  The dreaded "MW" (Midwest Wrecking) has been spray painted on several buildings around town recently and they sit awaiting their date with the bulldozer.  Let's begin by saying adios to this little A-frame gem at NW 41st and May:
Its next door neighbor will be a goner, too:
UPDATE 1/12/2016:  Well, I wrote this post over the weekend and happened to drive by this site yesterday as it was being demolished:
Another complex that is near and dear to many in OKC is the lovely Villa Teresa campus.  Many are hoping that a new school will take over the former Catholic school site, but it's possible that the buyers may scrap the whole place and build yet another Midtown apartment complex.  It's also possible that the normally preservation-minded buyers might end up saving and reusing the existing buildings — it's all up in the air right now but many are watching and waiting and biting a few fingernails in anticipation of the announcement of the developers' plans for these beloved buildings.
I have been in love with the old warehouses south of downtown for years and was really bummed out when I heard that, they too, were going to come down to make way for the new Central Park.  Darn it!  I was really hoping that my favorite would be saved and converted into restaurants and shops bordering the park.  What a missed opportunity to incorporate some of these lovely and very old (by OKC standards, anyway) buildings into the design for the park:
Although many people put up a good fight to save this '20s brick beauty, the Film Exchange building at SW 5th and Robinson will also be a goner thanks to the park.
UPDATE 1/14/2016: The Film Exchange building is history — photo by William Crum:
And say goodbye to the onion-domed Herman's/Triple's/Marco's building at NW 17th and Classen.  Here's the building before the dome and when a giant neon fish dominated the storefront…
… and again a few years ago before the roof was painted a drab dark gray:
As the gateway to the Plaza District, the architecturally minded developers, led by designer David Wanzer, will likely replace the old Herman's with something visually interesting, which is a good thing.
Now, let's get to the mid-century modern portion of this post.  There are several MCM buildings to keep a watchful eye on in 2016.  One that is certainly going away is the old Suntide Inn at the junction of I-44 and Hefner Parkway.  The old Route 66 motel later became a correctional facility, the Kate Barnard Community Correction Center, before closing in 2012.  The nearly four-acre campus was auctioned in May and will likely be demolished to make way for an office building.  I do know that the new owner has a good architectural sense, so hopefully he'll put up something interesting in the Suntide's place.
Although it's not slated for demolition, one of the very best and most original buildings in town, the perfectly designed Pasteur Medical Building (designed by Bailey, Bozalis, Dickinson & Roloff) in the St. Anthony's complex, looks like it's going to get a good botch job.  Here it is now: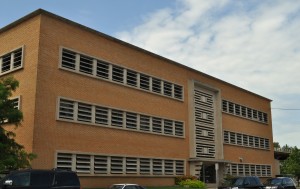 And here's the "improved" version — get out your barf bag for this one:
ARE YOU EFFING KIDDING ME??!!!  This hack of a remodel will rival the worst "updated" building in OKC, the once-elegant-now-blecky mustard ugliness that was the Medical Building in NW Expressway:
I have a headache.  A big one.
And it might get bigger as we discuss the probable remodel of the Sorey Hill Sorey-designed 2000 Classen Center complex:
Although I'm excited about owner Rick Dowell's plans to develop the ugly parking lots surrounding buildings, I'm worried about his plan "to improve the facades of the buildings, which he describes as dated and in need of modernizing." (from Steve Lackmeyer's interview with Dowell that appeared in the Oklahoman in May 2015)
After seeing how "modernizing" has ruined so much of OKC's great architecture, I'm worried that the elegant stamped concrete facades of 2000 Classen Center might be wiped away:
I'm also worried that this beautiful lobby art, designed by Tom Sorey, might be lost:
Let's keep an eye on this one.
Another OKC icon we should keep an eye on in 2016 is the Central National Motor Bank annex, or the Wavy Bank as most people call it:
The old bank building across the street is about to be repurposed by OKCPS for its Administration offices, leaving the fate of this architectural treasure up in the air.
Two buildings that have been on our Endangered list for awhile are the William Alexander Youth Center and the Oklahoma Disciples Center on the First Christian Church campus.  Their future remains uncertain, so we need to keep an eye on them, too:
Finally, one building that we've heard rumors about for years might truly be on the chopping block in 2016 — the gorgeously Googie Founders Bank building, which was designed by Bob Bowlby and built in 1964:
From what I hear, developers want to fill in the vacant land surrounding the building and the bank is not part of the new plan.  That means just one thing … bye, bye to this beloved OKC icon.
So, before the announcement is made and we're behind the eight-ball in our preservation efforts, we thought we should put together a petition letting planners and developers know just how much this beautiful example of mid-century modernism means to our city.  Go here to sign the petition and please encourage your friends to do the same.
UPDATE:  Villa Teresa has been saved and is undergoing a multi-million dollar renovation.  Read more about it here.