Living the Miesian Dream: The Jones House
by Lynne Rostochil
Thanks to an invitation from the Tulsa Foundation for Architecture (TFA), last week several Squadders got to check out the little piece of perfection on a quiet wooded lot in Tulsa known as the Jones House:
 (Lynne Rostochil)
The home was designed by Robert Lawton Jones as his personal residence and was constructed in 1959.  Here are plans for the house: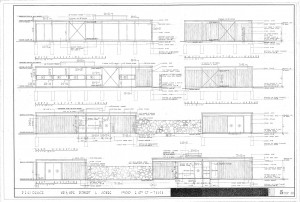 Murray-Jones-Murray collection at the Tulsa Foundation for Architecture
A native Oklahoman, Jones graduated from the University of Notre Dame then began graduate studies in 1951 under the great Mies Van der Rohe at the Illinois Institute of Technology.  From there, he headed to Germany to study at the Institute of Technology in Karlsruhe on a Fulbright grant before finally returning to his home state to practice.  Shortly before design work began on this house, he and brothers David and Lee Murray joined forces in 1957 to form Murray-Jones-Murray, which quickly became one of the most influential and successful firms in the state, responsible for such projects as the International-style Tulsa Airport and OKC's much beloved St. Patrick's Catholic Church.
Not long after this home was completed, architectural photographer Julius Shulman came a'calling to capture on film Jones' modern Miesian box that writers later dubbed "the house in the orchard".  The resulting images are among Shulman's most fun and energetic, and that's really saying something considering that his career spanned nearly 80 years and generated hundreds of thousands of photos:
Here's a photo I took of Shulman during a presentation he gave in 2008 at [Artspace] at Untitled talking about this, his most iconic image of the Jones House:
According to the photographer, who was 99 when he relayed this story to a packed house of admirers, a few of the Jones kids were playing in the distance, trying to stay out of his way as he photographed the house.  Always one to incorporate people in his shots to add perspective and action, he called two of the tykes over and challenged them to race their tricycles as fast as they could up the driveway, and they happily obliged.  A quick snap and Shulman had his money shot:
The photographer so loved this image that it received a rare two-page spread in his Modernism Rediscovered books (see Volume 2).
Thanks to Shulman's photos, it wasn't long before the Jones House began appearing in both national and international publications — Arts and Architecture, Look, Bauen und Wohnen (a Swiss journal), and Schone Wohnen (a Hamburg periodical), among others.  But to Bob, his wife, Lynn, and their seven — yes, count 'em — seven kiddos, this was just home.  The house was added to the National Register in 2001:
… and Jones lived here until 2005, when he and his wife moved out of state.
The house sat empty until Tulsa real estate savior, Marty Newman, bought it a few years later.  He then lovingly and sensitively reconfigured (incorporating three bedrooms into one), updated, and restored the home.  Here are a few photos I took back in 2008 during the renovation: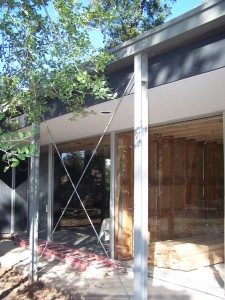 This was a kiddie house in back that has since been removed:
Renovations wrapped up the following year, and the house looks shiny and very proud these days.  So, last week with the surprisingly harmonious combination of frogs croaking their spring song and '50s jazz billowing in the air, we (along with about 200 other lucky tourists), made our way through the best example of International-style residential architecture in the state.  All I can say is wow!
The backyard:
This is indoor-outdoor living at its best:
The open informal living/dining area and kitchen (which is behind me in this photo):
The kitchen then (Shulman photo) and now:
Cork flooring, at least some of which is original, I think:
The office:
The hallway with bedrooms and a bathroom leading off of it and the informal areas/backyard beyond:
Original bathroom fixtures:
A side patio off of the hallway:
Built-in shelves and the light fixture in the dining room:
Thanks again to the TFA for sponsoring the tour.  The TFA owns the Murray-Jones-Murray archive, along with collections from other Tulsa-area firms.  If you'd like to learn more about the great work they do and join their efforts, go here.