Books We Love: The Story of the Tower by Frank Lloyd Wright
by Lynne Rostochil
There's nothing more fun than going to someone's book-filled house and scouring their library for interesting titles (and making a mental note to add said titles to my endless list of books to look for in the future).  Well, not too long ago, I found myself hanging out in Koby Click's office and eyeing his impressive collection of architecture and design books.  He pulled out one of his favorites, a first (and maybe only) edition of Frank Lloyd Wright's profusely illustrated The Story of the Tower:
The year 1956 was, much like today, a giddy boom time in Oklahoma, with one great MCM building project after another sprouting up on the once-quiet prairie.  During one glorious year from mid-1955 to 1956, such iconic Sooner State buildings as the National Guard Armory in Lawton, the First Christian Church in Oklahoma City, the Mayo Meadow Shopping Center in Tulsa, and the Frank House in Sapulpa were constructed, but the newly completed building that certainly received the most nationwide acclaim was Frank Lloyd Wright's Price Tower in Bartlesville.  To celebrate Wright's only skyscraper design to be built, the architect authored this book, which sold for a whopping $6 and was available in time for the building's dedication on February 9, 1956.
As I flipped through the book's yellowed but still strong pages, I realized that while I have a couple of Price Tower books, I had never seen many of these photos of Wright's masterpiece, like this perfectly composed and quite stunning shot of men working on the building:
The book is filled with equally interesting photos of the building during its planning stages and construction, as well as images of the completed project.  Even with two books about Price Tower already in my library, I immediately tracked down a copy of this gem containing so many rarely-seen images.  My Price Tower collection is complete — well almost.
Koby, that lucky boy, also has a very rare companion piece to his book, an opening day press packet prepared by the H.C. Price Company that is filled with all kinds of goodies:
Let's begin with the Wright-designed manila folder:
The press packet contains several 8×10 photos — color and b&w, day and night shots — of the Price Tower in all of its glory.  I'm including some "now" shots of the building from similar angles to show just how little this remarkable piece of architecture has changed in nearly 60 years:
Price Tower at night (then and now):
Looking up from the main entrance (then and now):
Detail shot (then and now):
Another night shot:
View from across the street (then and now):
The press packet also includes a little brochure that is packed with fun facts about Price Tower (click on an image to enlarge it and get a better view of the text):
Here's another booklet that shows a typical floor layout:
And yet another one in honor of the building's dedication: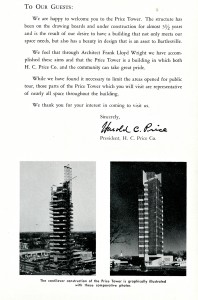 While all of these brochures are unique and interesting, the best of the bunch is this one, a commentary by Frank Lloyd Wright himself:
But wait, there's more!  The press packet includes an order form for The Story of the Tower:
Finally, lucky press packet owners received several postcards of the building, including one rendering:
I've been trying to determine how many press packets were distributed when the Price Tower was dedicated, with no luck.  However, there is one just like Koby's for sale on Abebooks right now for a whopping $375.  Click here to view it.
Thanks, Koby, for letting me borrow this fascinating book and press packet to share with the Mod Squad.