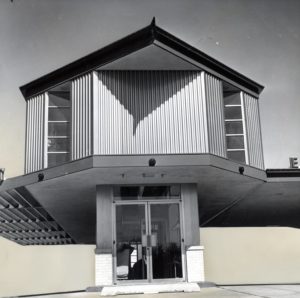 Designed by Norman Byrd
1963
1230 W. Main, Norman
L.P. Denham, owner of Nuway Laundry, wanted his buildings to be so distinctive that they would become local landmarks. When he was ready to construct a new store in Norman in 1963, he hired architect and OU professor, Norman Byrd for the job.  The result was a two-story stunner that did, indeed, become a landmark in the community.  Unfortunately, Nuway closed around 2003 and the building was demolished the following year, and a Johnnie's occupies the site now.
(Photo courtesy of the Oklahoma History Center)