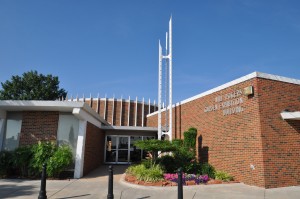 Turnbull & Mills
1963
3400 NW 36th St., OKC
This wonderful exposition building is located in one of OKC's prettiest settings, Will Rogers Park, which is home to a two-acre rose garden, a tennis center, disk golf, a huge community pool, ponds, bridges, etc. The building contains offices, a library, and meeting space for the different garden clubs around town. Originally, the building was supposed to have an auditorium to the rear of the building, but that phase was never completed. Nevertheless, it's a beautiful mid-century building, one of OKC's best gems.
The architect, John Turnbull (of Turnbull and Mills), is also responsible for developing and designing homes in one of OKC's best largely mid-century neighborhoods, Forest Park.