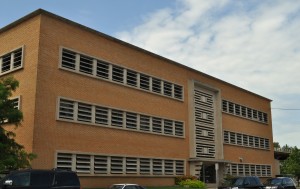 Designed by John Bozalis of Bailey & Bozalis (later Bailey, Bozalis, Dickinson & Roloff)
1951 (annex and garage added in 1956)
NW 10th and N, Lee, OKC
With five hospitals located in the Midtown area, there was a great need for medical office space, so three doctors, including John Bozalis' brother, George, commissioned the young architect to design a doctors' building on a plot of land next to St. Anthony's Hospital.  Bozalis was a new partner in his mentor, Leonard Bailey's firm, and he was eager to make his mark in town.  He certainly succeeded in his elegant design for the Pasteur Medical Building.
The original 54,000 sf building is comprised of three stories and a basement, with space for 49 doctors, x-ray facilities, labs, and a pharmacy.  The building quickly filled to capacity, and it soon became evident that Pasteur needed to expand.  Just four short years after the first building was completed, Bozalis was back at the drawing table designing a perky two-story, 25,000sf, L-shaped annex to be raised on stilts to create more parking space.  In addition, he designed a two-story parking structure, which was round to offset the boxy designs of the two buildings.  The annex and parking design perfectly compliment the original building creating a very visually appealing campus.
The original Pasteur building is in excellent original condition, so much so that it was listed on the 2009 OKC MCM survey.  However, new owners plan to take away much of the structure's original beauty with a tacky "update" in the near future:
The louvres were removed in 2016, but thankfully, none of the other tacky alterations have taken place.  Hope it stays that way.  Here's how the building looks now:
And here's the parking garage and annex in 2017: