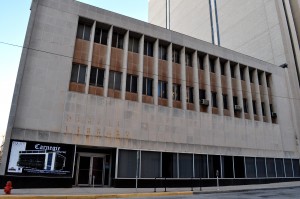 Designed by Winkler & Reid
1954
131 Dean McGee Avenue, OKC
This modern structure was built on the site of the original 1901 Carnegie library:
Designed by local firm Winkler & Reid, who also designed the Capitol Hill branch at the same time, lack of funds and bickering over the site for the downtown library kept that project on hold while construction on Capitol Hill moved forward smoothly.  Capitol Hill opened in 1951, but the new downtown library wasn't dedicated until 1954.
Once it opened, the new library was an immediate success and even incorporated some of the marble that was salvaged from its Carnegie predecessor in some of the interior spaces.  Another perk the new building boasted was a drive-up window to return books: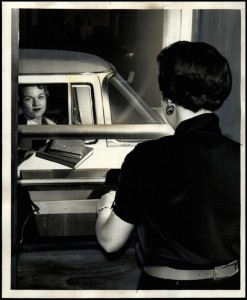 Like the Carnegie library before it, this building served the community for 50 years until it closed in 2004 when the new and much larger downtown library opened a few blocks away.  The mid-century building remained vacant for years until it was recently converted into Carnegie Centre, a mixed use development of commercial and living space.
(Vintage images from the OPUBCO collection at The History Center.)