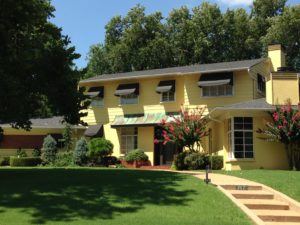 Designed by Irene Constance
1950
717 NW 40th, OKC
Home designer and builder, Irene Constance, completed this nearly 5,000 sf home for her and her new husband, Mike Swatek, in 1950.  Here are a few grainy images from the Oklahoman of what the home looked like when it was new:
Constance was one of the only women designing and building homes during this time, and this house is probably her most modern creation.  According to a history of the home that was compiled when Crown Heights became a historical district, artist Gayle McKnight was hired to paint murals in the kitchen, ladies dressing room, and garage.  Referring to the unusually large and well appointed kitchen, Constance commented, "Why shouldn't a woman's home be as convenient and efficient as an office?"
Constance also designed a "treasure room," which housed an ornate crystal chandelier and and ornate gold leaf window cornices.  There were also elaborate 18th century carved gold leaf pedestals flanking the fireplace that belonged to the Swateks' friend, the Countess Mary Fracca of London, and an ornate -wrought iron chandelier the Swateks rescued when an old hotel in Marsailles was demolished guarded the entry.  Outside, two century-old vases decorated either side of the front door.
The Swateks lived in the nearly 5,000 sf, split-level home that occupied one of the larger lots in Crown Heights until her husband became ill in the 1970s.  They sold it to the Cole family in 1975, and they still own it today.