Designed by Wright & Selby
1959
NW 5th and Classen, OKC
GO HERE TO SIGN THE PETITION TO SAVE THIS BUILDING.
Located on the outskirts of downtown Oklahoma City, the Central National Motor Bank is often called "the wavy bank" for its distinctive roof design that mimics a series of cresting ocean waves.  Designed by Wright & Selby, here's the building under construction: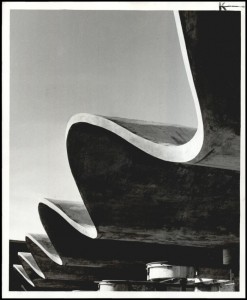 The bank opened in March 1959 with ads claiming it to be "the newest, most unusual motor bank in the world."   Here's a grand opening postcard inviting possible patrons to tour the bank…
… and enter to win a new 1959 Rambler!
The fluid, organic, even cheerful form of the motor bank's thin-shell concrete roof perfectly complimented the more severe, box-shaped structure of the one-story bank building next door while also providing protection from the elements for customers driving up to the six teller windows to do business.  When architectural photographer, Julius Shulman shot the building shortly after its construction, he made an initial daytime "exploratory visit with a small camera (Hasselbad Superwide) to this drive-in bank (which) revealed the possibility of supplementary night photography … to avoid a disturbing background (consisting of several industrial buildings)."  Here are a couple of shots of the building Shulman took that day that show the distracting buildings surrounding the bank (from Shane Hood's photostream on Flickr):
Shulman returned after dark to capture several dramatic images of the wavy bank in all of its modern glory … and without the distracting buildings:
The motor bank was designed by OSU graduates James K. Wright (1910-1985) and Lennon Selby (1909-1968) of the area firm Wright & Selby.  They formed a partnership after WWII and quickly became one of the most prominent and long-lasting architectural partnerships in Oklahoma City, designing such notable buildings as the Quartz Mountain State Lodge, the Allied Building (OKC), U.S. Grant Jr. and Sr. High (OKC), and several student housing buildings on the OSU campus.  In addition, Wright served two terms as president of the Oklahoma Chapter of the AIA, and Selby was instrumental in writing the building code for Oklahoma City during the 1950s.
In 1978, the main building expanded, but the adjoining motor bank remained untouched…
… until 2004.  The main motor bank, except for the tower, was demolished when the building was converted to office space: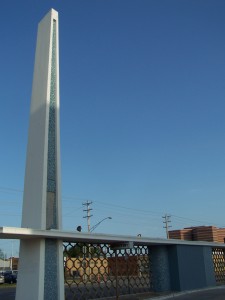 However, the annex motor bank, built in the same style as the original, remains … abandoned … across the street.
(The two construction photos from the OPUBCO collection at The History Center.)