First Christian Church
Designed by R. Duane Conner of Conner & Pojezny
1956
NW 36th and Walker, OKC
View on Map
Bill Alexander, the minister at First Christian Church, was no traditionalist, and when he and the congregation decided it was time to build a new church on the 40-acre property that had once been home to the Edgemere Golf Club, he wanted something entirely new.  He wanted "the church of tomorrow."
Lucky for him, a young architect fresh from working at Oak Ridge during the war was a member of the church and was as much of a forward thinker as Alexander himself.  His name was R. Duane Conner.
Conner and his partner, Fred Pojezny, were both graduates of Oklahoma A&M (now OSU) and were eager to design something great.  Working with Alexander, their first design for the new church to be built at the corner of NW 36th and Walker was an International Style complex that Conner termed "honest architecture" that would be "ever-contemporary."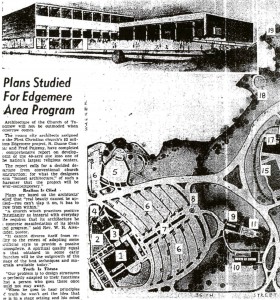 While plans for the entire $2.1 million complex were being finalized, construction began on a 3,600-seat outdoor amphitheater at the northwest end of the property where the congregation could put on plays and concerts and also have services "under the stars."
Fundraising efforts continued for a few years, and as time passed, the design changed drastically.  In 1953, the church published a promotional booklet showing off the firm's second, much grander design that featured a crystal-like glass sanctuary that looks more "Logan's Run" than 50's Oklahoma City.
A round educational building and theater were also part of the second design (and remained pretty much unchanged in the third design).
The congregation enthusiastically accepted this second design, but after costs were tallied, they realized they couldn't afford such an opulent sanctuary (their $2.1M budget had shrunk to $1.1M), and the architects went back to the drawing board … again.  Conner had been toying with the idea of working with thin-shell roof designs for awhile, and he saw the First Christian Church as the perfect opporunity to experiment with the process.  Because it was so lightweight, thin-shell concrete enabled architects to design buildings without the interior support that had always been necessary, so spaces could be opened up like never before.  Also, roof shapes could take almost any form, and they were very durable and economical to build.
So, Conner went out on a limb and designed the sanctuary with a concrete domed roof and no internal support, and, once again, the congregation heartily approved.  Word soon spread about the revolutionary new design, and as construction began in 1956, many naysayers (including engineers and other architects) expressed concern that the dome as designed would collapse under its own weight.  Confident that his design would be validated, Conner assured everyone that the dome wouldn't falter, and it was built as he specified.
After it was constructed, engineers tested the roof and reported that the dome could easily handle the weight distribution, and the dome still stands, in seeming defiance of gravity, all these years later.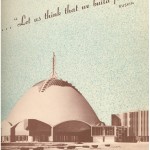 When it was completed in time for Christmas services in December 1956, Alexander's "Church of Tomorrow" became a reality and was hailed as an architectural marvel in such publications as Life, Newsweek, and Architectural Record.  It was also featured several times in the Daily Oklahoman:
The church was listed as one of the 20 most significant structures in OKC in 2002, it was cited on the 2009 OKC MCM survey, and the entire complex was added to the National Register in 2011.
Go to the Mod Blog to read a more detailed history of this iconic church.  You can also read more about the interesting roof design here.
UPDATE: 12/9/16 — The First Christian Church complex is for sale and is being marketed as a development opportunity — read more about that here.  While we are cautiously optimistic that the church will be okay, we are moving this mid-century modern icon to our Endangered list and will be keeping a close eye on what happens with the sale.