A History of Oklahoma's Mod Domes, Part 1
text and photos by Lynne Rostochil unless otherwise stated. Vintage photos from the Oklahoma History Center and Lynne's collection.  
During the Oklahoma Modernism Weekend, I put together a presentation devoted to the surprising number of domed structures scattered throughout Oklahoma to go along with a tour of the always fabulous Gold Dome.  I thought I'd include the presentation for those of you who weren't able to make the tour — I'll divide it into two parts, one devoted to Oklahoma's domes and one about the history of the Gold Dome itself.  Here we go:
Oklahoma has a long history of building domed structures….
Let's begin with the State Capitol.  When the state capitol moved from Guthrie to OKC in 1910, it was housed in the Huckins Hotel until the new Capitol building could be completed.  Designed by Soloman Andrew Layton and S. Wemyss-Smith, the Romanesque structure was supposed to be capped by a large dome, but construction overruns kept that from happening and the domeless structure was completed in 1917:
Perhaps one reason we became a little dome obsessed in Oklahoma was because we felt inferior without our promised-for capitol dome – or maybe it wasn't as romantic as that.  Maybe it's because domes are strong, relatively inexpensive to build, and work well in Tornado Alley.  Either way, the State Capitol was finally completed as designed when the dome was added in 2002:
More early domes include the Blue Dome in Tulsa, which was built in 1924 and served as the White Star Gulf Oil Station.  This was the first station in Oklahoma to be open 24 hours a day and offered hot water, pressurized air, and a car wash (photo below by Budd Bailey):
Another early dome was the First Christian Church on NW 10th in Oklahoma City:
It was designed by Soloman Andrew Layton and opened in 1911.  Now known as Frontline Church, the building is on the National Register.  Another dome on the National Register is the Round Barn along Route 66 in Arcadia (photo by TravelOK):
It was built in 1898 by William Harrison Odor and was restored as a museum and events center in 1992.
The Electric Park Pavilion in Blackwell was designed by W.L. McAltee and constructed in 1913.  Here's a shot of the building by Kevin Stewart:
It was built as a "salute to electricity" and features a 160-foot domed ceiling and an 800-seat auditorium.  It was once lined with over 500 lights on the dome, the 22 arched windows, and the 27 poles that waved American flags.
Among the first modern domes to be constructed was at Capitol Hill High School in Oklahoma City.  The Fieldhouse was designed by Coston Frankfurt & Short and opened in 1955:
The round and domed Capitol Hill High School fieldhouse was a true standout among its neighboring and much more traditional campus buildings, which were constructed in 1928.  After it was built, the fieldhouse was featured in Oklahoma Teacher magazine and a 1950s-era book put together by the Oklahoma City Board of Education called Oklahoma City: Capital of Soonerland.  Architectural photographer Julius Shulman also took images of the structure during one of his frequent visits to the Sooner State.
Today, the fieldhouse is still in use and hosts both high school and college-level activities.  It's in excellent original condition.
OKC-based architect, R. Duane Conner, designed another round gym for Marlow High School, which was built in 1957.  The poured thin-shell concrete structure was 18,507 square feet and cost $116,897 to construct, with such economical features as concrete bleachers that cost $3.50 per seat instead of the usual $10 to $12 a seat for traditional bleachers.  Conner's innovative and economical design was featured in Architectural Forum magazine in 1956:
Here's the gym soon after it was completed:
And here it is today:
Other small towns liked the design so much that they constructed gyms using the same plans.  You can see two of these gyms still in use in Amber…
… and in Fairview:
All three gyms were constructed at the same time as the First Christian Church in OKC, which was also designed by Conner.  We will get to that dome in a bit.
Two other domed school gyms include the William D. Carr gym in Cushing, which was designed by Hudgins Thompson Ball and constructed in 1957:
And the Tornado Dome in Clinton, which was built in 1969:
One of the most exciting high school gym designs is by Jack L. Scott and located in tiny Helena.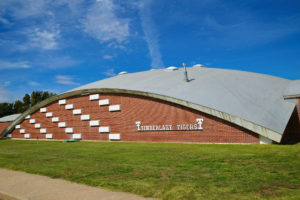 Scott designed several thin shell concrete schools in the state, including Pauls Valley High School and Poteau High School, but this is the only design that included a dome.  It was constructed in 1958 and was also featured in Oklahoma Today the same year.  It's in great original condition today.
Okay, that's it for the high school gyms.  Now, let's move on to the aforementioned First Christian Church in Oklahoma City.
The church was designed by Conner & Pojezny on what once had been the Edgemere Golf Course.  Go here to read the fascinating history of the church.  Today, the church and other buildings on its campus are for sale — all are on our Endangered list of buildings.
Another endangered dome is the stunning Rose Bowl, designed by William Henry Ryan and located along Route 66 in Tulsa:
The Rose Bowl opened in 1962 and served the community until 2005.  After that, it sat vacant for a few years before becoming an events center and activity area serving underprivileged youth.  It is for sale today and its fate is uncertain.
Architect Paul Harris designed a couple of domed structures in Lawton — the National Guard Armory, which was built in 1955 and is on the National Register …
and the Cache Road Square Shopping Center, as you can see in this photo by Debra Jane Seltzer:
The shopping center was also built in 1955 and was originally much more fun and mod, but it underwent an unfortunate remodel about a decade ago and only the dome is left to show how cool it once was.
A couple of lodges make our domed list.  First up is the VFW #2270 lodge in Enid, which was designed by local architect, Tom Rogers, and built in 1956.
The building, which is located on the outskirts of downtown, was constructed for $140,000 and featured a band of windows between the base and the domed portion of the building.  Sadly, the windows were painted over at some point and the building sits vacant today:
But, it's in way better shape than the Tulsa Elks Lodge, which was another William Henry Ryan design:
Constructed in 1957, the building boasted a circular lobby/central office area and a very unique domed space under which parties, events, and lodge meetings were held.  Sadly, the dome and a smaller round building were demolished in the late 1990s and replaced with very bland structures.  Yuck.
Here's a trivia question you can delight your friends with for years to come.  Did you know there were were supposed to be five gold domes in Oklahoma … and did you further know that four were actually built?  Can you guess the locations for each?  If not, here's the lowdown:
The only non-geodesic dome of the bunch is the old Nuway Cleaners building in Moore:
It was designed by OU professor, Norman Byrd, and built in 1963 along I-35 in Moore.  In 1999, ODOT informed Nuway's owners that the cleaners would have to be demolished by May 3rd of that year to expand I-35.  Although they were very attached to the little round building, they knew they had no choice but to comply.  They decided to save as much of their beloved laundry as possible and had the aluminum gold dome painstakingly dismantled and stored until they could construct the new building.
Ten days later, the monster May 3rd tornado raged through Moore, destroying everything in its path, including the already doomed Nuway Cleaners building.  So, in an interesting twist of fate, if the building hadn't been slated for demolition, the roof never would have been saved and we wouldn't be driving by it today.  In 2001, the new Nuway Cleaners opened just 50′ east of the original building.  No longer round, the new, now-square structure still paid homage to the original by being comprised mostly of glass and topped, of course, by the dome.  Here's the building a couple of years ago:
A little-known geodesic dome sits on the campus of East Central University in Ada:
It was designed by local architect Ray James and opened in 1974.  The multi-functional and economical Kerr Activity Center is home to the university's basketball team but has hosted a myriad of community and college events since it was built.
The only unbuilt gold dome design was for Oklahoma City's convention center:
Like the Gold Dome, it was designed by Robert Roloff of Bailey Bozalis Dickinson & Roloff, and this seven-foot model was included in an exhibit at the Met in New York City called "Form Givers at Mid-Century," which was sponsored by Time magazine.  After that, the show and this model went on a nationwide tour.  With all of that hoopla, it's a bit surprising that this design was never realized, but it wasn't, and Oklahoma City didn't see an arena until the Urban Renewal era with the Myriad Convention Center in 1972.
Roloff designed another dome in Oklahoma and it's not the one you think.  This one was located in Pryor:
Located on the Pryor High School campus, the Graham Memorial Auditorium opened in 1959, just a year after OKC's Gold Dome and received the "Award for Outstanding Design" by the American Association of School Administrators the following year.  It was one of the municipal projects built with $3 million in funds left to the city by local banker W.A. Graham and could seat 800 patrons.  The design was so innovative that a model of the auditorium was on display at the 1960 AIA convention in San Francisco.  Unfortunately, the auditorium was condemned in 1984 after asbestos was detected, and it was demolished in 1990.
The last gold dome is THE Gold Dome to many, Citizens State Bank in Oklahoma City:
We will chat about the history of this beloved structure on the next Mod Blog.  But first, let's check out some more modern-day domes that are spread throughout Oklahoma.  I'm happy to say that, after a decades-long lull in dome design, the Sooner State is seeing a real resurgence of these buildings, especially in schools and homes.  Here's one that fits in perfectly with its 1950s predecessors:
This cafeteria in Dale was designed by Michael McCoy Architects of Midwest City and was completed in 2012.  It's home to 726 students in grades kindergarten through 12 and also substitutes as a tornado-safe shelter.  The two school buildings below are located in Geronimo and Locust Grove respectively and are also tornado shelters:
Good Karma Domes designed and constructed this home in Marlow (under construction here):
And this domed home was a kit:
Domes are still strong, economical to build, and appealing to buyers, and it's good to see that the Oklahoma landscape is seeing more domed buildings than ever before.