From Mies to Oklahoma Mod: The Life and Legacy of Robert Lawton Jones
by Lynne Rostochil.
To say that Bob Jones enhanced Oklahoma's architectural landscape with his visionary designs is an understatement.  Simply put and with no exaggeration at all, he was a creative genius who has left his home state with a treasure trove of modern buildings that I hope we will preserve for eons. Sadly, Jones died on September 14th at the ripe old age of 93 but instead of dwelling on the loss of such a visionary, let's take a minute to celebrate all he achieved in his long and interesting life.
Robert Lawton Jones was born on May 12, 1925 in McAlester and spent his youth there.  Upon graduating from high school in 1943, he left Oklahoma and joined the Navy, where he served as a midshipman in the Pacific theater for the remainder of World War II.  After the Allied victory, Jones enrolled at the University of Notre Dame, where he received his Bachelor's in architecture, graduating cum laude in 1949.
Deciding that he wanted to be exposed to "the most exciting city in architecture," Jones went to work in Chicago for the firm of Perkins & Will.  Two years later, he was accepted at the Illinois Institute of Technology, where the ambitious young man began studying under the most modern of modernist architects, Ludwig Mies van der Rohe:
Mies, who coined the term "less is more," believed that modern architecture should be simple, straightforward, and without unnecessary ornamentation.  His "skin and bones" designs favored industrial steel that framed lots of glass to blur the lines between the indoors and outside world, as is illustrated by what is perhaps his most famous design, the jaw dropping Farnsworth House outside of Chicago:
Bob Jones flourished under Mies's tutelage and, after receiving his Master's degree in 1953, earned a Fulbright grant to study at the Technical University of Karlsruhe, Germany, which is famed as being one of the leading engineering and technology schools in the world.  At the university, Jones studied under one of Germany's most preeminent postwar architects, Egon Eiermann:
While he was a renowned architect who designed the incredibly sexy Olivetti headquarters in Frankfurt…
… you may know Eiermann best by his 1950s chair designs.
With all of that exceptional education under his belt, Jones returned to his home state in 1954 to begin working in Tulsa as the master planner for the city's new civic center.  As part of the Architectural League composed of other local architects, Jones and his comrades "worked together in a Gropius-idealized planning process to create the Civic Center plan which the city officially adopted in 1955," according to the Tulsa Preservation Commission.
It was as part of this group of forward-thinking architects that Jones befriended brothers Lee and David Murray, Tulsa natives and OSU grads who embraced similar modern aesthetics as Jones.  The simpatico trio decided to form a partnership — Murray Jones Murray — in 1957 and were determined to become Oklahoma's most respected firm within five short years.  According to Jones' obituary, as "director of design and planning with Murray Jones Murray, he sought an architecture which would meaningfully respond to the imperatives of nature, humanity and technology. His commitment was to quality and the development of professional teams at a time of great social and economic change. Former associates describe him as 'scholarly, witty and driven.'"
The three men's lofty goal began to take root when they were recognized for their efforts on the Civic Center plan.  Just a year after the formation of Murray Jones Murray, the Architectural League's Civic Center plan was cited in a book, Architecktur und Gemeinshaft: Tagebuch einer Entwicklung, as one of the world's foremost architectural projects, "only one of twenty-three top architectural achievements in the world during the past century."
The newly minted firm's good luck continued when they were hired to design a new Tulsa airport in 1957.  I once asked Bob about the design of the International-style airport, and he explained that the design process began long before the inauguration of jet service in the U.S. in 1959.  He said, "We had to anticipate something that even aviation officials had trouble forecasting at the time.  Many other airports being built at the same time didn't take jet service into consideration and were functionally obsolete only a few years later.  The Tulsa Airport design was flexible and allowed for expansion and, as a result, it is still a functional airport today."
It may be hard to believe now, but in the late 1950s many people thought that Tulsa would never have many jets flying in and out of town, but the architects rebuffed those short-sighted notions and built a lot of flexibility into their design.  As an example, David Murray once explained, "We designed the roof structure of the one-story concourses so that they could accept floor loads if you wanted to add a second story."  Within 10 years, their vision paid off when a second story was, indeed, added without detracting from the original design.
The Tulsa Airport is perhaps Oklahoma's most impressive example of Mies-inspired commercial architecture.  The terminal, which won the Architectural Award of Excellence from the American Institute of Steel Construction in 1962, is comprised of steel and pre-cast concrete walls in a series of rectangles, each filled in with a grid of floor-to-ceiling windows that give the building a stunning indoor-outdoor perspective on a grand scale.  Consisting of elevated concourses that cater to pedestrian traffic above and roadway traffic below, the building also provides a harmonious, people-friendly environment that is further accentuated with double glazing that reduces outdoor aircraft noise.  You can read more about the innovative airport design here.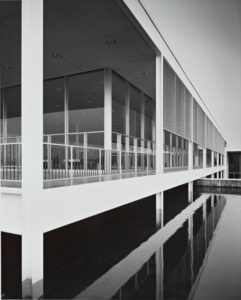 At the same time he was working on the airport design, Jones purchased two acres of land near a pecan farm on the outskirts of town and built the perfect abode for his growing family, which included his wife, Lynn, and their seven (yikes!) kids in 1959.  Here are a couple of very famous Julius Shulman images of the Jones' "House in the Orchard":
And here's the restored Jones House, which is on the National Register, today:
You can read all about the history of the Jones House and its restoration here.
Other buildings the firm designed over the years include Bishop Kelley High School, First Place, Tulsa City Hall, Center Plaza Apartments, OSU College of Osteopathic Medicine, Texaco Headquarters Building, Chapman Hall School of Nursing at the University of Tulsa, and the Davis Gun Museum in Claremore.  While all of these are impressive designs, one of my favorite Murray Jones Murray designs is the Sigma Nu house on the University of Tulsa campus.  I didn't know this building even existed until I started working on the Julius Shulman exhibit at the Oklahoma City Museum of Art in 2008.  Sadly, by that time, the building was gone.
When it was built in 1961, the Sigma Nu house was a standout among the more traditional Greek houses that were lined in long rows along one end of the University of Tulsa campus.  Designed by the firm in association with Joe Wilkinson & Associates, the building contained housing and social spaces that were bright and open, as well as large outdoor spaces for various activities.  The building also featured a roof of folded plates made of thin-shell concrete, which enabled the architects to open up the interior space without having to include column supports that would inhibit its expanse.
I believe the firm received this commission because David and Lee Murray, along with Joe Wilkinson, were Sigma Nus during their college years and remained active alumni long after graduation.
By far, my favorite Bob Jones design is for the award-winning St. Patrick's Catholic Church in Oklahoma City:
Not only is the building itself full of heart-stopping surprises, but story of how it was constructed is also quite fascinating — go here to read all about it.  Yes, everything about this space awes, inspires, and delights, and we are so lucky to have such a significant piece of architecture right here in Oklahoma:
In addition to designing some of Oklahoma's best examples of modern architecture, Jones was active in the AIA.  The year after St. Patrick's opened, his presentation, "Nature and the Built Environment," motivated the AIA to create a nationwide program called "The War on Ugliness," which was one of the first professional efforts to address pollution in the United States.  In 1970, he was named an AIA Fellow, and he later served as chairman of its selection jury.
By the 1980s, Murray Jones Murray was one of the most prestigious firms in Oklahoma, just like its principles had hoped it would be way back in 1957 when they formed their partnership.  The firm employed over 60 people and the projects were rolling in.  At the peak of his career, Jones decided to start teaching at the School of Architecture at the University of Oklahoma (later becoming a director), and he became a mentor to many young architecture students in much the same way as Mies and Eiermann had guided him as a student.
As for the firm the partners worked so hard to build, each of the principles were gone by the early 1990s.  The first to leave was Lee Murray, who spent several years working in Saudi Arabia.  Then Jones left to direct the architecture program at what was then called the University Center of Tulsa. Dave Murray, who retired last, left in the early 1990s, and the firm was taken over by partners Britt Emory, George Miller, and John Sanford before eventually closing for good a few years later.
Jones retired from practicing architecture in 1997 and he and Lynn sold their Tulsa home in 2005 to move to the desert climes in Santa Fe, New Mexico.  It was there that he died on September 14th.
Thank you, Bob Jones, for leaving Oklahoma with such an impressive body of work.  Now, it's up to us to take care of your rich legacy.