Travelling Through Time Along 23rd Street, Part 4
by Lynne Rostochil.  Vintage photos, unless otherwise stated, courtesy of the Oklahoma History Center.  "Now" images from Googlemaps, the OK County Tax Assessor, and Lynne Rostochil.
If you've missed previous installments, click a link to read Part 1, Part 2, and Part 3.
In the last installment of our trek down 23rd from Lake Overholser to past I-35, we ended our journey at NW 23rd and Broadway Extension.  This week, we pick up from the east side of the highway looking back at the 100 block of NW 23rd, which was taken after a 1966 snow:
What a mess!
East of the bridge on the south side of the street was the Town Park Motel, seen here in 1975:
Here's an ad for the motel from 1964:
I believe it was demolished at the time that Broadway Extension was expanded in the mid-'80s.  The site is now a parking lot:
Across the street was the very famous and beloved Dolores Restaurant, pictured here in the 1930s:
Here's the interior:
And here's a great history of this iconic restaurant from Retrometrokc.
For Oklahoma City, Dolores Restaurant is just a memory – another great restaurant that faded away after being a local favorite for decades. But for Los Angeles, the legend continues.
Confused?
This story starts back when drive-through restaurants were brand new – an innovation prompted by the sudden explosion of cross country automobile travel.
It was in the early 1920s that Ralph Stephens took his first shot at the restaurant business, opening first at NW 4 and Olie, and then later at Main and Broadway where competition and a lot of debt led him to flee in 1923 with his wife, Amanda, sons Vince and Bob, and daughter Dolores.
The family made its first stop in Dallas, where Stephens later said he saw "a pig stand with what looked like a thousand cars around it." Indeed Dallas was where the very first pig stand (forerunners to drive-through restaurants), Kirby's, had opened in 1921.
Stephens was hired by one of the Dallas pig stand chains and learned the operation in Dallas before setting out to open a stand in Little Rock. Before going to his post, Stephens took his family to his wife's family house in Hannibal, Mo. And it was there that Stephens, visiting with his father-in-law, a carpenter, decided it made more sense to open their own business rather than work for someone else.
The family "slept in the stand" while it was being built, and in June 1925, Goody-Goody Barbeque opened for business. Business initially boomed. But the crowds disappeared once cold weather settled in.
Once again, Stephens was a failed restaurateur.
"We closed, and being sort of soldiers in fortune, we took off for Florida," Stephens explained in a 1968 interview. "The land boom was on then and we went to Tampa and opened one restaurant, then another. They had told us there were no rooms in Tampa so we bought a tent and slept under that until we almost flooded out."
The crash of 1929 once again killed Stephens' short-lived success story. The family returned to Oklahoma City with Stephens determined to settle his debts and prove he could be a successful restaurant operator.
And this time, he was coming with a secret weapon. While in Hannibal, Amanda Stephens obtained a recipe for "comeback" sauce from a barbeque stand in nearby Quincy, Ill. And what a comeback it would be.
Dolores Restaurant, named after Stephens' daughter, opened at 33 NE 23 on April 15, 1930.
"The Depression hadn't hit Oklahoma yet and the first year our volume was $52,000," Stephens said. "We never closed our doors when the Depression hit, but we were selling hamburgers and malts for a dime each to stay open."
The Stephens continued to add their own touches, even inventing "Susi-Q potatoes" in 1938. They wowed customers with their black-bottom pie and salad dressings. And Stephens also continued the idea of "drive-in" service, establishing parking stalls behind the restaurant, which at the time was located along the heavily-traveled Route 66.
By the 1940s Dolores was becoming a top pick for Route 66 guidebooks. Duncan Hines recommended the restaurant in his 1941 book "Adventures in Good Cooking," saying "I enjoy eating here, especially their steaks and Susi-Q potatoes and barbequed ribs. They have the best biscuits I have found anywhere in America, made by Neal, a colored woman, who does not use a recipe, but has a remarkable sense of feel, which tells here when the mixture is right – served twice a week (I suggest you wire ahead requesting these remarkable biscuits). Their menu provides a variety of good salads and other things, and I hope you are fortunate enough to find Mr. and Mrs. Ralph Stephens there, so you may meet them personally."
Dolores Restraurant was booming enough without the high praise from Mr. Hines – that winter Stephens shut the restaurant for a couple of weeks, expanded the dining area and engaged in a bit of rare advertising (Only after selling the restaurant to investors were advertisements seen again in the early 1970s)
Stephens' brother-in-law, Bob Ogle, became manager of the restaurant ("Ogle's Special" referred to a root beer float he perfected) and in 1945, Ralph and Amanda Stephens moved to California. They opened a Dolores Drive-In on the Sunset Strip in Los Angeles, and followed up by opening three more restaurants.
Stephens eventually sold all but the Beverly Hills drive-in, which he turned over to his son Bob in 1961. His second son, Vince, meanwhile, was building up a legend of his own back in Oklahoma City.
Maybe you've heard of it – the Split T.
In 1966 Amanda Stephens died. Ralph Stephens quickly remarried, and in 1968 he bought The Pub at 6418 N Western. A year later he sold Dolores Restaurant to a group of investors, who closed it for good in 1974. After eight years of standing vacant, The Catering Co. announced plans to reopen the restaurant, but if it did reopen (there is no further record of the restaurant), the venture was short-lived. The building was razed a few years later.
The Dolores name, meanwhile, endures in Los Angeles with the Stephens established a chain of their eateries.
The following history is provided by Dolores Restaurant at www.doloresrestaurant.com:
Dolores was founded by Amanda and Ralph Stevens, who after owning various restaurants in different states moved to Los Angeles in 1944 and opened the Dolores drive-in restaurant in Hollywood.
There were many drive-in restaurants in Los Angeles during the mid 1940's and Dolores fit right in. Then, in 1956 the Stevens' son Robert and his wife Lucille moved to Los Angeles to help manage the newly leased Dolores Restaurant on Wilshire Blvd. and La Cienega in Beverly Hills. The restaurant was a hit with the local teenagers in the 40's and 50's with its carhops, Suzie Q's and JJ Burgers became a staple in the community for the next thirty years.
These "good times" would soon end when in 1981 Dolores drive-in was forced to close down to make room for a high rise office building. The last of the remaining Dolores Restaurants is the one you see today located at 11407 Santa Monica Blvd. in West Los Angeles where the food and service are like they have never been before
In 2008 Dolores Restaurant was put under new management. With a fresh new vision, a passion for taste and quality food and a true concern to support local growers, new owner, Kourosh Izadpanahi, brings a new take to this classic diner. The new Dolores Restaurant meets today's customers' needs for taste and health conscious food.
Pretty interesting stuff, aye?  As you can see from this early 1970s shot of the restaurant, it looked pretty much the same until its dying day:
The site of the old Dolores Drive-In is home to another iconic Oklahoma drive-in, Sonic:
Across the street and a few doors down from the old motel is the Oklahoma City Amory:
The building was already 30 years old when this photo was taken in 1967.  Last year, the old Armory went up for sale and Coop Ale Works just purchased the nearly 73,000 sf space for a new craft brewery, retail, and even a hotel.  It's an exciting renovation for a structure with so much history.  Here's a photo of the Armory now:
Go here to see plans for this magnificent structure.
Across N. Walnut from the Armory is a cute little mod that was designed by Hudgins Thompson Ball and built in 1948 as the Oklahoma Corporation Commission Fuels Lab.  Here's a rendering of it:
So sweet!  Here's it is now:
Let's go down a block and back across the street to have a look at what was once a gleaming example of mid-century modern architecture, the stilted Benham Building designed by Conner & Pojezny and built in 1954:
The architects teamed with Benham Engineering to create this building and, I believe, were heading toward creating a partnership when Conner & Pojezny went their separate ways in 1955.  Benham remained in the building for decades and enclosed the bottom level and expanded it in the back in the 1960s.  By the time it was demolished in 2012, it had been abandoned for years and was a sad looking sight, indeed: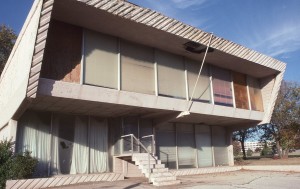 Nothing has been built on the lot to date:
Going a little further east, we hit the State Capitol and the office buildings that surround it.  Let's start with the State Capitol building.  I found this photo at a flea market a long time ago, and it's one of my favorites.  It's looking to the north and shows the site of the State Capitol before construction began in 1914:
I know!  How cool is that?!  The building was designed by Solomon Andrew Layton and S. Wemyss-Smith and was completed in 1917.  Due to insufficient funds, the planned-for dome wasn't constructed, and here's how the building looked for 80 years:
In 2002, the dome was finally placed on top of the building:
Just north of the State Capitol was another iconic local eatery, Beverly's:
During the height of the Great Depression, Beverly and Rubye Osborne were down on their luck, and like so many other Okies, they decided to pack up everything and head west to the promised land of California.  On the way, Rubye was munching on some fried chicken she had made when Beverly hit a bump in the road and Rubye's lunch went a-flying.  She muttered, "This is really chicken in the rough," which immediately gave her husband inspiration to turn around, head back home, and try his luck at a new self-named restaurant.  His hunch paid off and Beverly's became a local institution and was even franchised all over the country.  This location at NE 23rd and Lincoln was a popular hot spot until it closed in 1960 to make way for the new State Capitol complex, seen here soon after the first structure was completed in 1962.
Designed by Hudgins Thompson & Ball with Bailey Bozalis Dickinson & Roloff, the first two buildings, Will Rogers and Sequoyah, were followed by two more in the early 1970s.  Here's one of the original buildings today:
Just across Lincoln on NE 23rd were a couple of establishments run by nightclub owner, Jake Samara.  The first was Sussy's Italian Restaurant, a pizza place he opened with friend Jack Sussman in 1947.
According to legend, Sussy's was the first pizzeria in OKC and it remains in a newly incarnated form as Sussy's in Bricktown.  Here's a photo by the Oklahoman's Dave Cathey of Jack at Sussy's in the 1950s:
A few doors down was Samara's Jamboree Supper Club.  Unfortunately, I couldn't find any photos of the club, but I did come across these images of some of the people who entertained there.  Lilly Christine was a featured performer in 1951:
And comedian Larry Wilde played at the Jamboree in 1953:
Sussy's and the Jamboree Supper Club both met their demise around the same time that Beverly's did when the properties north of the State Capitol were demolished to make way for the government office buildings that are there now.  By that time, there were several other Sussy's restaurants around town, with the last of the original eateries being the Nomad on N. May, which closed in 2016.  You can still get a delicious pizza with original Sussy sauce at the newly opened Sussy's in Bricktown, though.
Go here to read more about Jake Samara and Jack Sussman.
On the next block east, nothing much ever occupied the lot where the Oklahoma History Center sits today — just a couple of buildings facing NE 23rd with the rest of the land all the way back to NE 24th remaining undeveloped until it opened in 2005.  It's a beauty:
On the other side of 23rd and down a block sits the Governor's Mansion, as seen in this 1969 photo:
The home was designed by Layton Hicks & Forsyth and was constructed in 1928.  It underwent an extensive renovation in the late 1990s and looks great today:
Next door to the mansion is another mid-century modern delight that is in great original condition, the Interstate Oil and Gas Building, designed by Hudgins Thompson Ball and built in 1954:
As you can see in this "now" shot, the building is all original today, which makes my heart happy:
Skipping to the 1300 block, here's a great 1950s shot looking east from the intersection of NE 23rd and Lottie:
On the right side side of the street, one of the last buildings in the frame is the Bison Theater, which opened in 1942.  It and the Mayflower Theater (which was located on NW 23rd across from the Gold Dome) were built using the same plan, with the Bison having a southwest theme and the Mayflower going nautical.  The Bison closed in 1961 and a rock facade was added in the 1970s when it became a nightclub.  Here's the theater today:
Looks much better than what has been done to the Mayflower:
Anyway, here's the intersection of NE 23rd and Lottie today:
Vaughn's Ideal Cleaners building was located at 1413 NE 23rd and looked pretty snazzy in this 1948 shot:
In 2015, it looked like this:
In the last few years, the two buildings on the right were demolished, but the Ideal Cleaners building is still there and looks pretty good:
The 1400 block looked like this back in the 1950s:
In 1981, a lot of the businesses on the right were still there:
But now only the Church's Chicken is still around on the south side of the street and the large building at the end of the block on the left remain:
This devastating fire took out the Safeway store at 1600 NE 23rd in 1945:
I don't believe anything was constructed on the site after the fire, and it's still an empty lot now:
In 1955, a car slammed through this rock building at 1720 NE 20th, but Ben Benham's shoe business carried on as usual:
Here's the building now:
It and the other buildings in this strip look empty, which has me worried that they may be demolished soon.  Here's what they look like:
The one on the right with the black and red diamonds was once the Cimarron Post Office, which is under construction in this 1949 photo:
Here's a more detailed shot of the vacant building now: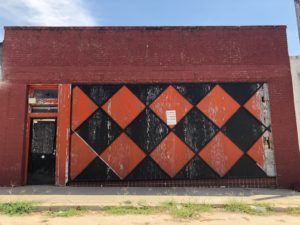 This post office was vacated when a new one was constructed nearby on NE 24th in 1960:
Like its predecessor, however, this building is also closed and vacant:
Back on 23rd, here's another photo I found at a flea market several years ago of the 1950s scene looking east from N. Missouri:
One of the businesses in this center is the Irby Rexall Drug store — here it is in 1947:
And how great is that Chief's Fine Pastries sign?!  Delicious!  Here's the same block now — it's not nearly as interesting, I'm afraid:
The McKissick Monument Company once occupied the little building at 1901 NE 23rd:
Here's the lot today:
Let's mosey up a block to the intersection of NE 23rd and Eastern/Martin Luther King Boulevard (MLK).  I found a few vintage images of this intersection in 1952 that are pretty great.  Let's start with these two that look east on 23rd just before the intersection:
I'm so in love with the Spanish-style tower on the right —  there's a matching one you'll see in a second.  Also, if you look closely, you'll see a shiny new Safeway store in the background.  It was built in 1950, and here's the structure just after it became a Family Dollar in 1987:
It hasn't changed much since then and is still a Family Dollar today:
Back to the intersection, you can see the two Spanish towers clearly in this shot.  They protect the appropriately named street, Towers Court, which ran through to MLK at the time:
Now, the residential street dead ends at the Ralph Ellison library, which is on the corner of NE 23rd and MLK:
The Ralph Ellison library was built in 1975 and expanded in 2009:
I like the library, but I'm missing those great Spanish towers.
On the northeast corner of the 23rd/MLK intersection was a lava rocked, A-frame Humpty Dumpty with a giant sign made by the Superior Sign Company.  It was constructed in 1962:
If you take a close look beyond the supermarket, you'll see a great sign advertising Hope's Golf, which I believe was a miniature golf course that was around for just a few short years in the 1960s.  The building that was home to Hope's remained around until 2016:
Here's the lot today:
The Humpty Dumpty is still there and is now a Smart Saver grocery store:
It's too bad that the lava rock is painted over and the A-frame is covered up.  But it's all under that crap somewhere, and the original sign is still around, too:
Here's a '60s view of the intersection heading west after a wind storm.  I love that googie Carter's sign on the right, don't you?
And here's a longer shot looking westward from the 1950s toward the intersection:
This is such a great shot because you can see the gigantic Falstaff sign, a Texaco station that mimics the Spanish towers across the street, and the beautiful Yellow Cab gas station.  Here's the same view now:
Pretty boring and depressing.  Here's a 1952 of the intersection taken on the other side of the Safeway/Family Dollar building:
The same view now:
Moving along past MLK/Eastern, this photo looking to the east on 23rd from Granada shows two motels in the background:
The first one was the Chief Motel at 2101 NE 23rd and the second is the Del Mar at 2211 NE 23rd.  I found an ad for the Chief in my 1964 phonebook:
In 1974, a tornado ripped through this part of town, causing extensive damage to the Chief:
I believe that the motel was demolished after the tornado because I don't find any mention of a motel at this location in my 1977 phone book.  The Del Mar, which was constructed in 1954, has fared better.  Today, it is the Relax Inn:
Across the street from the Chief Motel, this duplex got the brunt of the 1974 tornado:
Here's the home today:
A few blocks further east, was the Hawk's Nest.  Here's a 1954 view of the restaurant and a Conoco gas station looking west from what is now I-35:
Here's another view looking eastward:
Here's another view of the Conoco:
And here's the side road going north from the Conoco — believe it or not, that's Grand Boulevard.
I believe these photos were taken because these scenes were about to change dramatically with the new Raymond Gary Expressway that went from NE 23rd to what is now the intersection of I-35 and I-44.  In 1954, the intersection of NE 23rd and Grand was pretty quiet, but all of these buildings were demolished the following year to create a "modern" traffic circle that began the expressway, which opened in 1958:
When the old rock building that housed the Conoco was demolished, a new Conoco opened a few blocks further west in this building that was constructed in 1955:
Crossing I-35, our next stop is on the south side of the street just past the highway.  What is an empty lot now was once home to the El Rancho, a 11-unit motel and a 125-seat restaurant.  I found an interior shot of the restaurant from 1945 when it was just a small cafe:
Interestingly, back in 2008, I was doing a little urban exploring and decided to walk around this site, not knowing what had originally been there.  I found this embedded in old, crumbling concrete:
Blalack.
Intrigued, I returned home and did a little research.  I found out that John D. Blalack moved to OKC in 1945 from Wilburton, OK, and built a "modern" hotel and cafe on this site the same year.  He named the complex El Rancho.  Beginning in 1955, the restaurant became the El Rancho Steakhouse and was around until the mid-70's, when it became the El Rancho Sanchez, one of five restaurants owned by the Sanchez family, who has operated Mexican restaurants in the OKC area since 1954, with one is still in business today in El Reno.
At some point, a two-story apartment complex was built next to the motel, but all of the buildings were gone by the time I photographed the site in 2008.  Just a few old rock foundations and the motel sign remained:
For several years after that, a farmers market was located on the old El Rancho site, but I'm not sure if anything takes place there now.
For nearly a decade beginning in 1951, the Derby Club was THE after hours spot to go to catch some great live entertainment. Here's a photo of the great sign from my pal Norman Thompson's collection:
The Derby Club was located out in the sticks far from town outside the city limits, which meant that it was also out of the grasp of the vice squad.  The place was the brainchild of restaurateur and club owner, Jake Samara, who also ran the Jamboree Supper Club and Sussy's at the time.  Here's an article about the club just a few weeks after it opened in February 1951:
"The city's newest dance and entertainment spot opened the past week with a dance orchestra, a floor show, and a top-flight master of ceremonies.  The Derby Club is spacious, well decorated, and has all the equipment and furnishings for a first-class night out.  Floor entertainment centers around The Derby Dancers, a troup of well trained chorines who have a number of novelty patterns.  Each of the girls is a specialist of solo caliber in some phase of the dance, including tap, ballet, and acrobatic.
Music for the floor show and for patron dancing is supplied by Kenny Harris and his orchestra.  The real star of the show is Frank Reynolds …
… the emcee who bills himself as Dr. Sunshine.  A suave humorist, composer, and vocalist, he has had feature spots on radio programs with Kate Smith and Fred Allen and has played in top hotels and clubs around the country.  He recently wound up a run of 112 shows at the Arlington Hotel in Hot Springs.  
Besides the girls and the gags, the Derby Club has a new novelty gimmick, wooden "Hollywood Horses" ridden by girl jockeys and then featured in an audience participation number that is always good for some hilarious spills."
Here's a little more about band leader Kenny Harris:
"Musician of the first rank is Kenny Harris, leader of the orchestra which has been exciting patrons at the Derby Club.  He has appeared with Kay Kayser, Henry King, Harpo Marx, Jimmy Durante, and Gary Moore, has been arranger for leading name bands, and during the war was head of theory of music at the U.S. Navy School of Music, San Diego.
He holds two college degrees in music from the University of Oklahoma, was formerly with the Rambler orchestra at OU and is a member of Phi Mu Alpha, national honorary music fraternity."
In addition, the entertainment frequently consisted of buxom women dancing around in the skimpiest of attire.  The Derby Club was an all night place, with the last floor show — usually a striptease — beginning at 2:00 a.m. and a jukebox playing music for dancing after that.  Here are just a couple of performers who entertained guests at the nightclub.  Meet Ricci Cortez, known as the Sleepy Time Girl.  She performed at the Derby Club in 1952:
This lovely damsel, alluringly named Halloween, also performed at the club:
The entertainment wasn't all scantily clad women, however.  Several comedians were regulars at the club — including this guy, Hal Cogan:
The club even hosted an elaborate Blades on Ice show in 1955:
I don't know how big the ice rink was for the show, but this photo of one of the entertainers is pretty incredible.
Not surprisingly, the club was raided a few times over the years, once in 1953 because waiters were caught serving customers champagne in ice buckets.  The nerve of them!
In 1959, the Derby Club and its surrounds were annexed into the city limits, increasing OKC's size from 80 square miles to 175 square miles.  That's when the trouble began.  First, a 1948 city ordinance stated that no form of entertainment was allowed at clubs after 2:00 a.m. One particularly strange part of the ordinance stated that "dancing must be restricted to hotels and end at midnight with the exception of Saturday nights when it is permitted until 2 a.m."  What?  That's crazy!
Well, of course, being outside the city limits for nearly nine years by this time, Derby Club owner, Jake Samara, and his patrons were used to shows beginning at 2:00 a.m., and having dancing afterward.  While many of the area's club owners complied, Samara decided to test the law.  He had his attorney call for a special council committee session to address the problem, which even several law enforcement officials agreed should be updated with a later curfew and dancing outside of hotels.  In defiance of the law, Samara also refused to get the required municipal permit he needed to run the club legally.
Everything came to a boil in October 1959 when police raided the club.  About 50 guests were enjoying an evening of entertainment and dancing during permitted hours when the police arrived, citing that the club was "a disorderly house and (the owner was) operating a dance hall without a municipal permit."  All of the talent and employees were arrested and all but one of the patrons were let go — the one patron had a warrant out for his arrest, so he was taken to jail, too.  Police said that Samara had been warned several times to get a permit, but he refused.  To quash Samara's stubbornness, police told him that they would continue to raid the club and would start arresting patrons, too.
That was the final straw.  Instead of fighting further, Samara closed the Derby Club in December, remodeled the interiors, and opened a new supper club, the Calico, a few weeks later.  Advertising for the new club stated that Baird Jones would play the organ during dinner and dancing would follow — all well within the curfew set up by the city.  I guess the vice squad didn't care too much that dancing was taking place in a non-hotel, but it didn't matter, anyway, because the new concept wasn't nearly as popular as the Derby Club had been and the Calico was soon history.
After the Calico, the building was home to another Sussy's for a blip in time after the eatery on NE 23rd closed in 1961.
I believe Sussy's was here from 1961-1964, then the building became home to a teen club called the Nitty Gritty, but it didn't last long, either.  In 1968, Samara had to sell this property and several others that were about to be foreclosed.  By 1970, the Derby Club had morphed into a much tamer establishment, Foster's Restaurant and the AMVETS Post 60 Club.  Sadly, the restaurant/club caught fire that year and burned to the ground: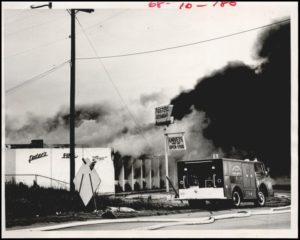 There's nothing that remains of the Derby Club today but an empty lot with a dirt parking lot:
The last stop on our tour of 23rd Street is, by far, the creepiest, St. Vincent's.  Just typing the name of the place gives me the shivers!  For as spooky as the place is now, it was once a safe haven for many men who were chronically infirm.
In 1947, the Brothers of Mercy founded St. Vincent's to provide a place where the chronically infirm could live out their days in a supportive environment.  There weren't a ton of nursing homes around back then, so this was an idea that was enthusiastically welcomed in the community.  By 1952, the Brothers had purchased a 10-acre country estate that had a pool, tennis courts, and a stable on site and had erected a 22-bed facility.  Demand was so high for space, however, that they got a $50,000 Hill-Burton grant for a new building and hired local architects Monnot & Monnot to design a large and thoroughly modern addition, which was completed in 1957:
The addition, which cost $133,000 to construct, doubled the size of the facility to 50 beds and provided much-needed care for mentally and physically infirm men.  Patients, who ranged in age from seven to 90, shared semi-private rooms with connecting baths.  A small chapel was included in the addition, too.  As soon as the addition was complete, there was already a waiting list of 100 men eager to claim one of the 50 beds at St. Vincent's, but even with the demand, the facility was never expanded again.  Over the years, the home began taking in mentally infirm patients, along with the elderly and chronically ill.
In 1962, a clean cut former male nurse at St. Vincent's walked into an Oklahoma City police station and turned himself in.  Louis Andre Demers calmly but emphatically explained that he had murdered two patients at the nursing home when he worked there the previous year.  He did it "because I had tried to kill once and couldn't do it.  I wanted to find out how it felt."  The 24-year-old former Army MP told police that he had been trying to tell doctors what he did but no one believed him.  The officers didn't believe him, either … until they gave him a lie detector exam.
According to Demers, he first tried to kill a man when he was still in the Army.  He and another soldier got into a fight and he really wanted to kill his opponent, but something stopped Demers from carrying out his desire to murder.  A devout Catholic, after he was released from the Army, Demers returned home to the Boston area and went to work for the Brothers of Mercy there.  When a position came open at St. Vincent's, he decided to move far from home to Oklahoma City.  Within a matter of months, two men were dead and no one suspected a thing.
In November 1961, Demers targeted 92-year-old Stewart Mitchell, who Demers said was within just a few days of dying anyway.  Demers worked the 2:00 a.m. shift and was often the only nurse on duty, so it wasn't difficult for him to creep into Mitchell's room one quiet night and place a towel over the old man's face for 10 minutes until Demers was sure he was dead.  The man was too old and weak to resist and died without a struggle.  Demers then left the room and let another nurse discover the body a few hours later.  With his advanced age and ill health, no one suspected that Mitchell's death was anything but natural.
Instead of satiating Demers need to know how it felt to kill someone, the murder only emboldened him.  He attempted to kill another patient but was thwarted when he heard a noise down the hall.  The patient later told a relative that he had dreams of being choked and wanted to leave St. Vincent's right away.  Unfortunately, 78 year old William Ingraham wasn't as lucky as that man.
On a cold December night, Ingraham was sleeping peacefully when Demers creeked open his door and entered his room.  The old man awoke to Demers' hands around his throat, and unlike Mitchell, Ingraham still had a lot of fight left in him and began to struggle.  Maintaining a creepy calm, Demers tied the aged man's arms to his bed with a bathrobe cord and placed a plastic sack over the unfortunate man's head and waited … waited … waited.  When he was sure his victim was good and dead, Demers removed the sack, untied Ingraham's arms, and left the room for someone else to discover the body.  Once again, doctors labeled the death a natural one and Demers got away with murder a second time.
Before he could kill again, Demers left St. Vincent's and returned to Boston, but his conscience wouldn't let him rest.  He checked himself into a veterans hospital in Boston and confessed his crimes to the doctors there, but they didn't believe him.  He later stated that he had also tried to tell doctors back at St. Vincent's what he did and no one believed him there, either.  After trying to turn himself in to Boston police and getting nowhere, Demers decided to return to Oklahoma City and talk to police there.  Luckily, they decided to give him a polygraph before turning him away.
After the polygraph showed that he was telling the brutal truth, Demers was examined and deemed to be mentally unfit to stand trial.  He was diagnosed with schizophrenia and sent to Central State Hospital in Norman for treatment.  I figured he stayed there for a long time until I found Demers obituary.  In fact, I don't think Demers spent much time at Central State at all because by 1971, he had earned a BA from Washburn University in Kansas and he ultimately spent decades — get this — working as a licensed mental health technician.  WHAAAAAT?!  That is beyond messed up!  Of course, his obituary doesn't mention that he murdered two men and served time in a mental institution, so I don't know if his violent streak ended after St. Vincent's or not.  He died in 2013.
You'd think that would be the end of the creepiness associated with St. Vincent's but you'd be wrong.
In 1968, an affable priest arrived at St. Vincent's to start a treatment program for alcoholics.  Rev. Richard Dolen became a friend to many at the facility, even after he left a few years later to start other alcohol/substance abuse programs throughout the city.  In 1974, he was busted for "acts of lewdness" when he propositioned a male undercover vice officer.  This was the beginning of the end for Dolen.  He became inactive in the church, started drinking heavily, and gave up his religious duties to run bingo halls.  Over the next several years as his life continued to deteriorate, he was severely beaten once and robbed another time.  But by 1988, Dolen was a recovering alcoholic himself and was getting back on his feet when his landlady discovered the inactive priest's badly beaten body in his modest apartment.  No one was ever convicted for the poor man's murder.
The sadness continued over at St. Vincent's.  By the 1990s, the former nursing home was closed for good and the building has sat ever since, slowly rotting away:
The place has been the scene of many a paranormal investigation in recent years and even made an appearance in 2014 on TV's "Ghost Asylum."  I don't know if it's haunted or not, but I've walked around the perimeter of this place during the day and it is truly freaky and weird.  I like abandoned places, but I do not like St. Vincent's one little bit.  So, if you're like me and would rather not explore the spooky St. Vincent's in person, you can check out Abandoned Oklahoma's photos of the interior here.
Originally, I ended the post here, but a few people reminded me that I missed the Skyview Theater at NE 23rd and Coltrane, so I decided to add it to complete the trip down 23rd … besides, it was certainly one of the metro's most elaborate and dramatic drive-in theaters, so why wouldn't I want to include it?
The Skyview Drive-In was just north of 23rd and faced Coltrane on a diagonal.  It was owned by Sam Caporal (who also owned the Mayflower and Bison that we saw earlier on our trek down 23rd) and designed by architect David Baldwin.  The grand screen was "made of reinforced concrete and built using slip-form construction. The screen tower was formed in six days, with five windows on each of the eight rows. The Caporals put lights behind the quatrefoil-shaped windows to light them up like golden stars at night," according to a post on Cinema Treasures.  It opened in 1948, and here it is the following summer:
How great is that?!
Here's another image, this one take in 1955, of the tower illuminated at night:
I'm sure you could see those diamond-shaped lights for miles.  Anyway, the Skyview stayed open until the end of the 1983 season and slowly rotted away.  Here it is, abandoned and forlorn and hoping someone would save it:
Unfortunately, the Skyview wasn't saved and, instead, was demolished in the early 1990s.  The site remains vacant today.  Here's an aerial shot where you can see that trees have grown in a crescent shape that follows the way cars parked at the theater:
I walked around the site, and there are several remnants of the Skyview if you look around:
And that's it for our tour of 23rd.  Hope you enjoyed it!