Our Favorite Mod Blogs of 2017
by Lynne Rostochil
With 2017 nearly in the rearview mirror, it's time to count down our top 10 blogs of the year.  I hope you've enjoyed them as much as we did putting them together.  Here they are in no particular order:
1. OKC's Beatnik Hangouts: The Gourd and the Buddhi — An old menu from the Buddhi that was carefully glued in my mother's 60s-era scrapbook got me a little obsessed with finding out about the metro's hoppin' beatnik scene, and this blog was the result.  Fun stuff!
2.  Fay Taylor, Fashion Illustrator Extraordinaire — When the iconic Ruth Meyers boutique in Nichols Hills Plaza sadly closed, owner Cindi Shelby sold everything in a weekend-long sale.  Among the fixtures, furnishings, and clothes that were for sale were hundreds of drawings by the fabulous Fay Taylor.  I spent a solid three days at this sale ogling and coveting every single drawing and walked away with a couple of posters that I love beyond belief.  To celebrate Fay's incredible talent, we feted her with a giant Mod Blog post.
3.  The Flamingo: Bringing a Little Palm Springs to OKC — It's always exciting to see a downtrodden building spring back to vigorous life and that's exactly what happened with this mid-century modern apartment complex across from the OCU campus.  Two couples, Jason and Sara Kate Little and Ben and Jessica Chamberlain are the brains behind this beautiful renovation, and I hope they have more projects in store if this is what they can do.  The Flamingo is perfection.
4.  Herb Greene Visits Norman and His Prairie House — One of the biggest treats of the year was walking around the neglected-but-still-stunning Prairie Chicken House with the creative genius who designed it, Herb Greene.
5.  In the Rearview, The Life and Times of OKC's Most Notorious Bootlegger — The crazy, sordid story of local bootlegger, Lindsey Chambless is one with so many crazy twists and turns that I had to break it down into five parts.  Truth is often stranger than fiction, they say, and this story of bootlegging, gangsters, and murder certainly proves that.
6.  Save the Circle: A Brief History of the Donnay Building and Why We Should Save It — Oklahomans love the Donnay Building and came out in force to fight to save it and the four fun and funky businesses within when Braum's planned to demolish the iconic structure for a new store.  After much debate and a hearing before the Planning Commission, Braum's backed out and a new owner has come forward and plans to give the Donnay Building the love it deserves.  Woo hoo!!
7.  The Drawings of Garth Kennedy — When engineer Garth Kennedy's Forest Park treehouse hit the market in 2016, realtor Monty Milburn let me photograph some of the owner's blueprints that were being sold with the house.  Although he wasn't an architect, Kennedy obviously had a passion and talent for design and even saw a few of his creations built.
8.  On the Market: A To-Die-For Mid-Mod in Midwest City — I've toured a lot of mid-century modern homes over the years, but one of my very favorites has to be this beauty that was for sale in Midwest City's posh Meadowood neighborhood.  I loved everything about it and hope that the new owner will keep its sexy details intact.
9.  Signs o' the Times in Small Town Oklahoma — I don't know why but vintage signs completely captivate me, so it's probably no surprise that this Mod Blog post made the top 10.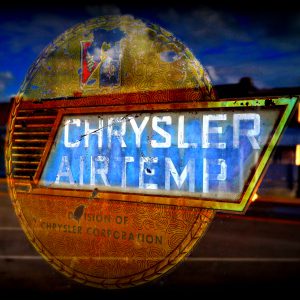 10.  Recapping the Oklahoma Modernism Weekend and The Oklahoma Modernism Weekend Mod Home Tour — This year's Oklahoma Modernism Weekend was the most fun I've had all year, and these Mod Blogs detail all of the events from the two-day mod celebration.  We are already planning the 2018 weekend and will have all kinds of information for you soon.
It was definitely an exciting year for the Okie Mod Squad and here's hoping that 2018 will be even bigger and better!