St. Patrick's and Sts. Peter and Paul in Liturical Arts Magazine
by Lynne Rostochil.  The Liturgical Arts articles and photos from the OU Architecture Library collection in Norman.  Vintage images by Julius Shulman, and the modern-day photos by Lynne Rostochil.
Last week, the Oklahoma City Foundation for Architecture sponsored a tour of one of my very favorite buildings of all time, the glorious St. Patrick's Catholic Church on NW 19th and Portland.  This building is special for so many reasons, from the architecture itself to the manner in which it was constructed.  You can read all about the fascinating history of the church in the Mod Blog.  There's also this Mod Blog featuring St. Patrick's in Progressive Architecture, where one of Julius Shulman's images of an angel made the cover.
The modern cathedral, which was designed by Robert Lawton Jones of the Tulsa firm, Murray Jones Murray, was also the subject of an article in the August 1962 issue of Liturgical Arts magazine.  Its sister, Sts. Peter and Paul Catholic Church, is also featured in the magazine, so I thought I'd share both with you.  The article begins with an editorial (click a photo to enlarge it):
Then, there's an article entitled "Vitality in Oklahoma," which provides a historical context for the building of these two very modern takes on Catholic church design:
Next up is a spread on Sts. Peter and Paul, which was designed by Murray Jones Murray and is located in Tulsa.
How great are those exterior angels?  Here's a close-up photo of them that I took a couple of years ago:
And, here's the spread on St. Pat's, which had recently won the first prize in the annual Spaeth-Cardinal Lercaro design competition:
Also, there's an interesting article in the magazine about abstract art in the church:
Finally, I can never get enough of the angels at St. Pat's and had to take tons of photos of them during the tour.  Thought I'd share a few of the images with you: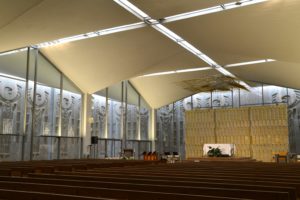 The inner sanctuary surrounded by angels.  I learned from architect Tony Blatt that the skylights in the sanctuary were covered soon after the church was completed because they leaked so badly.  They remained that way for decades until Tony and some friends came up with the idea of making a domed-shaped skylight to cover the existing ones to block out the rain.  So, now the sanctuary is as light and bright as it was the day it was constructed.
It's such an amazing feeling to walk among the 50 angels that surround the sanctuary.
The Felix Candela-designed thin-shell concrete umbrellas that allow for such openness inside:
The Reverand Thomas McSherry has had the honor of calling both Sts. Peter and Paul and St. Patrick's home and he's an excellent caretaker for this stunning piece of mid-century modern architecture.  Here, he's telling tour goers some of the interesting history of the church:
Finally, a parting shot of St. Pat's as the sun was going down after the tour.  Even in silhouette, it's a stunner: