Tulsa Takes to Glass Walls: Lortondale in House + Home
by Lynne Rostochil.
One of the best MCM neighborhoods in all of Oklahoma is surely the gloriously mod Lortondale in Tulsa.  The unique homes in this great area were designed by local architect, Donald Honn, appeared in the January 1954 issue of House + Home magazine, and ultimately won numerous design awards.  He even built a home for himself in Lortondale (you'll see it in a minute).  Here's the fascinating article about this beloved neighborhood:
And here's a great photo of Lortondale that I found in the Oklahoma History Center archives:
Today, Lortondale looks pretty much the same, with new homeowners restoring and loving these classic modern designs as much as original owners did 60 years ago:
Here's the home that Honn designed for himself (he later moved to this swank abode that we profiled on the Mod Blog a few years ago):
More Lortondale goodness: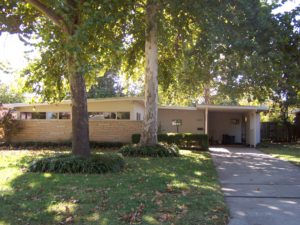 Honn is also responsible for developing the Dollie-Mac neighborhood in Tulsa, as well as similar neighborhoods in Lubbock and El Paso.
If you'd like to see more vintage photos of Lortondale, check out the neighborhood's website.
And, as an extra bonus, Robyn found this spread about another Honn-designed home in the January 1961 issue of Better Homes & Gardens:
Finally, in 2006, OU grad student, Edward Sharrer put together an in-depth survey of Lortondale and its eligibility for the National Register.  It's a fascinating read and profiles every eligible home in the neighborhood.  Go here to have a look at it.