The 2017 Oklahoma Modernism Weekend Mod Home Tour, Part 2
text and most of the photos by Lynne Rostochil.  Other photos are credited below.
Today, we are finishing up with the Mod Home Tour that was the capper of the Oklahoma Modernism Weekend.
Gray House
Bush Hills
Designed by Thomas Goto
1964
Bush Hills was the brainchild of developer J.A. Bush.  He started advertising lots for sale out in the country in April 1929.  Lots would be one to 10 acres with a starting price of $1,500.  A few homes were built along the back side of the lake and on Bush, but the area didn't develop much during this time due to the Depression.
After WWII, the building boom was on and more plots were sold to people eager to live the country life in what was rapidly becoming an urban area off of Route 66.  Development exploded in the 1950s and most of the sites were filled with homes by the 1960s.  As Bush Hills filled in, surrounding land began being developed, including the parcel where this home is located.
In the 1960s and 1970s, architect Thomas Goto worked with housing developer, John Gray, in designing homes in the Lansbrook, Penn Park, and Canyon North additions. During the early years of their partnership, Gray, Goto, and a few of their friends decided to buy lots on a quiet cul-de-sac and build their homes there.  Goto's home was at the head of the cul-de-sac and the home he designed for Gray was a few doors down.  A native of Hawaii, Goto incorporated many elements of modern Hawaiian residential design in this residence, including a low-slung, U-shaped plan surrounding an intimate, central courtyard.
Current owners, Michael and Jennifer Hopkins are avid collectors of all things mid-century modern, including an original Princess Grace Ford Thunderbird Landau.  Here's a photo of Michael telling us all about the interesting history of this car:
Apparently, Princess Grace (formerly Academy Award-winning actress, Grace Kelly) chose the color scheme for the car — Corinthian white with dusk rose accents.  It's as elegant as the lady herself:
Just 2,000 of these special edition cars were made, with #1 going to Grace's husband, Prince Ranier himself.  Learn more about the exciting history of this rare care here.
With Michael's discerning eye, the rest of the Hopkins' house is just as interesting as the car.  Take a look at this living room, which is sheer perfection:
Original owners, the Grays loved to entertain and had a distinctive buffet built in the dining room with carved tropical flowers that further accentuates the home's Hawaiian style.  You can see it along the back wall in this photo:
Other features include original slate flooring, an honest to goodness Flair in the kitchen…
… and, a rarity for Oklahoma, a large basement den.  The lighting wasn't the best in the den, thus the blurry shot of the space.  A blurry shot is better than no shot, so I'm going with it:
Michael also collects all things Playboy, and the upstairs bar is the perfect place to show off his finds:
The stuffed bunny is a decanter from the early 1960s and the key is from the same era:
If that key could talk….  Here's another shot of Michael and Jennifer's loungy bar area:
Pretty great, aye?
High House
Nichols Hills
Designed by Norman Berlowitz
1958
In 1929, real estate developer, Dr. G.A. Nichols announced that farmland in what was then the far reaches of OKC would be converted into a 1,280-acre neighborhood of luxury homes and estates.  Previously, Nichols had developed such neighborhoods as Paseo, Military Park, Gatewood, University Place, and Lincoln Terrace, but his self-named neighborhood would be much different, with plenty of parks, green spaces, and winding roads.  Wonder if he was influence by Edgemere Park when he began platting Nichols Hills….  As with the other pre-WWII neighborhoods in town, development in Nichols Hills was slow during the Depression and war years and didn't begin to really boom until hostilities ceased.
Nestled on a quiet residential street in Nichols Hills surrounded by much more traditional homes, the unique, two-owner ranch we toured provides all kinds of indoor/outdoor living opportunities with an uncommon and very private front courtyard and a lush backyard pool area:
Inside, the home is nearly all original and is perfect for today's casual living with its open-plan common areas offset by a huge two-sided fireplace overlooking the dreamy backyard, which has been expertly updated by current homeowner, Monty Milburn:
Tour goers relaxed by the pool…
Enjoyed the art…
And had the opportunity to look at original blueprints and before/after shots of the master suite:
An addition to the master bedroom was a paneled disaster that Monty beautifully remedied this way:
So, the bedroom is on one side of the fireplace, and the gorgeous sitting area and master bath are on the other and overlook the pool.  How great is that?
Cunningham House
Quail Creek
Designed by Herb Greene
1964
From Nichols Hills, we mosied north to Quail Creek to view an internationally recognized gem of a house that was surely the "big wow" of the tour.
Quail Creek was built on farmland once owned by Virgil Browne, and developers anticipated that it would be the "showplace of America."  The developers — Jack Johnston, his dad Paul, his brother Paul, Russell Caston, Ben Head, Tom Downs, Gene Moss, Carl James, and Bud Krogstad — believed that there was a large need for higher end neighborhoods in OKC, and they were right because lots began selling quickly in the $44 million neighborhood that included a mid-century modern country clubhouse with a giant pool and championship golf course.  The platte consisted of 860 sites, with 177 "estate homes" on larger lots surrounding the golf course.  The minimum home size was 1,800sf and averaged $35,000, while the larger "estate homes" were priced from $60,000-$150,000 in 1961 dollars (that's $490,000-$1.23 million today).
This stunning home was designed by Bruce Goff student and former OU professor, Herb Greene and is certainly one of the most impressive examples of mid-century modern residential architecture in the city.  Here's a photo I took of the front of the house in the winter — you can't see much of the front once the trees bloom in the spring:
In the common areas, curved walls lead to a swooping, wood-planked ceiling that hovers over giant windows running along the back, offering a panoramic view of the golf course beyond:
Owners Tammy and Kent Switzer have decorated the home to perfection, too: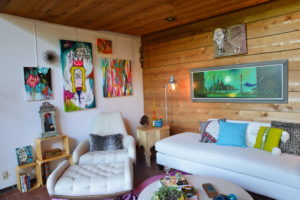 Yes, that's a genuine Murano mid-century mod disc hanging on the ceiling — love it!
And I also love the bedroom with accordion doors that open to the living spaces and also to the golf course view beyond:
Looking up into the bedroom from the dining area downstairs:
Tammy and Kent also shared some interesting ephemera and books about Herb Greene and the home:
Check out this amazing fireplace:
Outside, four iron screens add even more visual interest: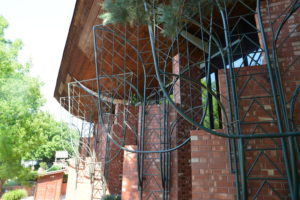 Back inside and up the stairs to the ground floor level…
… is a den with its own private patio sanctuary:
There's even a built-in stereo in the studio/office:
To say that this is a mind blowing space is a vast understatement!
Krogstad House
Quail Creek
Designed by Robert F. Reed, addition by Ken Fitzsimmons of TASK Design
1964, 2016
The final home of the tour is also located in Quail Creek and was designed by Goff student, Robert F. Reed, for one of the neighborhood's early developers, Bud Krogstad.  This organic modern head turner provides quite a bit of visual eye candy with repeating rock pillars inside and out …
…vaulted beamed ceilings, and angled windows:
A master-suite addition completed in 2016 beautifully complements the original architecture.
And that's it for the 2017 Mod Home Tour!  I'd like to thank all of the tour homeowners for very generously letting us enjoy your spaces for a few minutes.  Also, a huge thanks goes to Jim Jordan, who made sure that every home had a classic car parked in front.  And thank you to all of the people who sponsored, volunteered, vendored, and/or planned the Oklahoma Modernism Weekend.  Finally, we'd like to thank everyone who attended this year — see you in 2018!