Low Cost Housing for Urban Renewal: Architectural Research Report, Part 2
by Lynne Rostochil.  Brochure from Lynne's collection.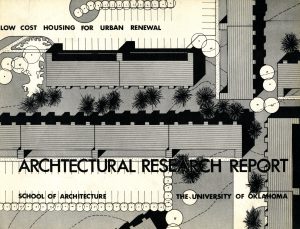 Two weeks ago, we reviewed three schemes proposed by the OU School of Architecture for low-cost, multi-family housing as part of Urban Renewal in Oklahoma City.  Go here to review Part 1 of this post.  Today, let's look at a fourth scheme and other goodies in the report.
Scheme D:
Architects came up with this scheme to utilize "modular planning techniques to provide for all apartment types — efficiency, one-bedroom, two-bedroom, three and four-bedroom, without altering the structural module in either size or method."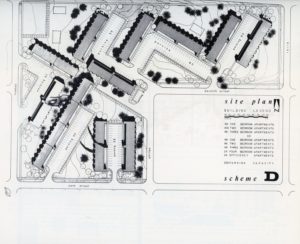 Renovation and Rehabilitation:
"… this project is both unique and significantly important because of its emphasis upon the rehabilitation and renovation of a large metropolitan area.  Some may regard this aspect as possibly its greatest contribution to urban planning.  So far as ascertained at present, there is not another Urban Renewal project that has placed an important emphasis and effort to maintain the many sociological values that existing neighborhoods can and do contain and contribute.  Too frequently the approach has been a bulldozer clearance of a total project area.  Such clearance has often destroyed the relationships and friendships that neighbors and families have constructed over periods of many years."  Over 460 homes would be rehabilitated as part of this project, and owners would be able to obtain FHA financing to update their homes and still pay less than they would in rent.
"The street illustrated here is an actual one.  It is better in some respects than others, but in some others, it is typical of the area.  We hope it points out the advantages of the overall planning and design and that other areas in Oklahoma City might well consider such a joint effort to improve their own neighborhoods."