On the Market: A Dreamy '50s Delight in Thompson's Woodland
text and photos by Lynne Rostochil and the Zillow listing for the house (identified)
If you've ever driven through the quiet oasis that is the Thompson's Woodland neighborhood in NE OKC, you know what a special area of town this is, especially for those who love mid-century modern architecture.  According to an Oklahoman article from 1988:
Long before the state Capitol was built and long before anyone settled in the northeast part of town, Thompson's Woodland was a grazing farm owned by its namesake, W.J. Thompson, a local banker.  
Thompson leased the land to farmers from the 1930s to the late 1940s.
After Thompson's death, his children decided to develop the land into a housing addition. To do so, they enlisted the help of William Porter, who was just beginning his real estate career. During the following years, Porter developed the acres into a respected residential area. He built the first seven homes, including his own, which he lived in for 16 years.
Property buyers included World War II veterans who sought a "pastoral setting" in which to build their new homes and lives, said Porter, who now owns Porter Investment Co. with his son Ed Porter.
Most of the individuals acted as their own contractors and custom-built their homes, which accounts for the addition's varied architectural styles, Porter said.
"There were no building specifications," Porter said. "Individual homeowners were free to follow their own ideas as long as they complied with city regulations."
Valued between $65,000 and $150,000, the houses range from English Tudor to Spanish. They sit on acreages dense with oak, redbud and cypress trees and surrounded by rolling hills and paved paths and streets.
Today, the neighborhood is little changed.  People move in and never want to leave, so when a home in Thompson's Woodland comes on the market, it doesn't stay there for very long.  A case in point is the lovely, two-owner Hirschi House.
This 1953 stunner was designed by James E. Bignell, who attended OSU and later formed the firm Bignell & Fischer, which is perhaps best known for designing Christ the King Catholic Church in 1961 and the Oil Center in the mid-1970s.  In this home, Bignell created an unusual I-shaped shaped plan — here's an original model of the home — yes, you heard that right, an ORIGINAL model:
And there are some original blueprints, too:
In 1961, architect Robb W. Moore designed an addition to the house that included a spacious den off of the kitchen and a private mother-in-law suite on the other side of the house that expanded it to its current 2,423 square feet:
Moore was an OU grad who designed the original Sunset Dial Building at 2205 N. Rockwell (the 1961 building behind the less attractive 1967 addition) and Luther Burbank Elementary (now Independence Charter Middle School) in 1959.
So, with the history out of the way, let's start the tour.  This house is filled with cozy nooks that begin with an interior courtyard that greets visitors at the front door:
Open the front door, and a wood panelled paradise — also known as the formal living room — cheerfully greets you: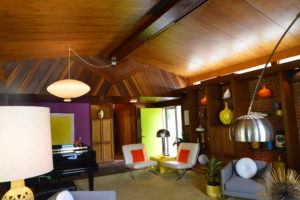 (Zillow listing)
This warm, inviting room with two walls of windows is huge and features a dramatic fireplace topped with clerestory windows that further brighten the space:
Here's another view of the fireplace with the built-in shelves next to it. Even though the home was built in the '50s, a time notorious for terrible storage, this home contains shelves and cabinets almost everywhere — no problem finding the perfect spot for your bric a brac here!  And, speaking of that, let's take a minute to ooh and ahh over the owners' incredible collection of everything mid-century modern.  Every piece is perfection and feels right at home in this lovely modern environment.
(Zillow listing)
Did you see that rock floor?  Wowza!  You can follow that little bit of beauty straight into the den and breakfast area: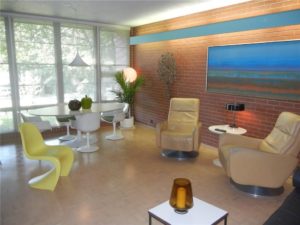 (Zillow listing)
Don't you love all of the windows in this home?  They make for such a comfortable, friendly space, don't they? And, yes, that is an original Eugene Bavinger painting on the wall.
Off of the den is one of the most exciting features of the home and one that the current owners can take credit for, a giant and thoroughly screened-in living area:
Yes, they constructed the roof around the tree because they didn't want to take down this bit of living history.  Very nice!  This two-level playroom would be the perfect spot for a summer gathering or lively house concert:
So much fun!  I think I'd spend most cool evenings in this ground-level treehouse enjoying the calming breezes while listening to the chirp, chirp, chirp of singing crickets in the backyard.
Back inside, the kitchen isn't huge, but it's laid out so perfectly and has so much storage that you'd never know it:
(Zillow listing)
Did you notice the aqua boomerang countertops?  Uh-huh, I knew you'd love that detail, and the best part is that they are brand-spankin'-new and are in perfect condition.  The perforated hanging lights in the kitchen (there are two of them) are pretty impressive, too.
Go through a second entrance to the kitchen to enter a L-O-N-G hallway and the bedroom wing of the house:
Love that honey-colored panelling, and there's storage almost everywhere that there's not a room.  Speaking of rooms, I love this sweet guest room overlooking the covered patio:
This room next door is pretty great, too:
There's an all-original bathroom along the hallway…
… and the ample master suite is at the end:
Love those windows and that exposed brick, don't you?  And the aqua door leads to another original bathroom.  So charming and oh how I love these great sink fixtures:
Going back down the hallway, a pass-through laundry room leads to the mother-in-law suite, which is being used as an office now:
(Zillow listing)
This would be a great game room or a teenager's retreat even — it's such a flexible space that it could be used in a variety of ways.
So, this house is on the market for a very reasonable $259,000.  The owners received a fast offer when it hit the market but the potential buyers had to back out, so their loss is your gain.  If you are looking for a mid-century modern paradise in the heart of the city, you won't find many better examples than this sweet abode.  Contact listing realtor Gary Hicks with Metro First Realty at (405) 249-8878 and go check it out!