The Drawings of Garth Kennedy
text and photos by Lynne Rostochil.
Last fall, the beautiful mod treehouse in Forest Park that engineer Garth Kennedy designed for himself and his family sold with all of its contents intact.  Realtor Monty Milburn kindly opened the house to visitors before the house sold, and what a treat that was!  View photos of the house on the Mod Blog.  In addition, Monty discovered a pile of architectural renderings and drawings by Kennedy and allowed me to photograph them to share with you.  As far as I know, all of these are unbuilt projects.  First up are drawings from 1985 for the Omnitheater:
Here are drawings for a vacation cabin for the Glenn H. Moore family that were likely completed before 1955:
And check out this rendering for an office for Dr. G. McBride, Jr.:
And how great is this lake house?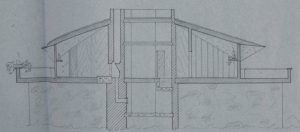 Yeah, I love that one a lot, but this one to be built on the shores of Grand Lake is even better … and it's in color, too:
Next up is a plan for a home addition for Dr. Gifford McBride from 1975:
And here are a couple of plans for mountain cabins: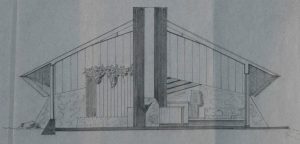 Here's the second one:
And, finally, here are a few drawings Kennedy made of his own beloved home:
I'd like to thank Monty Milburn for loaning me these plans to photograph — they are a true treasure!