On the Market: A Time Capsule Treehouse in Forest Park
text and photos by Lynne Rostochil
There are a few houses here in town that true lovers of mid-century modern architecture seem to collectively lust over and one of those gems is now on the market in Forest Park:
As if that weren't enough to get you salivating, this is a one-owner home that is being sold completely furnished … yes, you read that correctly, fully frickin' furnished!  That includes all sofas, beds, art, lamps, cookware, and silverware.  Speaking of silverware, look at these two great sets you'll be getting if you're the lucky new owner of this dreamy abode:
Okay, I'm getting a little ahead of myself here because I'm so darned excited about this place.  Let's start at the beginning.
Located at 3800 N. Coltrane in the best MCM neighborhood in OKC, the aptly named Forest Park, this beauty was designed in 1956 by Garth Kennedy, who was an engineer for Corken International and later became the company's president.  Kennedy was a HUGE Frank Lloyd Wright fan … and I mean it, too.  His vast library … which also comes with the house … boasts dozens and dozens of books about Wright and his incredible career:
This is just a few of them, too.  Anyway, according to Kennedy, he admired the master so much that he wanted to design a home that paid homage to Wright's most impressive residence, Fallingwater.  That's why he chose a two-acre lot with a sheer drop off overlooking Coltrane — it was the perfect site to design the cantilevered home of his dreams: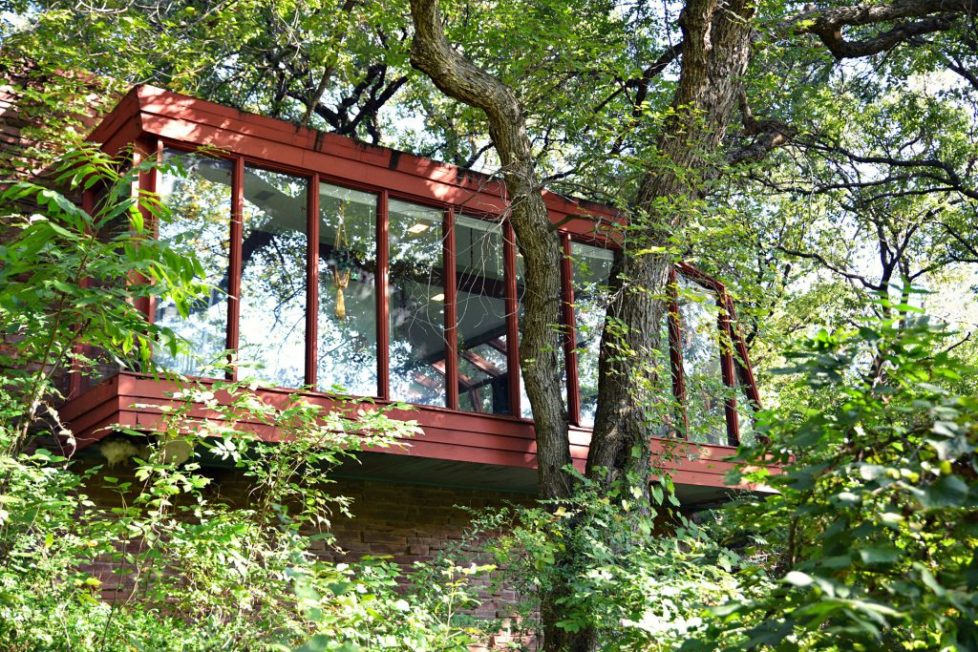 Once construction was complete, the Kennedy family, which included Garth, his wife Dorothy, and their two kids, moved in and the family has owned it ever since.  Well, would you ever leave if you got to enjoy this stunning entry among the trees every day?
And would you ever leave if you got to open the front door to this big wow of an interior view?
I didn't think so.  This house is packed full of eye candy, like the wallpaper — just get a closer look at this fabulous Asian-themed print in the entry:
It's in perfect condition, too!
The entry is a very flexible space that allows easy access to all of the main areas of the house — the bedroom wing, kitchen, dining room, and living space.  Let's check out the jaw dropping living room first.  If you're a drooler, get out your hankies because this one will surely cause some major salivation:
This is a giant of a room with a little lounging nook next to the dramatic fireplace:
Um, yes, those fabulous green chairs COME WITH THE HOUSE!!!  Look at them again … aren't they great?
You could spend many a comfy and cushy hour in one of these babies reading or napping, enjoying a fire or being hypnotized by the very cool hanging lamp next to the flagstone fireplace:
Yes, I could definitely get into a zen state pretty quickly ogling this little lovely.  The flagstone fireplace next to the lamp is pretty spectacular, too, and can easily offer up plenty of warmth and the perfect place to roast marshmallows on cold and blustery winter days:
The Kennedys were big entertainers and hosted all kinds of gatherings — company parties, fund raisers for the Tulsa Opera and the Cosmopolitan Club, high school soirees for the kids and their pals — and I can't think of a more friendly entertaining space than the living room and enclosed porch, which surrounds the living space on two sides:
When Kennedy first designed the home, the uber spacious porch was merely screened, but he enclosed it during a later remodel.  It's kind of rickety now and needs to be rebuilt, and I think I'd take it back to a screened porch to capture those lovely breezes coming through the trees:
Surely, there is no better place in the city to enjoy a morning cup of coffee than this!  Oh, and don't forget that you get all of the furniture…
… and this sweet mobile that Garth Kennedy made:
You will be seeing more of these clear globes later.  From the porch, a door leads out to the truly spectacular outdoor patio and backyard:
You could easily invite dozens of your closest pals and have a dance party out here — just don't forget to invite your Mod Squad pals!
Just look at this view!
This is true treehouse living!
Back inside and just off of the living room is the very stylish dining room:
I mean, really!  Other than the '80s chandelier, can a dining room get any nicer than this?  And, do I have to remind you that the perfectly scaled dining set comes with the house?
This isn't a giant dining room because who needs a formal dining room that often?  But, Kennedy added built-ins to show off the family's collectibles:
And, instead of using a buffet to serve guests, he ingeniously designed a large pass-through from the kitchen that can be opened or closed according to your needs:
Nice!  And I love the yellow, too.  Before we head into the kitchen, here's the view of the dining room to the living room — open concept at its finest and a design feature that was way ahead of its time in 1956:
I really love the art in this room, too:
All of this greatness isn't even the best part of the dining room.  Remember the clear globes we saw on the mobile on the porch?  Well, Kennedy used them in the dining room, too, in this to-die-for hanging screen:
The story goes that the dining room was originally completely open to the entry hall.  There's a big step down between the two spaces and an either tipsy or klutzy guest fell from the dining room onto the floor in the entry.  Thus, Kennedy once again came up with a brilliant solution in creating this hanging screen that keeps the dining room open but discourages any future guests from taking an unwanted tumble.
Drooling yet?  If not, just wait.  The next stop in our tour is the oh-so-cheerful yellow hexagonal kitchen:
It's not a giant kitchen, but its unusual and very appealing shape makes for an abundance of highly functioning workspace in a friendly configuration.  And you get a yellow fridge and countertops!  Yellow is such a happy color, don't you think?
I love the seating area around the cooktop and the large sliders that go out onto the patio.  Oh, and did you see that wallpaper?  Here's a close-up view of this sweet Asian-themed delight: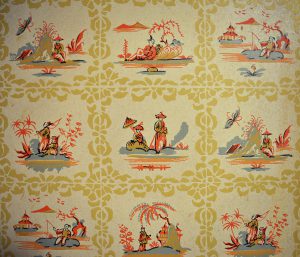 And here's the other side of the pass through:
It's not an obnoxious, McMansion-sized kitchen, but it's so well planned and laid out that it functions like one.  Very nice.
Okay, that's it for the main living/dining spaces.  Now, let's check out the bedroom wing of the house.  Here's a quick peek at the large storage-laden laundry room:
This super l-o-n-g-g-g hallway kind of reminds me of those Alfred Hitchcock movies where he used a dolly zoom to distort and elongate a space — think Vertigo.  Yep, this is one LONG hall:
Down the hall are two back-to-back bathrooms, one in blue:
Yeah, not so great, I know, but I do like that tub niche a lot.  The other is in pink with some crazy, psychedelic, acid-tripping pink foil wallpaper — LOVE!!
The original fixtures in this bath are pretty nifty, too:
There are also two smaller bedrooms with views to the backyard:
And Mr. Kennedy's office and library.  This room will be very fun to go through — lots of treasures in here:
There are also two really nice storage closets off of the hall, but the big surprise is at the very end of the Vertigo walkway and that's the truly spectacular master bedroom:
Kennedy added this amazing space to the house in the '70s, but it blends in so perfectly with the charm of the rest of the house that you would never know it.  For example, the fireplace plays perfect homage to its big brother in the living room, even though this one is made of brick: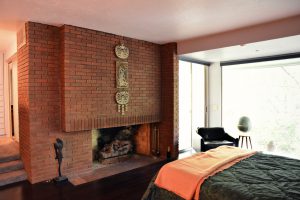 The niche for the bed is pretty nice, too:

Um, yes, those fantastic lamps go to the lucky buyer of this house, as does this truly remarkable Asian-inspired dresser:
Oh that textile art — WOWZA!  Another huge wow in the room is the meditation area overlooking the backyard:
The sliders to the left and right open to allow for rustling cross breezes through the trees and the gentle sound of water from the koi pond just outside the left door:
Okay, well, you have to imagine that a bit since the pond has been drained….  On the other end of the bedroom is a small library and chaise lounge for casual reading or napping: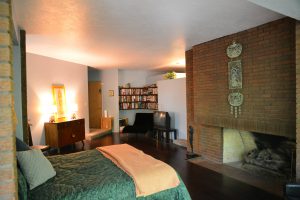 Here's a close-up of the loungy area:
We had a chaise just like that when I was growing up and it was the best napping spot in the house — I'm a bit jealous that the new owner will get to curl up on this baby with the sliders open and nap away a lazy afternoon.  Lucky, lucky you!
Beyond the lounge is the bathroom.  It's kind of funky, but I like it.  Here's the vanity area and dressing room:
This is where the funky comes in.  A shower door — yes, you've got that right, a SHOWER DOOR leads to the bathroom:
It's kind of crazy, but crazy can be good, right?  The bathroom has more odd features, like the one-piece sunken terrazzo bathtub that overlooks the koi pond outside:
The triangular sink and floating vanity are definitely keepers in my book:
And that's it for our tour.  This is such a great home and, with a little love, it easily could be the showplace it was in the not-too-distant past.  I really hope the lucky new owner is someone who appreciates the home's originality and great potential and doesn't mind putting in the work to bring the place back to life.
If you think I'm talking about you and you'd like to see this 2,700 mid-century wonder in person, realtor and fellow Mod Squadder, Monty Milburn, is hosting a tour from 5:30-7:00 TONIGHT (9/20/2016).  He asks that you park on Starwood and not in the driveway.  Please stay off of the lawn and park on the street.  Also, none of the home's contents are for sale — if you want a trinket or two, you have to buy the whole house, which is listed at a very reasonable $325,000 when you consider you're getting a fully stocked house on over two acres of land in one of the best neighborhoods in town.
Finally, Monty says that "due to contents being sold with the house and appraisal issues, this will need to be a cash sale or a bank loan. This isn't your typical transaction and the seller has requested a letter from your banking institution for any showings after tonight."
Go here to see the listing and here to contact Monty with any questions or to schedule a viewing.
Finally, I want to thank Monty for letting me tour this gorgeous abode before the open house — it's quite a place!