Architectural Applications of Concrete in Buildings, Part 3: Oklahoma Buildings Then and Now
by Lynne Rostochil
Now that you've had a look at the entire Architectural Applications of Concrete in Buildings brochure, let's see how the Oklahoma buildings mentioned in the document have fared since it was published in 1961.
Pauls Valley High School, Pauls Valley.  Designed by Jack L. Scott, 1960.
To me, this was surely one of the most elegantly designed schools in the state, so I'm not surprised that it was featured in this brochure.  Unfortunately, the building looks nothing like this now and its lovely scallops have been totally destroyed with a practical but very boring metal roof: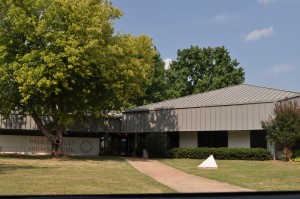 Go to this Mod Blog post to see more photos of Pauls Valley High School in its glory days.
Elks Club, Duncan.  Designed by Cottingham & Cook, 1960.
I had no idea that this building even existed until I saw the photo.  The country club was established in 1921 with a nine-hole golf course designed by Perry Maxwell.  The Elks bought the failing property in 1959 and spruced up the place by adding another nine holes to the course, completing tennis courts, building a pool, and commissioning this fabulous bit of modernism as the clubhouse/restaurant/pro shop.  The pool was replaced with a smaller one in 2003 and a group of investors bought the club from the Elks in 2011.  Even with all of the changes, the modern building remains.  I couldn't find a great photo of it, but it's here in a Google Earth image:
I'm glad to see that the place is still in use and appreciated!
DeWitt-Waller Junior High School, Enid.  Designed by Dura A. Smith, 1959.
Dura A. Smith, later of Smith-Day, is one of my favorite Oklahoma architects.  He designed this school with expansion in mind.  It opened in 1959 with a capacity of 650 students, but he knew that demand may exceed that number down the road and made it possible for it to expand to 1,000-1,200 students.  The school cost a little over $1 million to construct and did, indeed, expand in the early 2000s as Smith predicted.  The newer part of the school now faces the street, but the original building is still intact:
You can see that the prestressed roof is still in place in this photo I found on the school's Facebook page:
Yum — and I'm not talking about those Girl Scout cookies, either.
Go here to see more of Dura A. Smith's amazing work.
First National Auto Bank, Tulsa.  McCune & Associates, 1959.
Who doesn't love the exuberant First National Auto Bank in Tulsa?  It's such a great space and one that was almost lost when Chase Bank cleared out and the building remained vacant for years.  So many people feared its fate that they selected this as one of Tulsa's entries in the National Trust for Historic Preservation's "This Place Matters" campaign a few years ago.  The building's owner was so impressed with the effort that he began entertaining offers to convert the space, and the Vault restaurant and Tom Tom Club opened in 2012, quickly becoming a hopping downtown destination spot.  Go here to see more photos of this great building.
Central National Motor Bank, Oklahoma City.  Designed by Wright & Selby, 1959.
Lovingly referred to as the "Wavy Bank," this drive-thru remained in place until the early 2000s when it was demolished for additional parking, but the spire and gold cut-out wall were left: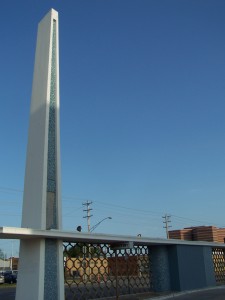 Luckily, an annex drive-thru was built across the street in the same style, and although abandoned and facing an uncertain future, it remains as a beautiful ode to the years when glorious mid-century modern reigned supreme.  Go here to read more about this lovely bank.
And that's it for this fascinating brochure.  Fun stuff!!