Pauls Valley High School: A Lesson in Thin Shell Concrete
by Lynne Rostochil
Last week, we posted about the thin shell wonder that is the First Christian Church in OKC, but there are several buildings around the state that are nearly as dramatic and just as beautiful that employed the same technique.  Some pretty sexy MCM schools have been constructed throughout Oklahoma, from the groundbreaking post-war Blackwell schools designed by Caudill, Rowlett & Scott to the elegant NW Classen High School in OKC, but by far my favorite high school is the thin shell wonder that architect Jack L. Scott designed in Pauls Valley.
(OPUBCO Collection)
Oh the scalloped beauty!!
The school opened in 1960 to great fanfare and was featured in several publications, including the October 1961 issue of Progressive Architecture in an ad for Pozzolith concrete.
According to the ad, "use of thin shell concrete for spanning areas in this $500,000 project varies from simple barrel shells for classrooms to more complex paraboloids for the auditorium and administration areas.  Pozzolith was the concrete admixture used to produce specified strength most economically and enable the contractor to control setting time to the varying weather conditions.  With Pozzolith, the concrete was produced at lowest cost-in-place … finished easily … and contributed to the low over-all project cost of just $9.40 per square foot."
"This is architectural concrete … a bold, expressive and practical medium for today's creative architect.  And Pozzolith adds to the versatility, beauty and utility of concrete … makes it a more durable building material — superior in performance and economy to plain concrete or concrete produced  with any other admixture."
"Thin shell 53,000 sf complex includes 87′ x 112′ elliptical paraboloid auditorium (left) barrel shell classrooms and scalloped-dome administration building." 
I found another article about the building in the March 1964 issue of the NSSBA journal, a publication devoted to school boards associations.
Here's what the journal says about the school: "Pauls Valley is one of a number of Oklahoma communities pioneering schools with thin shell concrete roofs.  These economical structures have dramatic beauty as well as fire safety.  Contract costs have run as low as $8.00 per square foot.  The $9.00 per square foot project cost of the Pauls Valley High School includes heating, air conditioning (less unit), floor covering, and fixed equipment for science and home economics facilities."
"At this school concrete shells, only 3 to 7 inches thick, provide clear spans of as much as 112 feet without interior support.  Bearing no loads, interior walls of concrete masonry can be located as needed for classroom layout.  Cast-in-place concrete walls under the windows effected further economies.  Upkeep cost is always low with durable concrete.  No painting.  And concrete can't burn.  By using it throughout the building the school district has obtained the lowest fire insurance rate available.  Lateral stability of the school's construction improves extended coverage insurance in this land of tornadoes.  Engineers and architects find concrete successfully blends the practical and the beautiful for modern schools."
(from the 1971 Pauls Valley High School yearbook)
I've seen photos of this school for years and couldn't wait to stop in Pauls Valley and finally see Jack Scott's stunning creation in person.  Boy, I couldn't have been more disheartened to find that his masterwork now looks like this botched up jumble of ugliness: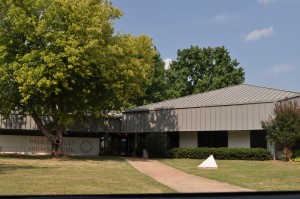 To rub salt into the wound, some wise guy decided to leave a tantalizing reminder of the original design in the form of a little triangular piece of concrete that once anchored one of the wings.  What an abomination!
Luckily for us, Jack Scott designed a few schools around the Sooner State in much the same manner as Pauls Valley, and they remain intact.  One is Helena High School, which was built in 1958:
(Photo by Jim Jordan)
And one is Poteau High School, which was completed in 1963:
(photos by Lynne Rostochil)
These are just a few of Jack Scott's designs.  Soon, we'll be profiling more of this talented and innovative architect's work in Oklahoma, so stay tuned!