On the Market: A Contemporary Oasis That's Full of Surprises
text and photos by Lynne Rostochil
As one of those dorks who loves to explore every urban artery, suburban thoroughfare, and dusty pockmarked maybe-road in search of a previously unknown and very cool house, I thought I had become familiar with just about every street, alley, and dirt road in Oklahoma County.  Well, I thought wrong.  There's one off-the-beaten-path, block-long street right the middle of town in one of my favorite neighborhoods that I somehow missed completely and that also contains a few pretty lovely Brady Bunch style homes.  One two-story beauty that is packed full of glorious surprises is about to hit the market any day now, and it might be perfect for you house shoppers out there who are looking for your own private oasis in the heart of the city.
I wasn't joking when I said Brady Bunch house — how great is this?!
Tucked deeply within the neighborhood behind Temple B'nai Israel at NW 49th and Penn, this rancher was designed by the Temple's architect, Norman Berlowitz.  He designed several homes in the neighborhood in the '60s for affluent Jewish families who wanted to be near to their spiritual and social center.  This one was completed in 1967 for the Jacobson family — more about them in a bit.
The greatness of the house is apparent the second you walk through the door and into the reception area:
Yes, that's a black and white checkerboard terrazzo tile floor that's in perfect condition!  Yes, those are giant frosted windows that let in a ton of light while also providing privacy!  And yes, that's a fabulous wrought iron railing and gate that is all original!  Let's take another look at this stunning entry from the stairs:
I know, that floor!  I could stop right here and not take one more step anywhere in the house and be ready to make an offer, it's so great.  I'm so crazy about it that I'd seriously have lavish picnic feasts in this room and I might even consider sleeping on an air mattress just to enjoy its checkerboard fun every minute of the day.  Okay, well maybe that's a bit extreme and not very back friendly … but I would have the picnics, for sure!
We could stay in this room all day and ruminate on its perfection … and I really want to … but there's so much more fun stuff to see that I'm reluctantly going to move on.  Bye, beautiful entry … so long, you fun and sassy tile floor.
The entry opens up to a giant and uber bright living area that's lined with floor-to-ceiling windows/sliders overlooking the backyard:
This is a big room — here's another view of it:
As you can tell, there have been some "updates" that need to be undone, but they are very few and easy to fix — lighting, a few ceiling fans, some ugly '80s brass plumbing fixtures, and a bit of wallpaper in the entry and upstairs.  So, look beyond that to all of the great original details like the groovy paneling in the living room.  According to the owner, all of Berlowitz's homes in the area contain this crazy cool siding — it was one of his trademarks in the '60s, apparently.  I'm not good at identifying types of wood, but I do know that this stuff it really interesting and gives the room a cozy rustic-mod vibe.  Here's a detail shot of the paneling so you can see how unusual and distinctive it is:
Another nice feature of the living room is the original black linoleum floor.  Like everything else in the house, it's in excellent condition and looks like it can easily handle another 50 years of activity.  Unfortunately for the new buyer, this very friendly kitty that perfectly matches the terrazzo floor in the entry does not come with the house — you can see the textured linoleum behind the not-so-little guy, though.
Off of the living room is a half bath and the ample and very crisp and clean eat-in kitchen with even more views to the backyard, which we'll get to in a minute:
Around the corner from the kitchen is the laundry room and a huge den/media/theater room:
Yeah, I could camp out on my air mattress for days and watch all my favorite flicks in this tranquil space!
Upstairs, there are two generous-sized and very bright bedrooms — here's one…
The upstairs also includes a bathroom for the two kids' rooms and one of the best master suites I've seen in a long time.  Originally, this was a four bedroom home but one of the bedrooms was combined into the master at some point, creating one giant L-shaped space.  The current owner is using the master lounge area as a music studio:
This space opens onto the master bedroom itself … and what a room it is!
If you're one of those people who longs for a peaceful bedroom sanctuary like I do, this is surely the fantasy space you've imagined.  Looks like heaven to me and the best part is just beyond those doors … a private and super spacious balcony that feels just like a treehouse hideaway in the woods:
I'd definitely be dragging my air mattress out here to sleep among the trees on cool spring nights.  I mean, really, how outrageously wonderful is this space?  There's a giant magnolia tree (my favorite) on the right that also provides shade to the patio area below (off of the living room):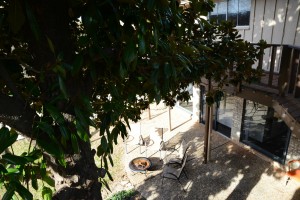 Since we're outside now, I can share more of the home's best kept secret with you … the absolutely incredible backyard that stretches as far as the eye can see:
Yes, everything you see in the above photo belongs to this house … all of it!  The best part is that the City maintains the yard on the other side of the fence because it backs up to a park.  So, you get the privacy, the view, the woods to the left, and very little of the maintenance.  And all of this quiet and solitude and space is smack dab in the heart of the city!  So, you can escape the chaos and noise of the outside world just a few blocks away, come home to this wooded wonderland, and immediately morph into a genteel and very tweedy country squire(ss).
To give you an idea of the amount of outdoor space you get with this haven, here's a survey showing the house and the yard — I flipped it upside down to show how the house/land lays out from the street in front of the home:
That's a lot of room to run, play, party, explore, and even streak if you want to because NO ONE will ever see you.  You could even put the air mattress right in the middle of the yard and share a glass of wine with your cutie and count stars all night long without ever being bothered by anyone … except maybe one of the feral but very useful cats who live in the woods and do an excellent job of keeping any and all unwanted critters away.
And if the evening is particularly chilly and you want to warm up a bit between counting stars, just jump in your very own enclosed hot tub, which is located in a little room below the balcony:
That's it, I can't take how great this place is … just … can't … take … it!  But this house does have one last and very fascinating secret to share.  On the back wall of the home embedded in the brick are two vibrantly colored tiles:
The current owner was very curious about the Hebrew tile, thinking that it might say something deep and meaningful like "Good tidings" or "To life" or something equally important.  She had it translated and was somewhat surprised to learn that it says "Toledo."  Huh?  To add to the mystery, I had a friend of mine look at it and she agreed that it says "Toledo" but says that it's both backwards and upside down.  So, here are a few possibilities:
Someone really hates Toledo, Ohio
A goy who didn't know the first thing about Hebrew laid the tile and no one ever noticed
The original owners thought it looked prettier this way
Someone forgot to wear their reading glasses the day it was set
I have no frickin' idea!
Well, I was able to solve one of the mysteries when I did a little looking around and found an article about the home's original owners, Joseph and Carmen Jacobson.  They met when he was in Spain on holiday and although she could barely speak English, they fell in love and were married in her hometown of Toledo.  Bingo!  A 1960 article in the Oklahoman discussed their romance and the fact that all of the Jacobson men ended up marrying gentiles (click an image to enlarge it):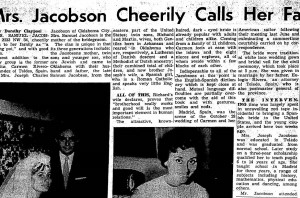 The fact that Carmen was Catholic explains the second tile of St. Cosme … or St. Cosmo to us.  There are actually two versions of St. Cosmo, according to againsttheday.com.  The first version has Cosmo, along with his twin brother, Damian, as the patron saints of doctors and medical workers:
They practiced medicine with a marked spirit of love and service, making of their profession a mission of help to suffering humanity. From their youth, seeing the state of moral misery and the errors of paganism, they set about enlightening others in the truths of the Christian faith they practiced with such zeal and ardor.
The other version of Cosmo stems from Greek and Roman mythology and isn't quite as noble but may be a lot more fun:
He gradually came to be regarded as the god of sensuality. His symbol was the phallus, an emblem of productivity and a protection against the evil eye. The first fruits of the gardens and fields, goats, milk and honey, and occasionally asses, were offered to him.
So that's why I keep thinking of places around the house and outdoors to place air mattresses.  It all makes perfect sense now!
If you'd like to meet Cosmo in person and tour all 2,700+ square feet of goodness that this beautiful home has to offer, contact Tiffany Little with Keller Williams at 821 3003 or 948 7500 to schedule an appointment.  The listing price is $$287,500.  Go here to see the listing.