On the Market: A Raymond Carter Dream in El Reno
by Lynne Rostochil.  Vintage photos from Lynne's collection.  Kind of okay current-day photos by Lynne.  Really great current-day shots by O'Life Photography.
Today's blog is one of those cool full circle stories….
It all started last year when I found seven photos of a mid-century house at a local antique store.  From the rock and lattice work in the images, I immediately guessed that the home was a Raymond Carter design.  I have a huge crush on Raymond Carter, and if you've ever stepped foot inside one of his mid-century marvels, you probably feel the same way about him that I do.  Few architects knew how to plan space better than he did … and he wasn't a true architect since we was never licensed.  But that didn't stop hoards of well-to-do Okies from hiring him to design their dream homes in every style from farmhouse to MCM.
I excitedly bought the vintage photos and made it my mission to track down the mystery house that was surely a Carter design.  Over the years, I've compiled a pretty monstrous list of local architects and their projects, so I started Googlemapping every Carter house on my list — about 100 of them, which is far shy of the 500 or so I believe he designed during his 40-year career.  Over a period of a couple of weeks, I mapped every home on my list and although some shared features with the mystery house, none was a perfect match.  Darn!  Moving on to Plan B, I decided to blog about the house and other vintage photos I have of buildings I hadn't been able to identify and see if any Squadders out there knew about them.  Bret and Ric quickly ID'd two of the buildings, but the house and another bunker-like structure remained a mystery.
A few months later I got a call from Ray, who had been searching for mid-century furniture stores in the area and stumbled upon our website.  After a bit of looking around, he found my post about the mystery buildings and quickly recognized the house as his!  He confirmed that the house, located in El Reno and built in 1959, was designed by Raymond Carter and informed me that the same family, the Wrights, lived there until he bought it four years ago.  The stylish home was in excellent original condition with just a few modifications over the years.  Good news!
Well, now Ray has decided to sell his gorgeous Carter abode and head to the mountains of Colorado for his next living adventure.  He kindly offered to let the Mod Squad tour this 4,300 sf delight, and I couldn't wait to see the house live and in person and compare it to the images I'd been lusting over for so long.  Here are a few then/now shots that show you how little the house has changed in over 50 years.
Let's start with the entry to the main living room area:
The drop-dead gorgeous living room fireplace hasn't changed a bit:
Here's the kitchen.  Unfortunately, the shelves were removed before Ray moved in.
Love the breakfast room.  Although the original light fixture is gone, Ray knows where it is and has been mightily trying to entice the new owner to relinquish it so that it can return home.  No luck so far, but Ray is pretty tenacious and I imagine that the light fixture will hang here again one day.
Here are a couple of photos of the home during construction in the winter of 1958 and soon after it was completed the following year:
And one from O'Life Photography of the front of the house today:
What a beauty, aye?!
The home was originally designed for Morris Wright and his family.  Wright owned Cox-Morris Wright Furniture, which had stores in El Reno, Hinton, and Bethany, I believe.  The need for a large home came rather dramatically, according to information Ray has gathered about the family.  The childless Wrights decided to adopt a little girl, but — tada! —  Morris came home with the girl and two boys and an instant family with a big need for space was born.
The Wrights hired Carter, who was at the height of his career at this time, to design a modern home in an older neighborhood just blocks from downtown El Reno.  Carter brought in his partner, interior designer extraordinaire, Warren Ramsey, and the two men worked together to create the perfect space for the Wrights and their new brood.  The two designers formed a partnership in 1955 to develop the land surrounding the Buttram mansion in Nichols Hills, which became Buttram Estates, and they also worked on other projects like the Wright House during the 10 years of their partnership.
The result of their collaboration is nothing less than magical.  Giant, light-filled rooms that somehow still seem cozy and inviting are juxtaposed with so many perfectly executed details that tell you this is a grand home, after all.  Here's what I mean — take a look at some of these lovely and very well thought out little details, like this bench leading to the entrance just in case you need a little rest from the car to the front door:
 Or the elegant square brass knobs on the front door that foreshadow all of the greatness inside:
How about this one-of-a-kind and oh-so-mod mailbox?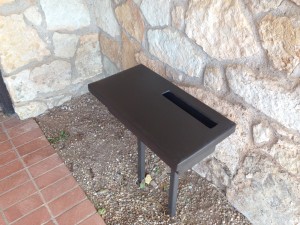 And the subtly cantilevered sidewalk out front?
Finally, let's not forget the trademark Carter latticework that you can find on most of his modern designs as shown here by O'Life Photography:
All of these heart-palpitating details and we haven't even entered the house yet!!
Open the front door and you're greeted by a perfectly planned and executed space that will surely have your jaw dropping in awe:
Look at that lovely herringbone floor!  The latticework!  That planter (that also once housed a hidden safe) that brings the outdoors in!  And that lovely light!
Is your jaw dropping now?  If not, have a look at the second living area, complete with its own fireplace, just to the right of the above photo:
See, big space but also cozy and warm and so incredibly inviting thanks to that dark paneling.
This photo really captures how delightfully light and dark play against each other, with the dark anchoring rooms while the light dances on the shiny floors and wood beams to brighten the space:
Here's another shot from O'Life Photography showing what is surely be my favorite space in the house, the main living room with a rock fireplace that completely dominates one entire wall:
Why would you ever want to leave this perfect rainy day room?
Like I said earlier, this house is full of juxtapositions and in this room, it's the heavy rock fireplace on this wall on one side that is balanced by the glass curtain wall on the other with sliders leading out onto a cozy courtyard:
In fact, most of the rooms in the house look out onto private courtyards, even in the dining room:
Another of my favorite rooms in the house is the master bathroom with his and hers sinks and dressing rooms on each side of the room and the step-down shower in the middle.  My photos of this room are crap, but O'Life Photography captured the beauty of this room very well:
That is what I call master bathroom heaven and a great escape for Mrs. Wright, who became a mother of three overnight.  Here's one of the vintage photos I found of her sitting in the main courtyard with one of the boys and the family pooch:
During the 50 years the Wrights owned the home, everyone in the family — including the three kids — died.  Mrs. Wright was the last to go and after her passing, there was no one to leave family photos, bric a brac, and family furnishings to.  So the only living relative, the daughter's husband, had a company come in and remove everything from the house and either sell or dump it.  I guess that's how these vintage photos ended up at the antique store where I found them.  As for everything else, Ray has tried hunting for some of the original furniture but hasn't found one piece anywhere.
He did get lucky, however, and obtained the original blueprints for the house.  Apparently, a neighbor rescued them and the breakfast room light fixture as the house was being cleaned out, and she returned the plans to Ray after he moved in.  Have a look at these babies:
These weren't the only plans we had a chance to look at during the tour.  Ray contacted Warren Ramsey's grandson, John Chapline, who arrived with some of Ramsey's furniture designs for various homes.  I really like this drawing for the frame of a butterfly chair:
Yes, that is hand drawn!  Beautiful.  I really like this one for a round table, too:
And look at this one for a kidney-shaped coffee table:
Love, love, love!  Oh and if you decide you want a piece or two like these tables built, the only surviving branch of Ramsey's company, the furniture making division, is still in existence and is now owned by John.  You can contact him at First Circle Furniture here in OKC.
Like I said earlier, the current owner of the Wright House, Ray, is planning a move to Colorado.  Of course, he'd like to take his dream house here in Oklahoma and transplant it there, but since that's not an option, he's putting it on the market so that another lucky person can call this little slice of magic on the prairie home.  If you're interested in chatting with him about the house, contact us here at okiemodsquad@gmail.com and we'll put you in touch with Ray.